Today I purchased something I never knew I needed until I signed up for The Writer's Conference that will be presented this year, not in person, but on Zoom.  The organizers said I really needed a selfie light and I really believe them.  Of course, I'm just learning this today and the conference starts tomorrow and after an extensive search on the internets, nothing can be delivered until Saturday, the last day of the conference,…but I ordered it anyway, because we zoom twice a week and it might help going forward because who the heck knows when it will ever again be safe to be with people in person sans mask and at least 6 feet apart.  
Really, peeps, this is so old, so aggravating, so exasperating…so, so.  
So?  Well, I'm getting this disc of a light that clamps on to your computer, in my case, laptop so it makes me more lit up.  I'm already lit up on oh, so many levels.  My assumption is so are you.
Let's see, what else is new?  Oh, we took a drive yesterday to the beach.  Cannon Beach where we walked on the beach, Beau ran on the beach.  We gazed at the ocean and had meaningful talks.  It really was a lovely day.  The change of scenery lifted our spirits.  We both recommend you escape the confines of your four walls and at least take a drive down a two lane road.  
We decided we are going to do something differently.  When we get back to California, we are going to play golf together once a week come hell or high water.  Okay, forget the high water.  "Just golfing in the rain…getting soaking wet".  This refrain should be sung to the tune of "Just Walking in the Rain".  Rain while golfing is not my thing.  Golfing in the rain is not my thing.  It is just downright uncomfortable.  Which is leading me to the thinking that I should stop walking the golf course in "iffy" weather.  Or stop walking the golf course at all.  It slays me when I see young guys in carts.  How is that a thing?  They look abled bodied and I'm pretty sure I can afford it more than they can.  However, they ride.  So, maybe I should start riding.  If I play a course that has huge amounts of real estate between green to tee, I ride.  I ride in tourneys.  I ride at resorts because they demand it.  But I'm torn.  A good walk is a good walk.  And my Uncle Ralph keeps me wanting to walk.  He rode his bike up the steep roads until he was 85.  A little walk to nothing compared to that.   Anyway, I keep fighting myself on this and I don't know who will prevail.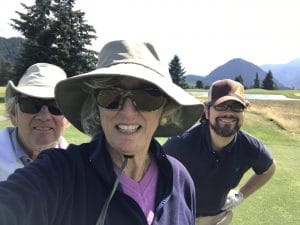 We are going to stop spending so much time on our gadgets…iphones, ipads, laptops.  We just watched Social Dilemma and it was just excellent.  It describes the problem social media has wrought on us people of the entire world.  it advocates for solutions by the very smarty pantses that created it all…like, one guy that will not allow his kids on social media at all until they are old enough to understand the real implications.  Pretty drastic for a creator of our world order.  So, we will spend less time doing FB, Twitter, et al.  The exception for me is my writing .  I really love to write.  It is on my laptop.  You can watch it on Netflix.  Really, really thought provoking.
As most of you know I've been writing a book for years.  It started as a cookbook with stories  and has now morphed into a book about my family.  Now, when I really look at it I wonder if I should continue.  It feels like a job and I'm opposing to working on general grounds!  So, I'm spending some time noodling through that.  
It's raining here in Portland as I write.  Love, soft rain.  Our air is clear.  All is well.  Counting our blessings.  
It is now time to leave the house and drive to Costco to get gas.  They pump for you so it's easy peasy.  It's a way to break up the day.  To get us off our gadgets and our duffs.   To drink in some fresh air and such.  This is the big activity of the day.  Gassing up….until 5 p.m. when we have our evening cocktail time before dinner.  That will be our second gassing up.  We both feel so good at 5 p.m.  It really is the highlight of the day when the only thing you do is get gas for entertainment.   
Hope you are all finding ways to cope.  And stay safe.  And take care!!