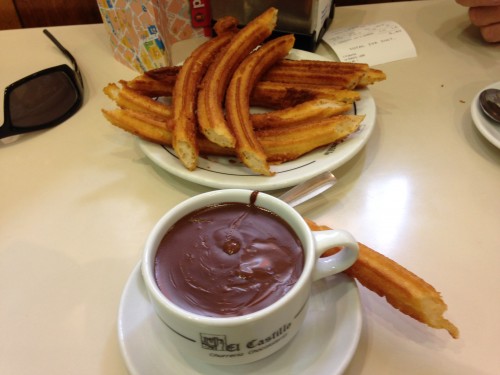 With all due respect, you can keep the cities.  Today, Spain blew our minds.  And it all started with breakfast.  As last reported we were in Valledodid.  When we checked out, I asked the young man behind the desk for a recommendation for churros and hot chocolate.  Without hesitation, he whipped out a map and put a dot on that map and said, "Go here."  So we did.  However, it was not that easy.  The place was in the center of town, zona commercial.  And everyone in the entire city was in this area.  There was no where to park.  I drove us down one way streets the wrong way.  I kept being in the wrong lane at the wrong time.  We finally spotted a parking garage (it was underground so hard to spot!) and ditched the car.  Then we started walking with our map in hand.  Spain as last reported has terrible signage and that is true whether you are in a car or on foot.  We walked around our elbow to get to our El Castille.  That was the name of the chocolateria. (spelling suspect).
In desperation, we stopped in two different stores seeking help.  The second place had on staff a woman that spoke english.  And with her help we found El Castille.  The place was a joint.  There were about 5 tables and all but one was full.  It was unclear to the casual observer what the protocols were.  Did they wait the tables?  So I just bellied up to the bar and asked a guy behind of counter for dos orders of churros and chocolate.  He was fun and made fun of my spanish.  But, hey.  We got our breakfast.  Pictured above, dear reader.
After the decadence of the moment, we found our way back to the parking garage and headed out of Dodge.  Next stop Leon, on our way to Pico de Europa, a national park.  I found it almost accidentally on the internet this a.m.  And it sounded interesting.  Well, that is the understatement of the year.
But I digress.
So, we drove to Leon with a few detours (called getting lost).  Glenda, our GPS, kept getting confused.  She is a ditz.  So we consulted a map and determined that there was a tourism office next to the cathedral and figured the cathedral would be easy to spot, what with high spires and all.  So we told Glenda to take us there.  Well.  She got completely frazzled and we never did see the cathedral.  Rayman was at the wheel and when he said, "I'm getting sick of going in circles and not getting anywhere."  I agreed and we told Glenda to take us to Bonar, Spain.  But you must understand.  We never did see the cathedral.  We never saw the tourism office.  We couldn't find a Starbucks (for free wifi).  We were understandably upset.  But the name Bonar got us to laughing which at this point was a good thing.  We laughed at the name because it reminded us of John Boehner's name.
Well, getting to Bonar was a kick.  We ended up on a one lane (more or less) road.  We were the only car.  And we started to doubt Glenda but we saw that at least we were going toward the mountains so how bad could it be?  And we were right and so was Glenda (for the first time of the day).   We drove past a row of houses and an old lady was standing out in front.  Rayman surmised it was a village of advanced alzheimer's patients because we gave her a wave and she just stared back, vacantly.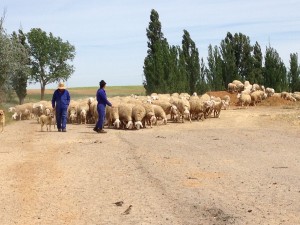 Spain doesn't do rest stops as far as we can see.  So we took a detour off a road, did our business and as we were heading back to the main road we were lucky to run into these people and their sheep.  Not literally.  We didn't hit them.  But we did wave after I snapped this shot.
We stayed the course once back on the main road and finally turned onto a two lane road and the mountains got closer.  But not before we saw may interesting things.  Here are some.  Below is a solar farm.  We saw many like this.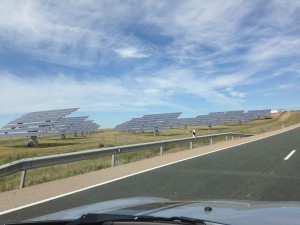 Everything was in bloom!!
We were climbing but ever so slightly.  Like the Sierras on the west side.  You know you're going up but shocked when you head down Tioga pass.  It was that kind of the thing.  But I'm once again getting ahead of myself.  You can barely see the mountain in the distance.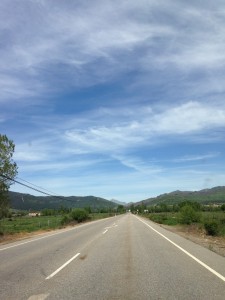 We stopped at Bonar for lunch and tried to order a veggie sandwich.  We were sure we ordered a veggie sandwich.  When the sandwich arrived, it had veggies and tuna.  We ate it.  Sat in the sun in a nice back patio.  Good to get out of the car and get something to counteract all that chocolate from this morning.  Then we jumped in the Mini and promptly left town on the wrong road.  Turned around, retraced our path and turned left and headed up the right road.  And with every turn, we couldn't believe our eyes.  The landscape just became more beautiful.  We had programmed Glenda to take us to Riano.  She kept shouting out instructions that just didn't match the map so we finally put her out of her misery by turning her off and going the only way we could go.  We followed our noses.
Really, people, why didn't know that they place existed until now?  it was breathtaking.  Here's some of the pictures we snapped.  They don't do the majesty of the place justice.  But here is the evidence anyway.
Getting closer.  Rivers everywhere.  Water in the rivers!!  Below, notice the purple flowers.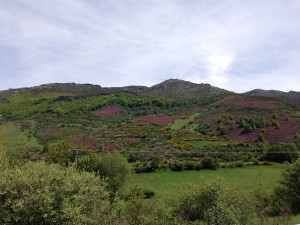 Lots of tunnels.
When we reached the summit, we hit a series of switchbacks that went all the way down the side of an enormous mountain because the terrain was that steep.  Think about driving highway 1 at it steepest point.  Then multiply that times 100.  That pretty much was it.  And we were on the outside lane.  OMG.  One false move and our backpack wouldn't be the only thing lost.  They would never find the bodies and you, my dear reader, would spend the rest of your days wondering what ever happened to us.  Parnelli Jones was at the wheel but it couldn't get any speed going.  I think we went down the side of that mountain in 2nd gear the whole way.  About 2 miles down from the summit, some bicyclists were riding UP and gestured for us to stop.  They wanted to know how much farther.  No kidding.  I can't imagine anyone riding up this mountain, these mountains.  It was brutal to drive down.  And another interesting thing.  We passed older people walking up the road.  Their afternoon jaunts, we supposed.  These people walk.  Where to?  I have no idea.
The next place we were headed was, well, there was no place in particular.  All the way through these mountains there are tiny bergs.  Many probably had hotels but I cannot swear to it.  Rayman was driving and he just charged right on through, never stopping to inquire except at one town on a lake and he didn't like the smell of the place(the hotel)  and there was no one at the reception desk…so we kept trucking.
Finally, I told Rayman that I felt like I was being held hostage in the car.  (By this time it was like 6:30 p.m.).  So the next town, he slowed down and we looked around and decided to stay the night.  Our hotel was right on the main drag but they gave us a room with a view and given the road the people would be driving up, we figured the traffic would die down to nothing.  And besides that, when I opened the windows, what we heard were cow bells.  Yes.  Cows grazing about 100 yards away.  The bells were very cool.  The rest of the evening was uneventful.  Thank goodness.  We ate, drank and were merry.  And discussed these cows.  The man brought the cows down from the left hill and he told them where to go.  And they went.  Right by our car.  So much fun to have experiences like this!!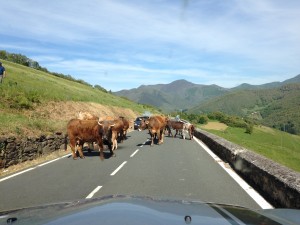 One postscript.  The woman at the front desk bore a striking resemblance to a picture of a woman on the wall that was all dolled up in skiing apparel.  I asked if that was a picture of her.  "Mi madre." , she replied.   And on the opposite wall was a picture of her papa.  And across the lobby was  a picture of the entire family (I think about 10 kids) all standing in a line on the mountain in the snow.  Very touching, really.  Very cool.