Attention all RVers.  Do not attempt to go to Denver without camping reservations.  As you probably can guess, this is what we tried to do and it did not work.  Our plan was to spend Friday night in Denver so we could visit our friends, Mary and Jim.  But there were no vacancies…anywhere.  So that forced us to recalculate our route.
The problem is that there are these huge mountains in our way.  The Rockies are very tall (14,000 ft in some places) and very wide.  So getting through them requires a certain amount of caginess when it comes to figuring out the route.  After looking at the atlas, looking at our various electronic devices, we concluded that the best way to head north was to stay on two lane roads.  This narrowed the choices considerably and we settled on Highway 13 which we turned on to at the town of Rifle, CO.  We followed our noses all the way to Interstate 80.  What a ride.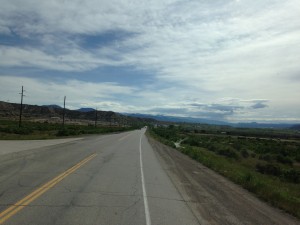 Two lane roads, as I have probably mentioned previously, are great for RV travel.  No billboards, very little traffic. And Highway 13 was no exception.  Rumbling along at about 7000 feet the entire time, we went up a bit, down a bit and straight ahead a lot.  The drive was easy until we hit Interstate 80 which I had the pleasure of navigating for 24 miles to the town of Rawlins, Wyoming.  Driving north to the big 80. we had a tailwind all the way which really helped our gas mileage, we think.  However, once we headed east on 80, that tailwind turned into the wind from hell and blew us around.  This situation was further complicated by the fact that in those 24 miles we saw 10 times the number of trucks than we did the previous 150 miles on the two laner.  Just saying.
And so here we are in the RV park in Rawlins.  A windy, forlorn destination blowing all the noise from the freeway right into the park.  It is loud.  It is noisy.  It is home for the night.
A few observations.  We saw lots of road kill on the two lane road.  Deer, antelope, rabbits, an opossum, we think.  Bleached white bones were espied.  And the landscape went on forever, a green chaparral looking environment with no trees to speak of.  When we passed through the mountains, trees were in abundance.  But out in the open, the wind was having it's way with the trees.  Nothing can stand up to the onslaught of wind.  And the rivers.  Oh, my.  So much water in the rivers.  And there were ponds, lakes, creeks.  This land had it all…excepting the trees.
As we entered Wyoming, we rose up to a plateau and started seeing herds of pronged horn deer, also known as antelope.  Rayman did some research and discovered that Wyoming has 400,000 head if antelope down from 500,000,  Apparently a drought and livestock competition has thinned the herds.  At least that is the speculation on the internets!!
You might wonder what we do as we ride along.  This trip, I've been reading River of Doubt about Rooevelt's trip down the uncharted river in the Amazonian jungle.  And so, when I am at the wheel, I tell him all about what I read the previous night.  It makes the trip go faster (as fast as you can go at 55 mph).  He seems interested.  And we ooh and aah at the scenery.  Sometimes we reminisce about previous trips.  What we don't do is listen to music, podcasts, books on tape.  Many of our friends do that and I think it is a swell idea.  It's just never caught on with us.
We try to find funny things to report.  Like the taxidermy business in Meeker, CO that had a Trump sign hung on the front gate.  Guess he or she thinks that's good for business.  We howled because we thought it was funny.
One other point.  Rayman gets worried when I'm at the wheel.  So, he sort of does double duty as he tries to supervise me.  "Don't look at that!"  "Don't take your eyes off the road!"  "You are making nervous!"  "jesus, Dianna, move over!"  The list is exhaustive.  But his heart is in the right place.  It's good to be reminded that I'm married to a survivalist.  He does not want to run off the road and die in a ditch bordering Highway 13.  For this I am sure.
We just ventured out to downtown Rawlins.  Oh, my.  The downtown is east of us a couple of miles.  And it smells like oil.  We also discovered an old penitentiary because they build a new one across the freeway.  We found the two blocks of an historic district (old homes and tree lined streets).  The streets are in terrible shape.  It's needs some infrastructure improvements big time.  This is a red state and this town lives off the government insofar as they have a new prison.  Not sure about ranching but the town is full of properties that look impoverished with multiple vehicles in various states of decay in the drywalls.  Poor Rawlins.  The city needs a new plan.  And it should start with getting rid of the oil odor.  The other thing about Rawlins is that it has the train tracks going thru it.  Lots of train tracks.  Lots of trucks blazing through.  And hotels, motels, fast food franchises and a Wal-Mart which explains, I think, why all the mom and pop businesses have closed and put their shuttered property up for sale.  Only there are no buyers because Wal-Mart moved in.  No one wants to compete.  A vicious cycle.
But I digress.
Say goodnight, Dianna.  Goodnight.