Today was an unexpected surprise.  Traveled from Boron, CA to Overton NV.  It  was a revelation.  Rayman worked the map and decided to take off Interstate 15 south of Las Vegas and trapse through a national recreational called Lake Mead.  Neither of us had ever been on the road so we thought, "what the heck?"  Before arriving at the exit for the diversion. we noticed a bunch of stacked rocks…check out this article that appeared in today's NYTimes.
Building an Artist's 'Magic Mountains' to Draw Visitors to the Desert
That we saw this and then an explanation of it appeared in the paper from NY the day after is an incredible amount of coincidence.  Lucky us.
But I digress.
What a great idea to take the detour.   What we discovered was about 70 miles of national recreation area with almost no cars on the road.  Every turn introduced us to new vistas.  Up and down and around we went.  Such a wonderful surprise.  In this day and age of all things electronic, somehow we had no idea what was in store for us.  And we were grateful for it.  TMI can ruin a rush, so to speak!!
Two wonders of the modern world.  Where were all the animals?  We didn't see a coyote, a roadrunner or any soaring birds.  They were conspicuous in their absence.  The other thing we didn't see was a telephone pole.  Not one telephone pole.  No power lines.  It is as if we had stepped back into the 1600s.  Other than the newly paved two lane road, and turnouts that had trash cans (painted red like the rocks), there was no sign of civilization.  Oops.  That's not true.  Every once in a while there was a speed sign and signs instructing us not to shoot our guns.  Drats.  It wasn't perfect.  However, the government has done a great job with this wilderness by not doing much of anything to distract from it's beauty and remoteness.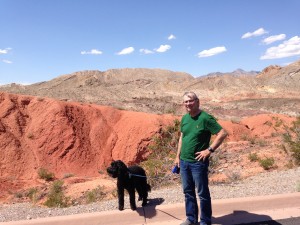 So we are at Robbin's Rest RV park in Overton, NV.  It is sparse but lovely at the same time.  Lots of trees.  Wifi.  Perfect.  Although, I would have enjoyed a dip.  And I'm not talking about the Rayman.
It's 70 degrees at 8 p.m.  It's heating up.  We're headed for real heat.  Oh, dear.  I'm such a pansy where heat is concerned.  Oh, well.
Actually, there isn't much to report.  The trip went smooth except when we got a bit lost in Henderson, NV.  And we needed gas.  Ended up at a station that was really tight (space wise) and that's not good when you are towing a car.  However, we made it out.  Or to put it another way, I drove us out of the tight space since I'm calmer.  And Rayman is a better map reader.
Tomorrow we head to St. George via the Nevada state park Valley of Fire (I'm guessing).  Boy, the southwest is amazing in so many ways.  Here in Overton, there's not much here here.  Mostly ranchers?  I"m guessing.  The population is about 4,000.  You can pick up a big house on lots of property for $200,000.  There's three restaurants, one market.  A lot of people live in old mobile homes here.  And it's very quiet.  No movies.  No gambling except for one bar in town.  Hard to even realize you're in Nevada.
Didn't meet anyone here.  The RV park is essentially deserted.  There is another in town more upscale.  It's got more business.  We're happy to be here in this one.