It is cold, it is damp, it is gray.  There is that.
The flip side is that it is fun learning how to get around (I'm hopelessly confused as previously reported).  No wonder I did not excel at bridge, the card game.  One must know east and west, north and south.  And one musts know Trump.  And I think I can say with near certainty that I know Trump but north and south elude me.  Pregnant pause.  
Of course, I must wax on about knowing Trump to say that I love, love Nancy Pelosi.  The woman knows how to govern.  She is dynamite and is outsmarting our self-proclaimed genius president.  Lower case was on purpose.
But I digress.
Today we headed to downtown Portland by driving our car to a Max (tram-train line) station, hopping on board and gliding into the city.  Here's a picture taken from the Morrison Bridge.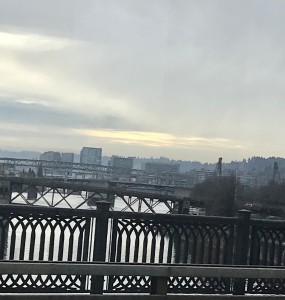 My friend and Beau's sitter, Mary Kay, asked me to get her some spices at Penzey's, an Oregon business.  I've been ordering Penzey's spices and herbs for years so this was an exciting assignment.  Fresh product and no taxes or shipping.  Nirvana.  I'll be happy to bring some back with me if any of you MB locals want some.  Just sayin. 
The funny thing is we outsmarted ourselves and went around our thumbs to get to our asses.  As we finally approached Penzey's (after walking 20 minutes in circles), we saw Powell's Book Store across the street which is why we were going to town in the first place.  OMG.  It's a jewel if you are a reader.  While Rayman was perusing the History section (he bought a book on ancient Greece…everyday life, and The Third Horseman…Climate Change and the Great Famine, I was buying cards for people under the weather and a cookbook for cousin, Susie, entitled, Salt, Fat (can't remember the whole title and I'm too involved doing this writing to get up and go look at the cover).  Amazon was out of the book.  Powell's had it.
I sat down on a bench in the store because I got a migraine equivalent which messes with my vision and waited until it went away but while waiting, I opened the Salt, Fat book and fell in love so I went back and got another copy for myself.  It looks delicious.  
After spending a small fortune at Powell's, we bursted forth from the store and headed to the tram-train known as the Met..from hence forth, the Met.  Oops.  I spotted a dress shop, called SaySay.  Now mind you, I'm not one for shopping but during the holidays, I met a woman at a party who was wearing this cute dress/top over pants that had dinosaurs.  I loved it.  And that's how I found out about SaySay.  So, it was kismet.  In we went and out we went with a Dino dress, a llama sweatshirt (on sale) and another navy dress with squiggles on it.  Perfect.  Got to talking with the store clerk and discovered that her sister owns the shop, most of the fabrics are designed by the dressmakers, one piece was from a co-op in India and everything is hand sewn…in other words, a great store for a bleeding heart liberal such as I am.  She also imparted that she was 40, she and her hubby own one car, she rides public transportation every day of her life, and she worries about her friends that came out of college with mountains of student debt.  (she doesn't have any ever though she is a college graduate).  Bright as a daisy and smart as a whip, she was.  A most enjoyable shopping experience.  I plan to be a regular customer.   While lamenting the economy for young adults, I shared with her a story of India…the train company in India is hiring 63,000 employees.  19 million applied.  Really.  OMG.  The whole world is such a mess.  But we left the shop on a high note anyway.  
We then went for a latte and a cookie (lunch) and contemplated the world.  That was interesting.  Does one prefer an elitist snob or a dirty old man for a husband?  All in jest and completely silly and, perhaps irrelevant.  
As we took our last slurp of latte, the train was espied so we grabbed our bags and headed for the door.  Good timing.  We needed to get home to feed doggie and it was starting to drizzle.  Funny thing about the weather here.  Rain comes and goes for us.  Not sure it is always that way, but we have noticed it doesn't rain non-stop so you can get out and do things (no golf though).  Plus we needed to stop by this new grocery store that Susie requested stop by.  
Basics.  That's the name of the grocery store.  Very unique.  It offers free cooking and nutrition classes in a very new white kitchen which is part of the store.  The grocery part of the store is laid out around recipes.  They have recipe  handouts by displays the include the ingredients required in the recipe.  So, for instance, chili?  They have chili spices, canned tomatoes, bell peppers, etc.  I hope you get the picture since I did not take a picture.  Unique and thoughtful.  Loved it.  And that's why I am enjoying Portland so much.  Lots of new and different things here.  Not as many box stores.  Many more mom and pop places.  Love that about it.  The creativity, the friendliness, the energy.  It is exhilarating…despite the lack of golf!!
So, tonight it's off to Susie's for dinner.  We had them over the other night and I made black bean chili and banana cream pie.  Here are the recipes.  They were both sensational and I highly recommend that you try both.  I'm pretty sure that the banana cream pie was 2,000 calories a serving so we had a late lunch yesterday of leftover chicken and banana cream pie for dinner.  Seemed like a good idea for watching one's weight.  And man was it good.
https://recipes.latimes.com/recipe-black-bean-chili/
I used canned diced jalapeños, 1/3 c.  It was spicy but no one seemed displeased.
https://cooking.nytimes.com/recipes/11172-banana-cream-pi
Now, the crust didn't work for me so I found a Martha Stewart recipe for the graham cracker crust.  If you have one you like, do us it.  The one in the above recipe was short of butter and baking time.