I'm distressed.  My gizmo for my iPad doesn't work.  AT&T just notified me I have exceeded my minutes and  I messed up our arrival time into Venice.  It is raining.
All this to say, I probably need to throw in the towel on this "go on your own" travel.  It seems to be getting harder and harder.  My mea culpa, perhaps.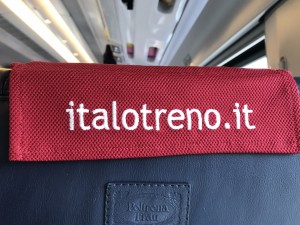 Some random thoughts as we whisk thru the countywide speeding at 200 mph on the train.  When we left Rome, we were traveling forward.  Leaving Florence, we are riding backward.  And we are on the same train.  Italy has left us in the dust in the train department.  While Ca just became the 5th largest economy in the world, we are fighting the concept of high speed rail. Let me just point out how easy it is.  No TSA.  Loads of legroom.  You can watch the scenery fly by.  No seatbelts.  Great terminals.  You can set your watch by their schedule because they are on time so waiting on the tarmac is not a thing.  No turbulence!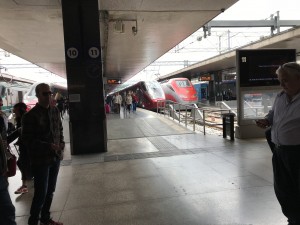 But I digress.  
We are thinking river cruises.  Easier.  Just sayin.
Yesterday was our last day in Roma.  We we're out of gas.  Went to the coliseum without tickets, regarded the llnes and pooh poohed the idea.  Took the bus tour of the city, went back to our room and napped.  This is May.   I would hate to see it during the summer when school is out.  That said your best bet would be to show up early with prepaid tickets. Or take a tour.  
So impressed was I, I decided to take a video and as I was doing this, we entered a tunnel.  This was amazing because the tunnel just went on and on and on.  The more amazing thing was that there were about 20 tunnels on the trip between Rome and Venice.  Which makes it all the more incredulous that we aren't clamoring for high speed rail.   And of course there is The Great Wall of China.  
Changing the subject is now is necessary, as I do not want to get too far afield.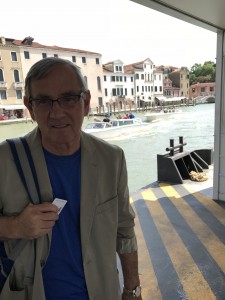 Arriving in Venezia was impressive. Water World.  Having now been here for 24 hours I would like to share Rayman's impression of the place.  I inquired of him what he thought of it while we  sipped on spritz drinks (we were told that was the only drink you could get here that was served with ice) and we needed a cold one—thank you bicycle friends).  His reply was that it reminded him of Disneyland…a million people packed into narrow streets and lots of selling of trinkets and food.   Gondolas standing in for rides.   Blasphemous, perhaps but not inaccurate.  This impression was tempered by our events of the last 24 hours which I will attempt to capture with humor.
Yesterday when we arrived, we were told by the AirBnb host to text our arrival to his daughter who would meet us at the water taxi and take us to the apartment.  We did.  She texted us and told us to board the water taxi 4.2 but she did not tell us where to get off(read disembark).  I texted her but got no reply. She did mention that she was a tall blonde and was wearing blue and white striped pants.  Rayman perked up.   But he was anxious about not knowing where to get off.  His temperature rose.  We kept looking for the tall blonde at each stop.   Then our phone rang and Sara told Rayman the name of the stop just as we were docking at the stop.   Close call.   We jumped ship.   Where was she?  We looked and looked.  Finally she showed up with an apology, led us to the apartment and off she went after handing  us the keys to the second door place.  There were three keys.  
Our apartment was quite, roomy, and met our expectations.   After settling in we went out exploring which meant we battled the crowds.  Narrow passageways and too many folks.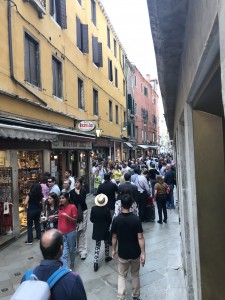 Still though it was unique and I managed to get some nice pics.   After a bit we picked a restaurant near our place.  Rayman left me on a park bench and made a detour to a grocery store to buy water and bananas for this morning.  There I sat people watching when a incoming soccer ball hit my arm.  Kids were playing (everything is cement and hard surfaces so the children must play in the plazas) kicking the ball which would bounce and boomerang off the cobblestone surfaces or the walls of the buildings that helped form the piazza.   What a surprise but not shocking when you consider.  Another ball came at me and I managed to return it with a kick even though I was sitting.  Think that surprised not only the kids… but me too!
Rayman returned with a bag of groceries and we walked to the restaurant.  It was 6:45.  They did not open until 7:15.  So we planted ourselves on chairs outside but we were asked to moved because they wanted to set up the tables.  So we walked a bit and when we returned all the tables outside were filled but one and it was just 7. 
We requested indoor seating since it was cool and found ourself alone in a back room as they had taken out all tables to the patio but one for a big party   Well, ok.   Things were ordered by me in my fledging Italian.  Pasta carbonara for me.  Pesto pasta for Rayman followed by insalada mista and 1/2 liter of vino Rosso.   Mine was rich and I asked for a container to take it away.   That's when English was required because our water said our fish was coming.   OUR FISH, we exclaimed in unison as I recall.   "We didn't order fish.".  The waiter ran from our private room to presumably to cancel the fish.  We don't know know what happened. Saved by the doggie bag, I would say.   
While eating our gelato dessert excitement erupted.  Our room opened into another room where a young French family was dining.  All of a sudden their daughter, about age 10, disappeared.   The young son sat in a face plant with his phone while the parents frantically searched the restaurant before going outside to continue the search. It seemed like forever and then through the door came the girl.   Her brother told her she was in big trouble and she left the restaurant again before Rayman ran out to tell her to stay.  About that time the parents re-emerged.  The father was madder than a wet hen, the mother relieved and the brother was face planted in his device.    The chewing out was in French so we didn't understand much of it.  The body language was unmistakable.  We were extremely happy all ended well.
Then we waited and waited for the bill.   We had a hard time getting seated and we had a hard time retreating.  Manana isn't only in Mexico.  Once the bill was settled, we lumbered back to our apartment, put the groceries away and then I realized I did not have my purse.  With all that excitement, I forgot it.  Rayman raced back to the ristorante and called me to report that it was exactly where I had left it.  A few minutes later, he called back to report that he could not find our apartment. Well, what to do?  I opened up the window and shouted his name.  He could hear me but couldn't find me.  So I kept shouting out "RAY" ( many times) and then started flailing my arms while leaning out the window.  He kept asking me to yell again. I did. Pretty soon, a woman across the way stuck her head out of her window and I am pretty she told me to keep quiet in Italian. Just about that time the Rayman found our street (think alley) and we were reunited.   Just as an aside, there are no porch lights, everything is made of stone and the streets are very narrow  so voices are like soccer balls..they boomerang making it  hard to pinpoint.  That's our story and we are sticking to it.
Fast forward to this a.m. I awoke to an email inquiring about our whereabouts from a hotel in Venice that I don't remember, that didn't sound familiar.  Why hadn't we shown up last night?   OMG. What had I done?   Short answer is …I don't know.  The place doesn't ring any bells so I emailed them back explaining that I do not remember such a reservation.  I search all my old emails. Nothing.  Rayman called and a conversation ensued which resulted in them informing us that we we no shows and would be charged.   For one night.  Now, I debated if I should disclose this to my readers because it surely evidence that 1.  I must be missing a step these days. 2.  I was hacked. 3.  My organizing and planning skills have been a mirage and it is just catching up with me, finally. 4.  All of the above.  Pick one.  Bottom line, we were out one nights charge for the room and glad it wasn't more.   And we decided not to let it ruin our time.
After much walking, gawking, photographing, and getting lost on foot…we stopped for that previously mentioned spritz and did some reflection which included the following:  1.  We are human.  Humans make mistakes.  We are not unique.  There.  2.  Traveling like this may not happen again because it is getting harder, not easier.   3.  Venice reminds Rayman of Disneyland.  4.  I don't entirely disagree. 5.  There are too many people creating scrums worldwide.  6.  Far from the maddening crowds is a book title that we relate to now and we are looking forward to the countryside.  7.  Seeing things ( buildings come to mind) from the outside are often times more interesting than from the inside. 8.  There are too many churches.  9.  Jet lag hurts.  We are just getting back to normal.  
God this is frightening.  I sound a lot like my Uncle Ralph.  He came back from his trip to China and mused that there were too many Chinese.  He traveled all over the world and holed up reading his books ( I'm blogging).   Having visited Paris a half dozen times, he told me he had not visited Napoleon's tomb.  
Just sayin.
We ate leftover dinner and lunch tonight.  Rayman bought a bottle of vino rosso and it was bubbly.  After dinner we went out again to see Venice after dark. 
It was great except we got lost and it took us 40 minutes to walk To St. Mark square.  On the walk which was starting to feel like a march, we stopped for gelato.  I ordered fig and walnut and it was outrageously good.  Rayman did chocolate.  We were so tired by the time we reached our destination, we searched around for a water taxi. 
For 7euros a head, the boat dropped us off a few hundred feet from our joint.   We managed to find the place, unlock 3 different doors with 3 separate keys and gain access.  It was 11:00…and that was our adventure.  
Lord only knows what will happen tomorrow.