After frolicking several days in the Mohawk Valley of California, we took our leave from the River's Edge RV Park.  A lovely time was had by all.  Ruth and Tom left to return home to Avila.  Whether they make it or not is for the oddsmakers.  A very long trip with places to break it up along the way.
We on the other hand were headed north.  And our trip was complicated by the fact that Rayman had only 3 pills left to lower his cholesterol.  After an exhaustive search on the internet, it was determined that there was not a CVS between us and Portland via our intended route.  So…what we did was separate.  Rayman drove the Fit to Reno (highway 70 east to 395 south.  And I tootled in the Dog House to  Hallelujah Junction where a gas station with a large parking lot was found.  There I parked and waited for him to return with pills in hand.  We hooked up and off we went up 395.  Beautiful ride to Susanville where we stopped at the Safeway and shopped for provisions for our stay near the Lava Beds National Park.  Ray astutely drove through a valley of well paved roads with wide shoulders.  You know where I'm going with this?
After the Rayman got in the Express Lane at Safeway with $131 worth of grociers, he was duly embarrassed, just like me last week.  What's with us anyway?   So busy are we looking for the shortest line that we do not look up to see the huge sign proclaiming "EXPRESS LANE – 15 ITEMS OR LESS"  that we continue to break the rules unintentionally.
But I digress.
When we left the parking lot of Safeway, we went the wrong way (don't ask).  All I can say is that I was not the co-pilot.  I was driving.  So, we did a big circle around Susanville and headed straight up a very steep, narrow, curving road.  Miss a turn and we'd be lost for days at the bottom of the mountain.  And the grade just kept on and on.  My driving skills were duly tested.  This was highway 139.  And I don't think I exaggerate when I say that Cal-Trans hasn't been hard at work on this two lane highway, say, for at least 15 years.  Bumpy, cantankerous road.   When we finally peaked out, so to say,  the terrain leveled out as we drove along at about 5,000 feet elevation.  The pine trees look stunted, we think from a lack of rain.  As we drove by Eagle Lake, it looked like a giant mud puddle.   The area lacks tall mountains that gather snow so the lakes are still low.  Eagle Lake looks doomed.  As did a huge lake to the southeast of Susanville.  Honey Lake.  Oh, my.  Honey Lake looks like the Great Salt Lake.  A dry lake bed of sorts.  Perhaps there is water in it…we were a ways off to really see it but it looked like sand from a distance.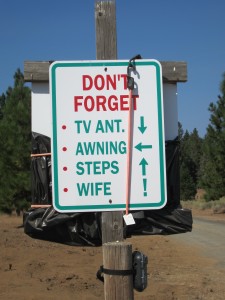 With Rayman at the wheel, we drove to our current location, Eagle's Nest RV park.  Quite a place.  It sits off the road quite a distance.  We drove in and were expecting a typical RV park.  That is not what we found.  There were no signs pointing us to an office.  The park was littered with mostly old RVs that are way past their prime.  Some are homes for the park's population.  Each RV site has a patch of green grass.  Not knowing where to hook up, Rayman approached the only permanent structure, a blue house littered with "stuff" all around.  When he returned he said that we were assigned site 19.  And the man that he met was a mess.  He was on crutches and looked like Jeb Clamped, a worse version.  So, we drove around but did not see any numbers of the various sites.  Where was site 19?  Jeb finally came out and jumped in an old golf cart and drove to the site.  His manner was one of annoyance.  Turns out he was an okay guy.  He had a self drawn map and proceeded to tell us a few things about where to go and what to do.  Since we were visiting the caves, he wanted to clue us into a cave, his cave, down a road on the way to the National Monument.  And to visit the cave, we would need helmets and he just happened to have some old helmets in a box on the porch.  "Help yourselves", he implored.  He drew on the map the location of "his" cave and pointed out the northern part of the cave had collapsed so we were told not to go down to see that part.  WHAT?  Collapsed?  off-site?  unmanned, so to speak?"  Not on your life.  He was a hoot.
Site 19 is actually quite impressive.  We look north out our front window and see a line of tree surrounding a meadow about the size of 2 football fields.  No phone lines, no power lines.  It is very quiet except for the "pen of dogs" behind us.  It is really weird.  A Michael Vick type of weird.  The dogs can't see out of the covered enclosure.  We can't see in.  We just know they are there because they all barked once and I thought it was coyotes.  Whomever owns these dogs should be reported to authorities.  It seems inhumane to us.  Oddly, almost, the dogs never barked all night long.  It was stone quiet up here.
We didn't arrive until about 4:30 and no one was interested in cooking dinner so we had leftover lamb that I made sandwiches out of.  And gin and tonic.  And berry pie ala mode.  That was dinner.
Oh, and I'm happy to report that we got our satellite dish working and had some TV for the first time on our trip.  So, we decided to watch our DVDs that came with our new Dog House.  When we started it up, the sound blasted us out of the place.  Frantically, we tried to figure which one, of 32 different remotes controlled the sound.  OMG.  We did figure it out but I would be hard pressed this a.m. to tell you which remote did the trick.  So, we sat there while the nice man on the DVD explained how the entertainment system worked.  And I am not exaggerating when I say that I am quite sure we learned nothing.  He talked too fast and hurled instructions so non-stop as to render the DVD quite useless.  Perhaps if we could have figured out how to pause the DVD, we could have made progress.  Suffice it to say that we threw up our hands, mumbled under our breaths and returned to the basic bunny and ducky TV watching.  Figuring out our system works will require further exploration preferably when we aren't so tired and low on patience.
Rayman was a happy camper.  He discovered a football game.  I went to bed.  And that was pretty much everything we did yesterday.
Just to fill the dear reader in, the day before we drove west out of Quincy up a big mountain to see Buck's Lake.  We sat out on the deck of a lodge (Buck Lodge, I think).  Rayman and I each had an ice cream bar while Ruth and Tom drank water/sodas.  Beautiful spot with a lovely lake full of fish.  Hope to return there after my fishing lessons.  I do want to to learn how to fish and it is one my plans.  It's on my bucket list.
Then in the evening, we drove up to Sardine Lake for drinks in the boathouse and dinner in the rustic old lodge.  Priceless.  If you haven't done this yet, you need to do it.  Small, quaint, picturesque.  Perhaps it's the West's Hamptons only in the mountains with John Muir looking down with approval.  Oh, and with levis as the appropriate dress code.  In other words, casual and relaxing.
So, it 's off the the Caves today.  Hardhat, flashlights and all.  They recommend knee pads.  Not for me.  I'm not going to crawl in a cave.  If I can't stand up, I'm not going in.