IMG_1452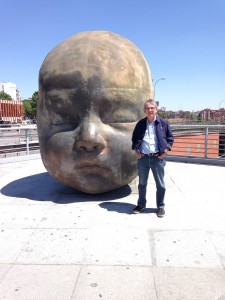 After flitting all over Barcelona, it was time to hit the trail.  We had booked the high speed train from Barcelona to Madrid, the capital of Espana.  Having taken the high speed TGV trains in France, we could not resist the thrill of the ride again.
Really, people.  What is all the fuss about in CA re: the high speed train.  It is the only way to go.  Our trip averaged about 300km and that is fast.  No time at all to get from say, LA to SF if we had this service.  And all other modern countries have them.  And Europe is comprised of different countries and yet they still figure out a way politically to provide this service to their citizens.  The farmers in the dell (read San Joaquin valley) are doing everything they can to stop this form of modernity.  Heck they have horses to ride.  Who needs high speed rail?
But I digress.
So, no sooner had we embarked on our train trip then my eyes closed and I slept through most of the trip.  Tried as I might, I could not stay awake.  It was disappointing.  But in my defense, Ali and Bernat kept us going at a wild pace (probably just regular pace by their standards).  And we were up late, late, late at night.  And the apartment we rented was located on a narrow street populated by brick buildings about 5 stories high with cobblestone streets.  On the first floor, there were commercial establishments including bars and restaurants.  So, all night long…noisy revelers reveled.  And we took to tossing and turning in our bed.  So, that train just lulled me to sleep like a baby.  It was a good, delicious sleep.  But by all accounts from the Rayman, I missed some beautiful countryside.  When you leave the city, the landscape emerges and it has a similar look to CA.  Except the trees are different.  Not so many oaks.  Or conifers.  Lots of rolling hills.  Mountains are to the north and we did glimpse snow in the distance.
The trip took a couple of hours.  I think.
I guess I'm getting old because I find much more enjoyment in the countryside.  The cities are teeming.  But it is harder to connect with people.  Thank goodness for Ali and Bernat.  I told them they should start a tourism company.  They gave us an excellent tour.  Fun.  Interesting.  Delicious.  We never would have seen or done half the things we did were it not for them.  In fact, we would never have found that apartment.  We'd still be looking for it.  And the most wonderful of all is that Bernat grew up in Barcelona and Ali is a history teacher, so we got a lot of information that is not in a guide book.  Bueno.  Muy bueno.
Really, if it hadn't have been for that good looking son of a bitch that ripped us off, it would have been perfect.