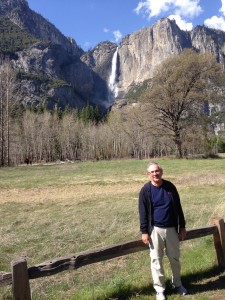 Before I go off to get dinner ready, I must record our crazy day.    The picture above was snapped last weekend in Yosemite and has no bearing whatsoever to the events described below.  Just wanted to share Yosemite Falls and Rayman with you all.
Yesterday was April 15th.  Besides being my "adopted" granddaughter's birthday (she is now 2), it is known in the U.S. as tax day.  Or the day the chickens come home to roost.  So, this a.m. I got up and looked for an email from Turbo Tax informing me that our tax return had been sent.  I know you know where this is headed.  Turbo Tax did not file our return.  OMG.  How could that be?  Rayman and I readied our taxes in March and made arrangements for them to sent on 4/15 because WE OWED.  When I casually mentioned that we had not received a confirmation from Turbo Tax to the Rayman, well, at this point you may guess the answer from the choices below.  1.   Rayman said, "Oh, gee.  What a bummer."  2.  Rayman said, "Whatever could have gone wrong?"  3.  Rayman said, "Don't tell me that.  Our taxes are late.  Are you kidding me?  AAAAWWWWWWWWWWW.  4.  Rayman said, "Now that they are late, let's just not pay them and see what happens."   Answer is posted at the end of this blog.
So, as the Rayman came unglued, I tried my best to find out what had gone wrong.  All the payment info was there…that is, our routing number etc. for our checking account.  Yet when I queried their system, I could not verify payment.
After the dust settled, it was determined that the taxes had not been filed.  Nor paid.  Holy macaroni.  Calls were made, swords were fallen on.  Bottom line, we paid and filed today and will wait to see if we get fined.  And we can ask for a waiver of any fine.  OMG.
Next up, we had an appointment at the Apple store because our calendars (which are all suppose to match)…didn't match.  The Cloud is failing us.  It must be them, not us.  We're perfect.  See above to know that's not true.
But I digress.
We hopped in the car and dashed to San Luis for our genius appointment.  The plan was that we would then go to the RV storage lot to do some work on TDH.  Actually, the top item on the list of things to do for the day was to go to the RV.  I squeezed in the appointment at the Apple store since we were in San Luis anyway.  Okay.  So, Napoleon (that was the genius's name) fixed our calendars and didn't really tell us how Rayman's phone calendar did not match his iPad or my MacBook or my phone.  And my phone didn't match my computer.  Etc, etc, etc.  But they are all matching at the moment.  If something goes wacky again, the Genius Bar will be visited because we did not learn what to do.  It is troublesome because we can't afford to have our calendars missing information.  If we miss an appointment, people will think we're too old to remember.  That may be true but that's beside the point.
When we arrived at the Apple store, we got a great parking place.  Nice and shady.  What we didn't know is that a bird call was sent out to all birds in the neighborhood to come and perch in the tree that was shading our car so that they could have a pooping party.  What a mess we found when we returned 15 minutes later.  So at this point, we drove the pooped-on car to the RV storage lot.  I got out to punch in the code of the gate and told Rayman I would walk to TDH.  When I got there, he was still in the car and he opened the window and said, "Get in.  We're going."   I said, "What?"   He said, "I forgot the keys to the coach."  OMG.  I got in the car and we went shopping.   Shopping was not planned but shopping happened.  Chocolate at Trader Joe's, Gravity Zero recliners for TDH, in red.  Dates, nuts, and asparagus.  It is amazing we could even see anything in the store because we kept shaking our heads in disbelief of the morning's activities or lack thereof.  What a hoot.
So, perhaps we will try again tomorrow.
We are having a few friends over for dinner tonight.  I'm doing my famous fish tacos.  The halibut is marinating, the black bean and corn salad is made (although I had a heck of a time figuring out my new manual can opener.   It took about 10 minutes to crack the code)  While I was struggling with the can opener, Rayman went to the car wash to get all the bird poop off Priscilla the Prius.  When he returned he announced that he had gotten really upset at the gas station at someone that aced him out of a spot and he beeped the horn.  He was madder than a wet hen.  His day was not going well.
But I digress.
The dessert is bought.  Oh, I know,  I like to make dessert but with this group coming, I just had to drive with Rayman and Beau to Cambria to the Red Moose cookie company and buy some Naughty Rods for dessert.  Fabulous cookies and so fun to serve because of their provocative name.  The owner's of the Red Moose cookie company report that their Naughty Rod cookies get called all kinds of names.  People call and ask, "Do you make those Nasty Rods?"  or "Do you bake those Dirty Cookies?"  etc.  The owner reports that they are a big hit for bachelorette parties.  People told them that cookie would never sell because of the name.  Truth is, they can't keep up with the demand.
So, now off I go to take my shower.
Answer to quiz.  You know the answer!!