Here in the lush verdant green of Tuscany in the region of Chianti, we find ourselves with our friends  the villa of Il Giardo.    Of a certain vintage, this old house has walls as thick as a 12-inches or more.  Exposed beams throughout.  Overstuffed furniture in the living finds me under blanket at 3:40 pm writing of our latest adventures while Janis cooks soup, Dorothy keeps her company by sitting at the kitchen.  Lovely to have a kitchen large enough to hold a table and chairs.  
Laundry is being done.  Clothes have been hung on lines and clothes racks as they don't use dryers in this part of the world.  Driving thru villages and even in the cities, clothes flap in the breeze like flags from the pole. 
We arrived here yesterday intact despite the effort of many presumably Italian drivers trying to ensnare us in a wreck.  These people are crazy when seated behind the wheel of the car.   And they drive on the same side of the road as we do in the U.S.   There seem to no rules of the road.   They take tailgating to a new level.  Speed is of one setting…fast.   The road signs are confusing and some roadside poles have signs from top to bottom.  
Okay.   It is time for another confession but before launching into it, I never claimed to be a good trip planner and I still am not a good trip planner.  My skill set seems to be shrinking even with all the experience of recent years.  Can't imagine why.  
When planning our trip, it was decided we should rent a car for the last half of our trip.  Through airline points I booked a car.  Apparently using a calendar did not occur to me.  Stated differently. If I used a calendar, more attention needed to be paid to it because I managed to rent the car the day before we needed it.  This was discovered after I had booked an in- Florence hotel.  The car was located at the airport which is not all that far away from our hotel.  However, the traffic took a 15 minute ride to Hertz and expanded it to about 40 minutes.   So, we decided to take muni bus to Hertz, pick up the car, drive it to a parking near the airport because a study of parking rates in Florence revealed that they wanted your first born, the boat and your house as ransom.  And may I remind you, dear reader, that driving was terrifying as Florence shuts down many streets to cars certain hours of the day.  
The route was devised with specificity by the Rayman, who not trusting in our GPS on the phone, wrote the route down using paper and pencil.   Quaint.  However, his effort was greatly appreciated because, what the hell.  Off we went on foot to the bus station terminal which la machina indicated was a 14 minute walk.   It took About 20 minutes to get lost.  That's when we figured out he had written down the car route, not the walking route, and with all the one way streets, we were going way out of our way.   A lively discussion ensued before we corrected the route and arrived at the terminal just in time to buy two round trip tickets and board the bus.  
Hertz was not crowded when we arrived and I mention this to note that sometimes things go reasonably well.  A Fiat 500 was requested.  After we got fleeced by Hertz at the counter, we went out to the lot and discovered that the car parked in space 41, was das boot, a large , long, wide Pougeot.  What the heck?  We decided not to fight it with Italian not being our strong suit and we drove it around the corner to a grassy vacant lot that offered car park service daily for 8 euro, took their shuttle back to the airport, and caught the bus back into town.  That ate up the entire morning.
The afternoon was spent sightseeing and culminated with a meet up for dinner.  While waiting, Rayman and I were witness to an Italian commotion involving a man, his wife and a horse.  Full throated exultations, horse whinnying, mighty gesticulating was observed.  Apparently the horse was involved in her gelato landing on the pavement.  Did the horse attempt to eat her gelato?  Did the horse charge her?  We will never know as the horse wasn't Mr. Ed.  He wasn't talking.  But the man with the woman sure was.   Finally, the carriage driver fled the scene with his horse but then he returned to the scene to continue the conversation and that is when the horse became frisky and headed our direction.  We scooted out of the way, the carriage driver got the horse under control and the argument continued until the police arrived.  Then the ambulance arrived.  More police arrived.   After that we have no idea what happened to the man, the woman, the carriage driver or the horse as we saw our friends and left the scene.   It was quite the kerfluffle.  And with all the crazy shinnanigans on the road, quite ironic that the only police action we have seen involved a horse.
As I reported, We met up with our friends for a pre-party dinner as we were all leaving for our villa vacation the next day.   That was a fun evening…good to talk with someone other than, you know who.  And I am sure the feeling was mutual.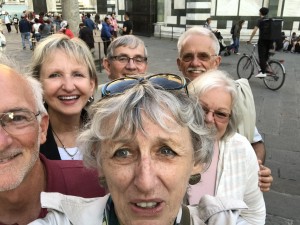 Saturday morning we hired a taxi to take us to the grassy parking lot to fetch our beast of a car.    The cab driver must have been on speed because that is what he did, delivering to us a ride of hair raising turns, followed by close encounters with buses, pedestrians, bicyclists, motorcycles, baby carriages and segways.  All the time, he was carrying on a riveting and emotional discussion with some one on his cell phone while simultaneously punctuating words with his flailing hands and arms.  Italians are as far as we can discern oblivious to rules of the road but they very carefully follow every other rule in life.  Today in a grocery store, we noticed an aisle between two check out registers and when we decided to take that route, the checker as well as all the customers shouted, "No,  no, no."   We have no idea why this rule exists but they do and they all follow it.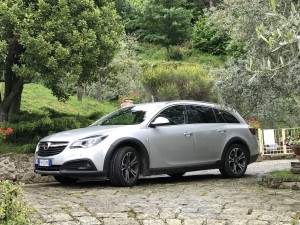 But I digress.
The ride took about 20 minutes and shortened our lives about two years.  We exited  the cab with more gray hair than when entered it,  Rayman left me to tend our bags while he paid the fee.  When he returned, he revealed to me that we got clipped again.  $8 euros a day wasn't based on 24 hours.  We dropped it off one afternoon and picked it up the next day and that meant the bill was $16 euros.   While we felt violated, what could we do?  We paid and cursed.  Then drove away.  The wrong direction, of course.  The highway system is mystifying.  Gina, our gps lady, would shout out directions to exit but I kept being in the wrong lane so exiting was impossible without wiping out a few cars to my right so we continued the wrong direction until we understood that we needed to be in the right lane before we were instructed to be there.  Roundabouts are everywhere and they helped us flip a u-turn after we paid our euros to exit the toll road that we entered going the wrong way.  Once we reentered the toll road it was smooth sailing until we exited.   
What happened next was that we took backroads thru the Italian country until we reached the town of Lucolinda which consisted of not much more than a closed up restaurant and a corner-type store.  Without an address, we sat in the lot texting our friends that we were to meet in three hours.  They were involved in their own Italian operas and were no where nearby.
Hook up happened in the village of Dudda.   Being the singers that we are in our own minds, Dudda instantly became 🎼🎼Dudda, Dudda!   We enjoyed a spritz or two before heading to the villa.  
And here we are.