Where to begin?  In the present, I suppose,  Strapped into my airplane seat, I am gaining altitude on my way to Cabo San Lucas, aka El Cabo on the departure signs in the terminal at LAX.  And I'm happy to be here.  Ditto for the Rayman who is intently watching some sci-fi movie across the isle from me.  He has been such a good boy.
Racing back to yesterday, I must say how eternally grateful I am that he did not let loose in a fit of rage with me for I may have earned his ire.  However, he was cool as a cucumber as we entered the house of the AirBnB that I had rented based on it's proximity to the airport in Van Nuys so we could make a clean getaway to the Van Nuys bus terminal that offers covered parking for $5 a day and a bus trip into LAX, with door to door service for $9.95 each way per person.  
But, I digress.  
This is what greeted us as we creaked open the door of the AirBnB rental.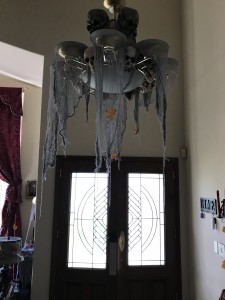 Are you kidding me?  I was aghast.  Spider webs dangled from the chandelier, a casket sat upright in the dining room, tombstones in the backyard.  And four young women in the kitchen.  And it got better.  The bathroom was totally tiled with a shower head emerging from the wall like an apparition.  Was I dreaming?  If I was, it was a nightmare.  Part of the problem was the place was worn, like not taken care of with chipped paint, questionable floor care etc.   But hey, the good news is that it was better than that place in Italy where Rayman had to lean over to address the toilet so as not to hit his head on the ceiling.  Of course, when he took a leak at the haunted house, there were big eyeballs in the floral arrangement that sat on the tank of the toilet.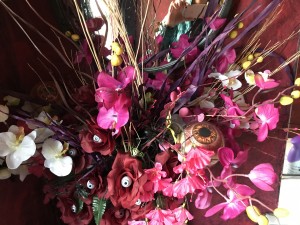 And the Rayman dutifully brought in the bags before we went looking for a Costco for hearing aid accessories.  As soon as we pulled away from the curb, I apologized.  Meekly.  Before bursting into nervous laughter.  Was he cheerfully driving us to divorce court?  His reaction was quite suspect.  So before he could interject, I announced that I did not want to stay at the haunted house.  It was just too weird.  Why didn't I see the pictures?  Why didn't they advertise it as a Halloween infested house on a suburban street?  Good grief.  It was so bad, I wouldn't stay there for Halloween.  Just sayin…
The Rayman, being of sound mind, agreed that we should not stay.  OH, and did mention, it was COLD.  Didn't help that LA was suffering from a cold snap.  The house had lots of tile (better to clean up the blood?) which made it colder still.
As he drove to Costco, I was on my phone trying to find a place to stay, and having nothing but trouble.  My phone was acting up.   The idea was to use points from one of our credit cards to book a room.  Frustrated, I called 611 to get help.  By the time I got help, Rayman was back in the car having carried my hearing aid into Costco to get the proper help while I struggled mightily.  "Let's just stay there", he injected.  "No.  I don't want to do that.  If worse comes to worse, we'll just pay for a room."  Finally, having sensed that I was at the end of my rope, I called CapitalOne and got a wonderful woman who got such a kick out of my story, that she researched hotels, called them for me and helped us end up in a Best Western Plus.  I then called our host and nicely explained that the place was not our cup of tea.  We parted friends.  He explained that a lot of visitors like it because they work at Disney and appreciate a bit of Campy vibe.  
After checking into a normal place, we found a PF Chang not far away and went there for dinner.  It was 7 p.m.  We had arrived at the house of horrors at 4:30.  So, of course, we were wandering the streets of Van Nuys and Sherman Oaks in the height of rush hour.  It took us a long time to get anywhere even when not getting lost.  The GPS was remarkably trouble-free.
Beginning the meal with a martini was in order.  We split one.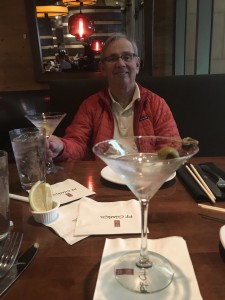 And then everything seemed better.  We laughed and hooted.  Oh, and we decided if we ever get back to booking an AirBnB again, Rayman must approve the place.  I insisted on it.  I cannot be trusted.
Our fortune changed this morning when we arrived at LAX without a hitch.  We entered terminal two and a man was asking if anyone was doing the National Geographic cruise.  OMG.  Adult supervision.  It was so cool.  He helped us jump through the necessary hoops and left us after we had secured our boarding passes.  PreCheck thru TSA was a breeze.  We found a place to eat and sat down and ordered and that is when I realized I didn't have Rayman's phone.  OMG.  I had left it at the TSA machine.  There was a commotion and I was a bit distracted and WHAM-o….no phone.  Well, I ran back to terminal two (we had to go to terminal three to our gate).  Then I had to go thru TSA again.  And there was no phone.  But the man explained that they had video and maybe they could look at the video.  So he took me to the back and the videographer said the video wasn't working.  "Did you try to call the phone?", the nice man asked.  "No."  So he dialed up the phone and someone answered.  It turned out the phone had been found and turned into the Delta Sky Lounge.  Where was that?  Back in Terminal three, upstairs.  So, off I ran to terminal three.  Having found the lounge, I was relieved to find the phone.  OMG.  So, I went back to the restaurant where the Rayman was but it wasn't there.  So, I called him.  He answered.  He had been paged.  So he grabbed the food and proceeded to the gate.  And that is where he was.  We returned to the restaurant and I ate my cold breakfast before boarding our plane which I am now on.  We still have no idea how the phone got to the Lounge…we surmise a passenger found it at TSA and turned it in at the Lounge which was was located a good runway away (you got from one terminal to another underground) and up two flights of stairs.  I was very lucky.
Really.  All this really happened.  It's like the Trump debacle.  You can't make this stuff up.  
Did I mention, we ordered a tequila to drown our sorrows.  I think everything will be okay now.  When we arrive in Cabo, we are going to a resort.  There will 100 other people at the resort that will be on this cruise.  There will be adult chaperones for us.  I can't imagine getting in anymore trouble.  
Stay tuned.