Dear Robin Nelson. Golf Course designer,
Today Rayman and I played your course at Clio, CA.  It has been known as the Dragon.  May we tell you that we think the name of the course is inappropriate.  If you ever get a phone call asking you for ideas for renaming the course, we have a few choice names to offer up.  Devil in the Mountains at Nakoma would be an appropriate name.  Another deft choice might be You've Got to be Kidding Me at Nakoma.  Those would give prospective golfers an idea of what they are in for when they play this course.
This course should only allow pro golfers on it as the average golfer spends much too much time searching for their balls.  This slows play.  We are quite sure you know that and yet, what did you do?  Narrowed the fairways?  Planted more weeds interspersed with various long wispy grasses?  That's not helpful.
The other thing is that there is not one single level lie on this layout.  If the ball is above your feet, it makes the shot harder.  If the ball is below your feet, it makes the shot almost impossible.   Really, we think you should come back and figure out a way to offer some level lies for us, the duffers that we are.
Not only did you interject dog legs, you did so with barrancas in the mix.  Now what is that about?   One or the other would have sufficed.  But, oh, no.  You did this more than once so we know it is not a mistake.  You actually designed it that way.  What were you thinking?*
And the sand.  Good grief.  There was sand everywhere.  Bunkers to the right.  Bunkers to the left.  AND bunkers straight ahead.  And these were not small bunkers.  The went on for miles.  With great big lips.  And the sand was wet in many of them and that drove the Rayman crazy.  He swore he could not hit out of the wet sand.  Now, I did counsel him that if he could not hit out of the sand, perhaps he shouldn't go in to the sand in the first place.  That did not go well.
And then, the Rayman found someone's else's clubs on the side of one of the 8th green.  So on the tee box he screamed at the people in front of us, "DID ANYONE OF YOU LEAVE SOME CLUBS ON THE TEE?".  They didn't hear him so he had to re-shout his question.  I said, "Ray, they were on the green."  Not the tee.  Well, one of the guys came back and said they weren't his but he took them because he thought they might belong to the people of front of them.  Fine.  We teed off and Rayman drove his ball into the sand.  He used his sand wedge to get out of the sand.  Quite impressive.  Then on the next green when he needed his sand wedge again (I won't rub it in), he was sans wedge.  Apparently he left it on the same 8th green.  Upset he was.  And all this happened because you designed this course with way too many sand traps.  Just saying.
Now, there are barrancas and arroyos but your barrancas and arroyos are over the top.  Good grief.  Couldn't you have just filled some of those in and planted grass?  It would have improved our chances of not losing our balls.  On one hole, I had a hell of a drive and never did find the ball.  It went into one of those annoying arroyos.  No fault of mine, really.  And, no, I never found my ball.  In case you don't know it, Robin, there are snakes in all that rough you so cleverly put into that arroyo.  Not helpful.
I may be a bit negative so let me compliment you.  The views on the course are fabulous.  That may be because each hole has huge elevation changes culminating on the gigantic greens.  We're pretty sure that every single green was elevated, meaning that it made it much more difficult to get on the greens.  Which is the point.  Right?  But after a while, it is just monotonous, always missing the green.  Lowering a few greens would be a very good idea.   It might result in less clubs being thrown.
And while you are at it, chopping down a few trees would be helpful to our games.  There are so many trees it is hard to miss them.   They are also in the way when we drive the ball into the trees and then have to hit our next shot amongst the trees.  Because there was never a clear shot because there were so many trees.  So, culling the forest would be helpful.
I would also suggest that you consult with the real estate office for the resort.  Selling lots too close to the course is not a good idea.  Too many swear words are uttered and this is very bad if small children are living or visiting said houses.   Every effort should be made to protect the young children in our society.  It's only right.
So, there you have it.  A few suggestions on making the Dragon a better course for the duffers in our mist.  Please consider our ideas carefully.  In the meantime, we are sending a cc: of this memo to the groundskeeper.  He may have some further suggestions for course improvement.  Not only would it make all the golfers happier, but he might find some friends.  We understand he is currently a social isolate.   He/she does not have an enviable job.
Sincerely, The Jacksons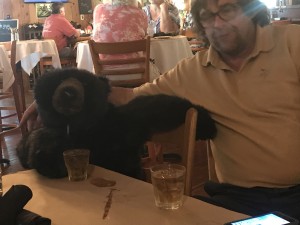 Took pictures of the course, but couldn't put them in because the file was too big.  Drats.
P.S.  This is Bob and his drinking bear.  We met them at dinner the other night.  I don't have much of a story only to say that Bob had great fun with his bear.  When he first brought it in, I thought it was a Labradoodle.