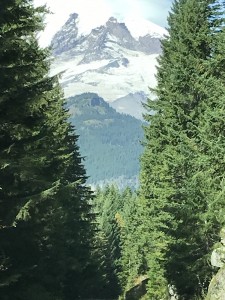 The American Indians named the mountain Tahoma which translates to Snowy Mountain Peak.  And I am here to say right this minute that the name Tahoma is much more descriptive than Rainier.  Rainier was the name of a friend of Gen. Vancouver, a military officer in the 1800s.   He was not nearly as majestic and a man of average looks.
The American Indians had been in the area for 9000 years.  Just in terms of seniority, the mountain should be renamed.  Or in terms of longevity it should be renamed.  
But I digress.
This is not a matter we should concern ourselves about.  No, I am here today to tell you that Rayman and I have been to the mountain.  It is a dormant volcano.  It is 14,410 feet high.  It has glaciers.  It gives rise to 5 different streams that feed various rivers, I suppose.  It is impressive and amazing.  
On our trip to Montana and Glacier National Park, we had a choice to make.  Attempt to go into Glacier from the eastern entrance since we only got to see about 17 miles of the park when we entered from the southwest.  It was a very big disappointment that could be mitigated by going east and north to see the other side of the park.  
We stayed a night in Whitefish, Montana, a cute little town with plenty of shopping and restaurants.  Stayed in a lovely new hotel right in the center of the action.  We had a late lunch/early dinner at a lively pub with a great waiter.  He is the one that told us snow was coming.
Alas, clouds were gathering.  The National Weather Service was predicting a change in the weather.  Should we go or not go?  We did not go.  Instead we left Whitefish, Mt on a bright, cloudless day believing our Weather Service and our groovy waiter who incidentally haled from Southern CA.  And we headed to the Grand Coulee Dam because I wanted to see it.  Somewhere in the back of my mind, I had heard that Grand Coulee was the dam of all dams.  It was located between Montana and Oregon in the state of Washington…on the way back to Portland.  And that is what we did.  It really was a very pretty day.   
Coulee was massive but not as impressive as Boulder (Hoover) as dams go.  It has enough concrete in it to build a four foot wide sidewalk about the earth 2 times, I think they said.  Or enough concrete to build a freeway between it and Florida.  So, it was mighty big.  It also is said to generate enough electricity to 4 million households (this is all recollection so the facts are in question).
After we stopped to take pics and read up on the dam, we headed down a two lane highway that was a total surprise.  It was like we had landed on a moon with water.  The strange rock formations, the sand, the water all made for us scratch our heads.  So, we stopped at the visitor center along the way and made a discovery.  It seems Montana way back when was covered in ice which melted and formed a huge interior lake that was hemmed in by the Rockies, the Bitterroots, the Sawtooth (teeth?) Mountains.  One day the ice gave way and all that water had to go somewhere…and this is where part of it went.  Roaring down at 65 miles per hour, it formed in quick fashion a landscape quite apart from most landscapes that have taken milliinias to form…think the Grand Canyon.  It was a total surprise and a feast for the eyes.  
Which I must now take time to say…traveling 2 lane roads is a hoot (I'm quite sure I am repeating myself).  They can be beautiful, they often times follow rivers, are often times preserved from earlier times, and they often times have railroad tracks nearby.  What they don't have are a lot of cars, trucks traveling 70 mps to get where they are going.  It is a slower way to travel.  And there are usually a few small towns trying to hold on to their way of life the only way they know how…by reducing the speed to 25 mps so you can slowly look at the whole place as you drive through.  And they have police that like to give tickets if you don't slow down.   Hence a good revenue stream for these one horse towns.  Perhaps.
Spokane was the city we stayed in between Whitefish and Yakima.  Spokane is a lovely city in the northeast corner of Washington.  It is a university town known for basketball …Gonzaga and Washington St. U are right next to each other downtown.  A river runs through it.  The city has lovely outdoor art and what seems to be a robust theater company judging from the ads hanging in the lobby of our Best Western Plus Hotel.  The location was right across from the Convention Center.  We had a good time there for the one night and morning.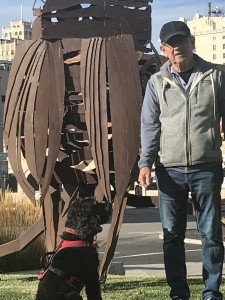 The next morning found us getting out of the city and back to the backroads which led us Yakima, WA, apparently the apple capital of the state.  Lots of trees, big shipping facilities, etc.  It has an ag-industrial feel.  We stayed at a Red Lion and ate at a modern restaurant that was quite chic yet laid back.  The next morning we drove to the entrance of the Mt. Rainer National Park in the state of Washington.  The friendly gatekeepers told us were very lucky because it was so sunny, that they hadn't seen the top of Rainier in quite some time.  Boy, excitement reigned.  We were stoked like kids on crack.  
Nothing can compare one for what we saw.  We had been in the park for 20 minutes before we drove around a corner and there it was.  Funny how huge mountains can be right there and still you can't see them until the trees give way and allow it.  It is like being on a small sailboat and all of the sudden the fog lifts, and there is a huge ocean going vessel off the bow.  The rush you get causes to you to blurt out, "OMG.  There it is" or "OMG that is huge."  There is really nothing quite like it.  
So, we took our time winding our way up to 5500 feet and observe the top of mountain in all it's glory.  Marvelous.   And we visited the Visitor's Center which was quite impressive.  There is also a hotel with all the accouterments.   The area is called Paradise.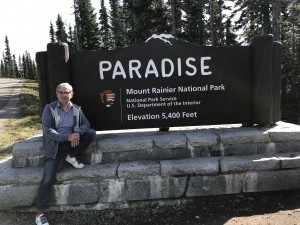 It was heck of a day.  And as we were doing it, the weather is getting really nasty in Montana.  Good call by us to believe the National Weather Service.  There were no sharpies involved, so we felt comfortable about trusting it.  
The plan was that we would exit the park the way we came in.  Only we didn't.  Rayman missed a turn and we got lost on the only road in the park.  Don't ask.  We don't know.  It follows a sweet pattern we have adopted thru our lives together.  Getting lost.  
Mt. Rainier was the last stop at a mountain before we re-entered Portland city limits.  It was a grand tour of parts of the country we had not visited before.  We hope to do more exploring next summer from our northern exposure of Portlandia.   
We are now back and winterizing our SHIP as we plan to head south for winter with all the birds.  Leaving about the 13th of this month so it's time to scout out some more backroads.  You just can't beat them.