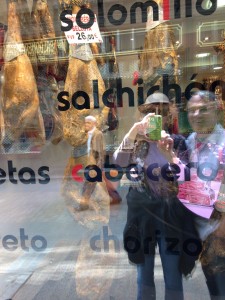 Some casual observations about Spain.
The food is not as good as I thought  it would be.  Lots of ham, salamis, egg, bread, anchovies, potato dishes.  And the hours of meals complicates everything.  If you are not willing to eat late, you must settle on tapas and they get old (at least to all those in our group).  I am more adventurous and could continue trying them, but the others including the Rayman are burnt out.  And they are all about the ham.  Here we stand in front of a ham shop.  Two hams hamming it up.  We fit right in!!
The Spanish lifestyle in in direct conflict with the American lifestyle as it concerns food and shopping.  Most establishments, restaurants, shops etc., tend to close from 12:30 to 6:00 p.m. more or less…everywhere.  Well, guess what we do?  Try to go places only to find them all closed.  This introduces a level of frustration to the tourist not steeped in the culture of Spain.  And for us as a group that is certainly true.  We took a tour today with a delightful young woman and her main squeeze and even churches were locked up.  You get the point.  Here is the Rayman at San Sebastian.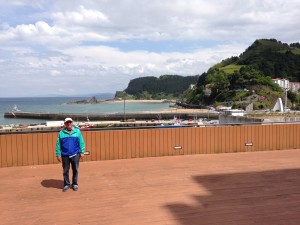 What I love about this country is the people in general and the landscape in particular.  The vistas are compelling.  The infrastructure is impressive.  Tunnels, bridges, old stone walls.  Fabulous.  The other thing I notice is all the old stone houses with modern insides.  The latest euro style in the baths and the kitchens.  There are lots and lots of apartments.  Most buildings are at least 4 stories high and many higher.  And that is true is small villages as well as cities.   Check out the stainless steel handrail.  It went on for at least a mile.  The barricades allow people to walk safely.  And catch that sky.  Near San Sebastian.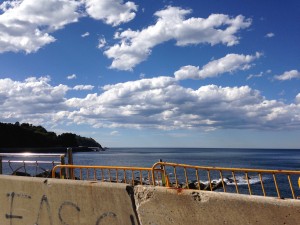 It stays light here very late.  It is 10:00 p.m. right now and there is ambient light in the sky.  Northern Spain is, well, quite northern.  What a hoot.
We were in San Sebastian today and it was quite quiet in the old section of town given the time of day.  By the time we got back to a small seashore town (7:00 p.m.), people were everywhere.  Young families, old people.  The whole town comes out and visits with each other.  And they walk.  Lots of bicyclists with steel balls.  Roads are narrow and they brave them anyway.  And the bicyclists follow the rules of the road.  They wait with the cars at red lights.  They tend to ride one after another rather than side by side.
We love the countryside.  As a result, we are spending Sat. and Sunday at a parador in the Pyrennes on the way back to Barcelona.   At the end of along road.  Facing a river.  Nothing else around.  I can't wait.  Not because I want to leave here.  But I am so curious about the location.  It sounds magical.
Rayman is reading at the moment.  We are relaxing after a full day of walking.  We went wine tasting and the winemaker opened his winery to us and our guide and her main squeeze.  They served us bread, anchovies with EVOO and garlic, and a plate of tuna.  They set up a classroom situation for their winery.  You sit and sip.  Very different from us, of course.  And the whole family is engaged in the work.  They happened to be bottling today and the grandfather was putting the bottles on the machine, the machine did the work of corking, wrapping and labeling and the brother moved the bottles into the cases and cases from the machine to the middle of the room.  Mom was there too.  Not really sure what her duties were.  They were a 4th generation family.  Very sweet.    Oh, and the wine maker had great underpants.  See.  Not a great picture.  It is when he raised his arms you could view his purple and lime green boxers (just guessing on that point).  They also matched his sweater.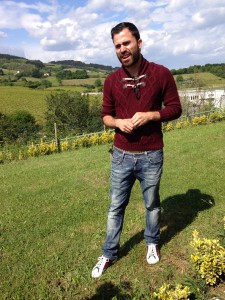 Then our guides drove us to San Sebastian for a walking tour.  And boy did we walk.  And walk.  And walk.  Stopped for pinxtos?? which is what the Basque call tapas.  Washed it down with sangria.  Then walked some more.  Saw beaches, churches and a lot of closed businesses.  Saw famous people in bronze.  Learned a great deal about the history of the place.  I'm a tired pooch.    We left the house at 8:30 and returned about 7:30.  Wowie, zowie.  Here is a typical street in the old part of San Sebastian.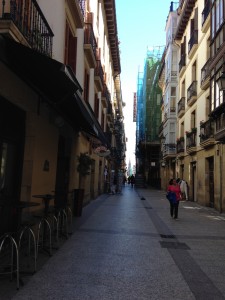 The funniest thing that happened is that the main squeeze,with whom I was riding, got lost on the way back.  Yippee.  Vindicated!!  They get lost too.  That may have made my day.  Heck.  It may have made my week.  Heck it may have made the whole vacation and others like it.  Again, misery loves company.  Can't say it enough, apparently.