Yep.  I thought that would catch your eye.  Gather your attention.  Stir your interest.  Titles matter, apparently.  And are you one of those that have not been reading my life's work?   But now, here you are.  And it is all because of the title.  Too provocative to ignore?  Too salacious not to ponder?
But I digress. Our bicycle friends continue to make a big impression on me…especially when I stand on the scale to weigh myself.  Pure horror grips my heart.  I'm so out of shape when held up to the likes of them.  They are sticks.  Some are very tall.  Some are very short.  None are fat.  None are even pleasingly plump (isn't that how we refer to poultry?)  No mind.  You get the drift. So my day started out really swell.  I talked the Rayman into coming with me to observe the bicyclists in their natural habitat.  We met up at the crossroads of Sunrise and Church, I think.  I know the church part is right because there is a cross on top of the high hill behind  the churches.  Not so sure about Sunrise but it sounds good even if it is wrong.  There we assembled and I took a few pictures which I post here.     No, we did not ride.  We followed them on their ride up the hill, part way (in our Honda Fit which is a car).  I don't think it is an exaggeration to announce that this sent me into total envy.  There were tandems and single bikes on this ride.  As I learned over the beer I was crying into last night, tandem riders generally are slower on uphills.  Faster on downhills.  Those bikes can go fast too.  People were talking about 5% grades and 32 mph.  Myself would not be able to endure that speed.  When I used to ski and started chattering along about that speed, I usually headed uphill to slow down.  And snow is much softer than asphalt.  So.  There you have that.
The other thing is injury.  These people have injuries.  We were visiting with our friends Ron and Elizabeth and Ron, just in passing, mentioned, "Well, when I broke my neck…"   WHAT?  Yes.  He broke his neck in CA and drove clear back to Oregon thinking not much was wrong.  And when he had a CT or MRI, I can never remember which is which, the radiologist told him not to move because his fractures were "unstable".   Once the docs conferred, it was decided that he drove all that way, waited to see the doc, had the tests.  Unstable, he was not.  So, off he went to get one of those collars.  Poor dear.  He is one of the very best riders.  Across the U.S. on a bike.  Up the Pacific Coast trail (up is harder).  Check.  Wife Elizabeth was with him on these adventures.  She told us a story of how they trained and trained for a double century ride.  Ron fell and was injured to the point he couldn't do the ride.  Elizabeth did it by herself.  Picture this.  She was at the meet up place in Portland at 3:30 in the morning.  In the dark.  13 hours later she arrived in Seattle.  I mean, really people, she is a wonder woman.  I'm in awe.
Their friends, Nancy and Jonathan, are parked next to us in the RV park.  We joined them in the desert for coffee the other day.  And that's where the sex comes in.  It seems that on the ride to Agua Caliente, I think, they were riding their tandem bike when all of a sudden Nancy spots rattlesnakes.  They were doing it in the road.  The snakes, that is.  Nancy is a nurse practitioner and she found this fascinating.  So they stopped to engage in a bit of reptile voyeurism.  For five minutes.  As she describes it, the snakes started from a base of intertwined coils and "stood up" straight with their legless bodies (which always freaks me out about snakes.  No legs).  And then they wound around each other in such a manner that they appeared to be one two-headed snake.  At first Nancy thought it was a stick.  Anyway, they (the snakes) fell over a few times only to resume this copulation activity in front of company.  The snakes never did acknowledge the presence of the peering pair.  They were busy making lots of baby snakes.   Nancy took a picture.  Too bad she didn't video record it.  She is sure and  I agree that it would have been a YouTube sensation.  Here's the pic she shot…too much romance and movement to get it clearly…Oh, well.  Don't want to stand to close either.  https://www.youtube.com/watch?v=-lrmsVd4s5c is actual footage of the event taken by someone else.  Just cut and paste into your browser to view!!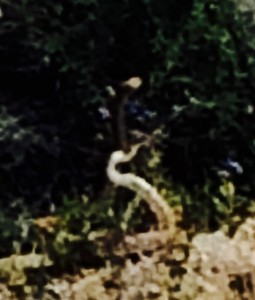 Besides snake sex in the spring here in the desert, the plants are blooming.  Gorgeous wildflowers.  Flowering palo verde trees in bright yellow.  The citrus trees are flowering and the scent is intoxicating.  The ocotillos are stunning with their red flames shooting out the top of the spiky branches that reach toward the sky.  Prickly pears have bright pink flowers that are blooming now.  Spring is a great time to visit Borrego.  The bees are as big as your thumb and they chase birds away.  Hummingbirds are flitting to and fro.  Roadrunners are plentiful, beep, beep.  Quite a fetching environment.  And the nighttime sky.  OMG.  It is very dark here because there are no street lights.  And the population is small.  And it has been designated as one of those special places to stargaze by people that have the authority to make such designations.  As long as they are make designations, I think they should designate Borrego Springs as one of the quietest communities in CA.  The sidewalks roll up early and it gets really, really quiet when the air is still.  Occasionally, a jet or small plane can be heard.  And coyotes rejoicing in the middle of the night.  But overall, it is quiet, peaceful.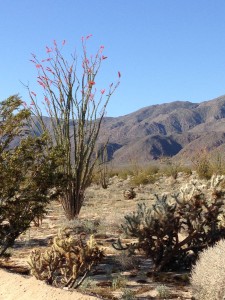 An Ocotillo in bloom.
Okay.  What's wrong with this place?  I'll tell you what.  My skin looks like a lizard.  My Meyer lemons have sagging skin where once they were plump and pretty.  But back to my skin.  OMG.  This place sucks all the moisture out of your skin.  My chicken neck is even wrinklier.  My lips are dry and cracked.  Sunscreen is needed all the time and everywhere skin peeks through.   And it is hot.  Just like a desert. We leave tomorrow for Yuma and from I have figured out Yuma has 2 things going for itself.  It has an In-N-Out and it has a movie multiplex.  We plan to catch up on movies during the hot afternoons in order to stay cool.  We will still need to keep the coach air conditioned because of Beau, but seeing a few good movies in a cool theater is just too appealing to forgo.  We also have two swimming pools at the Palms RV Resort which I plan to spend time in even though my skin will shrivel.  It will feel fabulous after a hot day on the links.  That's where you'll find us…in the pool for a dip.  A dip for the dips!!
Update from Yuma.  OMG.  Not much here.  In a fancy RV park and they gave us an undesirable spot…but oh, well.  I'm not buying.   We managed to only get lost once coming here.  Ended up on a dirt road with farm equipment.  Don't ask.  We also visited Costco in El Centro where the greeter speaks to you on espanol.  Good merchandise and plenty of tequila for sale!!  We bought more Advil, gin, dates, and lamb loin chops.  Priorities.  The pain meds are listed first!! Tomorrow it's golf and Tuesday is the Mexican Dental Diaries!!  Stay tuned!!