Hi folks. Reporting in from smokey, hot Vancouver, B.C. Arrived yesterday having suffered all day from various anxieties. But before regaling you with those stories, let me recap a few days of travel in the great northwest.
From the shadows of Mt. St. Helens, we headed north toward Seattle, this time taking the freeway. Freeways are such a hard drive. No use dwelling on the obvious. This time I was at the wheel. We were both sad to leave Silver Lake Cove. It was darn near perfect. However, we had a schedule to keep which is one of the disadvantages of traveling when everyone else on earth is traveling. My heavens. Cars loaded to hilt with bikes, scooters, paddle boards. It's a zool. And so are we!!
Anyway, first stop was a rest stop. While wandering the grounds, we discovered an old cedar tree that was enormous. And you could walk thru it. Seems the entire area was covered with these magnificent specimens. Oh, well, quite possibly you have a cedar-lined closet. Or a cedar chest. No more cedar trees in this area. This one had been cut down a very
long time ago and the trunk was so impressive, they somehow decided to save it and relocate it by the road for all to see. There was no freeway heads-up sign announcing it. We just stumbled on to it.
Rayman then took on the driving chore. The plan was to go to the Costco near Seattle to buy gas. He researched it the night before. Had the location all figured out. About 10 miles into his drive, I asked him if he had programmed Costco into the GPS. Oops. No. Okay. Well. I tried to "retrace" his steps by looking at the iPad to locate the location. I picked one. No, he said. "That's too far from the freeway." Okay. So, I then located another that was close to I-5. That must be it. And that's where we headed.
The GPS took us there via every strange street available. We wove around UPS facilities, oil refineries, office buildings, railroad tracks. This did not go over well. And rosy me, I kept saying, "Turn left here." "TURN LEFT THERE? WHERE THE HELL ARE WE GOING?", fussed the driver. Finally we arrived. The gasoline station was cramped. This is never good when you are 33 feet long and pulling a car. "I PICKED ONE THAT HAD AN EASY IN AND OUT. HOW ARE WE GOING TO GET OUT OF HERE?", he barked. I scrambled out of the RV and talked to the attendant. He said we could do it. So, we did. And when we got ready to leave Rayman asked the attendant how to get back to I-5. We were literally 3 blocks away from entrance to the freeway.
Well, I was madder than a wet hen. And I think we will leave it at that. You can fill in the blanks!!
Such is the life on the road. Stuff happens.
We managed to arrive in Anacordes, Washington, without killing each other. A true testament to working things out. And we set up the RV. That evening, we had an invitation to my Uncle Jimmy's house for dinner. It was a lovely time and we caught up on everything going on in our lives. Great dinner. Great conversation. Lovely end to a stress-filled day.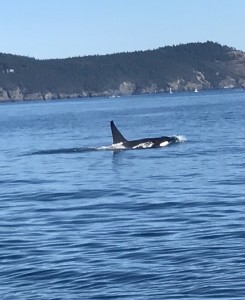 Anacordes is a water-rich community. Water everywhere. An island location. And we took total advantage by arranging a whale watching adventure for 1 p.m. the following day. Had a fabulous time and saw many orcas. And it was a beautiful day. Warm. Clear. The water sparkled. The orcas performed. The day before, the tour guide relayed to us, they saw not one whale. The day was wonderful. We were on a roll.
Uncle Jimmy and his wife, Christel, took us around the area the following day. We had drinks on a rooftop and then we ate dinner on a dock by the bay. Jim and Christel must work for the Chamber of Commerce because they told us all the virtues of living in the area. They even drove us around a neighborhood of houses. They would like us to move up. We were full of questions. They had the answers. It was a fun afternoon. Again!! That was Tuesday.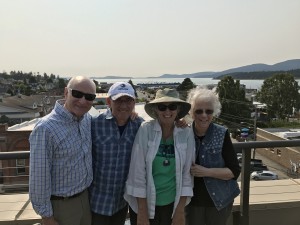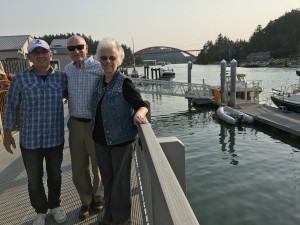 On Wednesday, we packed up and headed to Canada to meet up with our friends, Ruth and Tom. Before we left we had received a few warnings. First, my brother told me Canada used drug sniffing dogs at the border. Okay. So we left our grass and edibles in Portland with Ryan. Second, Tom met the border nazi when entering the country on Tuesday and he told us the tax on bring in wine was horrific. So, we left all our good wine with Jim and Christel. Finally, Ruth called to say that Vancouver was shrouded in smoke. Fires were burning and the smoke was causing big problems. We were bound and determined to go anyway.
We took an out of the way border crossing off of Highway 9 entering at Abbotsville. We were very fortunate because the border guy was reasonable. The sad thing was we had to ditch all our fruit with pits. We had nectarines, peaches, cherries that we had just purchased in Anacordes. Drats.
Ruth and Tom came over (they are in another RV park). Tom was beyond disappointed that we left our "good" wine and lamented that he should not have called us!! We came across with 12 bottles. They did too. No problemo. After drinks and pupus, we ventured out for dinner with the help of the GPS. The restaurant we wanted was packed. We ended up in a strip mall next to an abandoned gas station at The Smoking Pig. It was a Korean restaurant. And it was a Korean restaurant. And it was wonderful.
We now feel back on track after a day of laundry and reading and doing some business. Tonight we will have a planning session over dinner at the Donnollys. There are places to go and things to do. And we're here for a week. Hoping the smoke clears.
Oh, and we went to Whole Foods today in Vancouver. It had underground parking. When leaving, we rode the elevator down and when we got out, we could not find our car. It took us three floors to find the car because we didn't read the writing on the wall. Guess we need a GPS to locate our car too.
And that's all folks.