I'm getting behind.  Too much to do and see.  But yesterday took the cake.  The night before, in Potes, Rayman ingested a relaxation pill because he wanted a good night's sleep.  Well, little did he know, when he bought pills to replace those stolen, he got a higher dosage.  He therefore was like the walking dead all day yesterday.  I will refer to it as Rayman being comatose.
After showering and checking out, we went to a small bakery for coffee and rolls.  We each picked out a sweet roll.  He chose apple  thinking it was pineapple and I picked something dark and mysterious which turned out to be chocolate!!  We each shared a bite.  Then Rayman when back for another and got the chocolate.  And then he went back and got another chocolate.  And then he went back and got another chocolate pastry.  At this point I knew something was terribly wrong.  He was really mellow and not behaving normally.  I decided to do the driving.
The scenery continued to be absolutely fabulous and so I kept stopping and getting out to take pictures.
I made him get out too just to get him to move.  He was stumbling and bumbling.  I kept telling him to pick up his feet.  I was worried he would fall. We were headed to a natural history museum that was a replica for the Caves of Altamira.  These are famous caves found in northern Spain that were inhabited by homo sapiens between 15,000 to 30,000 years ago.  And the Spanish people completely replicated them because all the tourism was starting to destroy the caves.  An elegant solution.  And the exhibit was beautifully done.  The caves had all kinds of paintings of bison, big cats, goats etc.  And the exhibit had movies, slide shows, artifacts.  And the Rayman had a very hard time with the visit.  But he made it through.  Without falling asleep on his feet.
After the visit we continued north until we reached the Bay of Biscay.  Then we headed east along the ocean stopping at a small beach Ali had recommended.
And then I d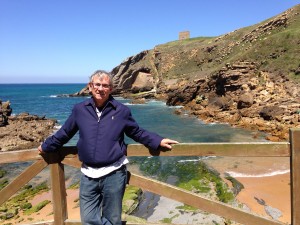 rove us to a small seaside village and we stopped for lunch.  Here are some pictures. Insert pictures and explain We made the mistake of ordering wine without telling them that we wanted a glass each of wine so we received a full bottle.  To wash the calamari and ham down with.  Bad english grammar, but you get the idea.  Just what the Rayman needed.  Wine on top of drugs.  And then the owner of the place liked us so much, he treated us to an after lunch liquor.  Below is a picture of "Juan, the jamon slicer".  He made quite a production of plying his trade.  We feasted on jamon and calamari.  Yummy.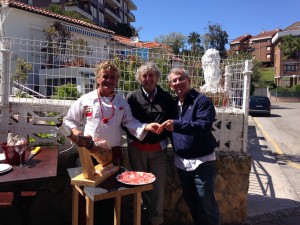 Oh, my.  Well, no sooner had I started driving us back to the main highway, Rayman was fast asleep.  And so it was just me and Glenda, alone.  And Glenda was driving me crazy.  She kept saying to turn left but if I did, I would have driven us into a ditch or worse.  She kept recalculating.  At one point I woke up Rayman when I yelled at Glenda to shut up.  He promptly "passed out" again when he discovered nothing was "seriously"  wrong.  But yet, everything was wrong.  I was tired.  Without assistance from him it was a real chore to find my way. Before we left the museum, Rayman stated that he wanted to go to Santander to spend the night.  So, here I am with Glenda and a comatose husband trying to find a hotel by myself.  Well, I was at the end of my rope.  So, I pulled into a hotel and beseeched the "laid back spouse" of mine to go in and see if they had a room.  They didn't.  It was Friday.  So, I kept driving in circles.  This city had a roundabout about every 50 yards.  And Glenda kept barking at me to "enter the roundabout and take the second exit" which I would dutifully do …only for her to "recalculate".  Really, people.  Glenda was as out of it as the Rayman was.  Only different.  So, I pulled over and activated my phone and searched for a hotel on Orbitz.  It became apparent that the city of Bilbou, down the road about 40 km, was a better choice and so I tried to book a room.  But I had all kinds of trouble.  So, I shut off the phone and decided I would try to find our way back to the freeway and find that Holiday Inn Express that I briefly saw on Orbitz.  Well, that led me to figure out once back on the freeway that their freeway signs had a picture of a cot and that meant there were hotels.  So, I took an off ramp heading away from the beach onto another 4 lane road and when I saw a sign with a cot, I exited the freeway and found myself in a small town by the name of Limp????  I took the first roundabout and drove down the lane long enough to realize there were no hotels in that direction.  Went back to the roundabout and went the other direction.  It too looked hopeless.  And then…miracle of miracles…we ran into a parador.   I was exhausted.  Rayman was half awake.  And Glenda was still on the fritz.  The parador was a sight for sore eyes.  And that's where we spent the night.
After checking in, Rayman took a nap.  At 9:30 I woke him up, we went down for a snack and as soon as we got back to the room he was oujt.   I stayed up until 1 a.m. blogging and trying to do technical things on my blog to no avail.  I gave up in disgust. Today, we arose and Rayman was back.  We headed out to meet our friends after we consulted the computer and sort of figured out where we were to go.  Our house was in the country.  We wrote down the names of towns and numbers of roads and we looked at the picture we had thanks to Dorothy insisting on more information on how to find the place at one of our planning parties a few months ago.  And Terry found and shared a picture of the driveway. Spanish freeways are fabulous.  And the mountains march down to the sea.  And those two realities produced miles of tunnels.  Beautiful tunnels with very few cars.  Each time we came out of a tunnel, there were new scenes to appreciate.   It is hard to overstate how impressive this country is.  They seem light years ahead of us.  Admittedly, they are a country with a population of about 48 million… but still. The freeways are well marked, mostly.  Of course we still managed to get in the wrong lane to pay the toll and had to back up to go into another lane but that was how light the traffic was.  We could do that.  And then we arrived at Durango. Well.  We got hopelessly lost in Durango, the "biggest" town near the house.  At one point, we ended up on a dead end street.  Literally.  It was the cemetery.  Here's a picture.  And we asked a policia hombre if we could park next to him in the center of town.  After about 5 minutes of talking exhaustively in two different languages, we threw up our hands and got in the car and drove away.  Parking was not in our future.  Instead, I dropped Rayman off at a money machine and while he tried to get money using an ATM with no english, I drove around a roundabout about 20 times.  I started getting dizzy.!!  He finally got money sans receipt because he couldn't figure out what buttons to push and we somehow managed to find out way of Durango.  "If you don't know where you're going, you'll wind up somewhere else", the great Yogi Berra once said.  Truer words were never spoken.  But after much trial and error we miraculously spotted the driveway and it was with great fanfare that we drove up that very long driveway and saw Dorothy and Allan standing in front of the house with the owner.  OMG.  It was such a good feeling.
The owner of the house showed us around and presented us with a bottle of "his" wine.  He is an investor.  And he provided jamon, and bread.  Also, Dorothy and Allan brought goodies like olives, jamon, chocolate, bread, bread sticks, etc.  Finally, Terry and Janis rounded the curve and we were finally all assembled. Sorry folks for the length of this blog but it covers two days. After sharing food and drink, the owner, Miguel, drove us back down to Durango and escorted us to the supermarket where we spent about an hour gathering food, wine, gin, ice cream etc. for two days.  And that was a kick.  First of all, you must pay to use a cart.  Some places refund your money at check out.  An interesting concept.  And then Dorothy and I bonded with an english speaking young man in the fruit and vegetable department.  He kept helping us find things.  In the end, we both hugged him as we left.  He was so sweet and helpful.  Janis had developed the grocery list and had a plan for tonight's dinner which turned out to be fabulous.  We had so much fun pinching ourselves because the house was and is fabulous.  The view is sublime.  And the company top notch.  Over dinner we told stories of all the funny things that had happened to us since our arrival in Europe.  And some not so funny things.  Like our robbery.  But it was a great reunion.  A good time was had by all. And with that, I must retire.  I am exhausted.