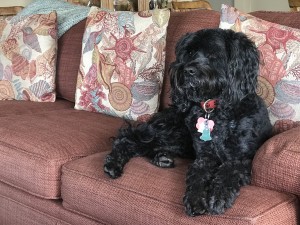 Happy birthday, Beau.  7 years old today!!  and to his sis, Jaycee!!
What's been happening?  How are you, dear reader, doing these days?  Hopefully you are having fun.  Playing games.  Loving your family.  Reading a good book.
Portland is a city with great food.  We've been eating a lot of it.  Portland has lots of roads.  We are driving most of them.  Portland never sleeps.  We do.  Similarities have to end.  That's what makes things interesting.   Let me recap all and ask you some questions.
In our new neighborhood, known as the Beaumont, is a busy street named Fremont.  Our new skinny house is 1/2 block off Fremont.  Fremont has a grocery store, an Ace Hardware store, the Grand Central Bakery, Pip's Donuts, a bank, two breakfast joints, a manicure salon, a gym and that's all within about 3 blocks from our front door.  So, this new house represents a lifestyle change.  We can walk a few feet and avail ourselves of many goods and services.  This is a good thing.  We are just a few blocks from the biggest cemetery I have ever seen.  Closeness takes on a new meaning with that bit of information, doesn't it? 
Our family is also close at hand.  My cousin is a 10 minute walk.  Her daughters are a 10 minute drive.  Ryan is across the Columbia in Vancouver, WA.   Their proximity is what drove us to locating where we are.  It is very cool.
So, what else has been happening?  And is this making me younger or older?  Suppose it is making me younger because everything is new.  Everything is a challenge.  The stairs to the bedroom are going to help me keep in shape.  Therefore, new stimulations are forcing us not to sit around and darn socks.  We aren't left a lot of time to read, watch TV, cook…
Let's examine the last 48 hours.  Rayman received a call from Ryan.  His dog had not been doing well.  Ryan was getting ready to drive to Burning Man out in the middle of some god-forsaken desert with his lady friend.  Only her Mom had a heart attack and she sold her ticket to Burning Man so that she could jet to Tucson to see her Mom.  So, Ryan was going alone.  But the dog was sick.  So, Rayman left for Vancouver, WA at 10 p.m. to be with him.  He did not return until about 1 a.m.  The dog was gone.  Congestive heart failure, a mass spotted.  Ryan decided to put her down because she was sick and her quality of life was dismal.  Rayman was very glad we were here to be of help at this difficult time. 
The next day we met our friends Al and Char at our house…our first visitors.  After a tour, we went down the street to the Grand Central Bakery for lunch.  While I was standing in line to order, the phone rang.  It was Susie.  I invited her to join us and ordered extra food.  When I went outside to join the party, Rayman was on his phone with my cousin, Chris, who lives down in Camarillo.  He had received a call from a long lost cousin.  What were the chances.  Sue is on my dad's side.  Chris is on my mom's side.  What a hoot.
While we were eating, a yellow jacket came along and made a pest of itself.  Al decided to execute a killing on their plate.  This spooked Charlie who then dropped her cup of soup all over herself and the cement patio.  Beau was under the table.  He enjoyed some of the soup before I could pull him away.  In the meantime, Rayman had ordered a BLT and everyone had their food but him…slow grill.  Sue arrived.  A great time was had by all except Charlie who was in the bathroom washing all the soup off her clothes. 
Next up was a 1 p.m. appointment with a window covering person, our third estimate.  About 1:10 she called to confess she was lost.  Then at 1:15 she called to say she left the samples at home.  She was making me feel good…however, her bid was too high. 
We unpacked boxes and I discovered that the Villory and Boch (spelling is all wrong) silverware I bought on-line and got a fabulous price on was not my fav but it did have the advantage of matching the skinny house…the handles are the skinniest I think I have ever seen.  But, hey, for the price, I loaded them in the dishwasher along with 16 plates (I thought I had ordered 8 but somehow the order got doubled), 24 glasses in two different sizes and started the machine which I am happy to report is very quiet.  Bought extra for parties!!
Then we moseyed over the cousin Susie's to say hi to all the kids…she had them for dinner.  As we were leaving, Rayman backed into a car on the other side of the street (the street is 3 cars wide…skinny in other words).  That involved tracking down the owner, exchanging info before heading back to the Dog House.  Rayman kept kicking himself.  However, what are you going to do? 
That was yesterday. 
Today Ryan called and he received a call from his gal, Tamara.  Her mom had to have 6 stints which they did yesterday.  Today she had another heart attack.  And dialysis was ordered.  Tam called and ask Ryan to fly down and be with her.  So, he bought a ticket for the flight to Tucson, sold his ticket for Burning Man and needed a ride to the airport.  We obliged after we met the window covering woman we selected as our choice. 
While this was going on, we were trying to get our TVs in the Dog House to work.  New splitters were needed.  They sent us new splitters without the requisite power supplies.  We asked them to overnight the power supplies.  Paid $100 for that.  They did not arrive.  FedEx "lost them".  Then they found them.  Then I called Tiffin to ask them to ask FedEx to refund our money.  Never heard back.   In the meantime, Rayman installed new equipment and the TVs don't work.  Ugh.
Our chairs and bed were delivered today.  Forgot to mention that. 
So…here we are and after all this…I think I have decided I might be getting older.