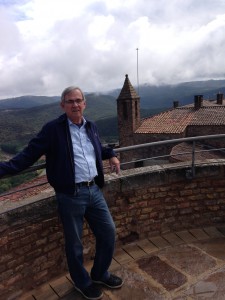 You can tell we're winding down.  My blogs are short and sweet.  Today we drove to our next parador.  We are in love with paradors.  This one sits on a hill.  Cardona is the city is which it is located.  You can see far and wide.  It was a military installation that was begun in the 10th century.   iI's architecture is a direct result of wars.  It is an ancient fortress that had been built to be a small city fortress.  Charlemagne stopped the Muslims here in the 6th century.  Quite unbelievable if you think at all about it.  Catalanyan lords lived in the castle through the middle ages and renaissance.  They were considered to be kings without titles because the fortress was completely impregnable and siege proof because of underground wells that couldn't be contaminated.  And now it is a hotel.  Actually, it has been hotel since 1979.  The army used it as a depot after Franco went to meet his maker.  Finally, the government designated it a national monument and a tourist hotel.  And here we are installed on the top floor, right above the bar!!  A view from our room.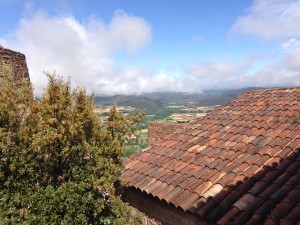 It is fabulous.  Of course it was also used as a church at certain points in time and Rayman found out that St. Ramon was the first patron saint of the place.  St. Ramon is reported to have been born caesarian and his mother died but he lived.  And so he went on to help women give birth to healthy babies.  I don't think I am exaggerating here to say that his chest is puffed out a bit!!
Great way to spend our last "in the countryside" adventure of this trip.
We only got lost once while driving.  This may be an official record.
After driving for several hours we stopped at a "cafeteria" associated with a gas station and ordered coffee drinks, one fresh squeezed glass of OJ, and a croissant.  (spanish croissants don't even come close, sorry, dear Allan).  As we're sitting there an odor take over.  I said, "I must have stepped in something."  Rayman added, "It smells like the toilet overflowed."  "Let's take our stuff outside."  And we did.  Only to discover a truck of pigs parked right next to the cafeteria.  I made a video of the poor pigs.  More pigs in Spain.  This time a really bummer.
So, it's time for wine.  Time to reflect and wait for dinner which doesn't start seating until 8:15.  Ah, viva la Spain.