Are any of you women starting to relate to "On Golden Pond'?  Just wondering.  It may be time to watch it again.  I"m kidding to a degree because when you travel and are out of your routine, funny things happen.  Top of the list, of course, is getting lost.  Second is losing things other than your way.  "Where is my hat?".  "Where is my jacket, I cannot find it?".  "What happened to the tape measure?"  "Have you seen my iPad?"  "I can't find my sunglasses."  The list goes on and on.  It seems more acute on the road even though our space is smaller, the amount of things we took along is much smaller. 
Or is it just us?
The last few days have been travel days as we are heading south from Portland to Morro Bay.  We stayed several nights in Newport, OR using the excuse that we wanted to play golf (we did and Rayman got a birdie so we celebrated with birdie juice and a trip to the carwash) and/or we wanted to see the sights.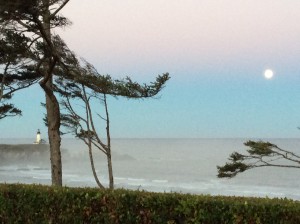 The real reason is that we wanted to eat at Local Ocean.  Great seafood restaurant.  Do not go there if you want a hamburger.  Don't go there if you want a pulled pork or a BLT.  Go there if you want roasted garlic and fresh Dungneness soup.  Do go there if you want fish cooked perfectly…halibut, salmon to name two.  They have it down.  Fresh as a flounder (there weren't any founders on the menu), cooked medium rare.  With interesting veggies, interesting noodles.  Yummy.  We ate there 3 times.  And we stayed at a very expensive RV resort that was perched (also a fish) on the bluffs overlooking the Pacific.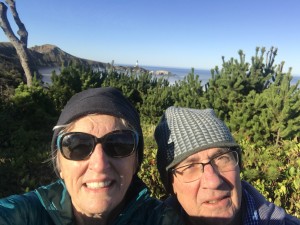 It had beach access, indoor pool and sauna, pickleball court and heaven knows what else.  That is where I sat watching for whales one morning and saw probably 20-30 blows.  It was exhilarating.  Plus we could see the lighthouse on the bluff to our south.
Here are some pictures.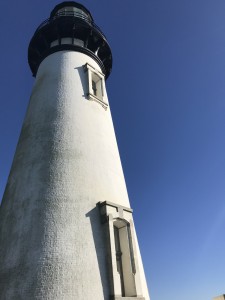 After all that, we hooked up and drove to Coos Bay for 2 nights.  Stayed an extra day for a stimulating round of golf.  I beat Rayman because on one hole during the end of the round, he lost his drive in the woods on the right.  Then he lost his second ball in the same woods on the right.  Then he lost his third ball in the woods on the left.  Those narrow fairways got between his ears.  We played at a course about 20 miles north of Bandon Dunes and payed only $50 a round compared to Bandon which is about $350 a round.  So, I suppose you could argue that we were still ahead even factoring in Rayman's lost balls.  It was a fun course and we had a great time. 
It was Friday.  Kavanaugh had testified on Thursday, along with his accuser, Dr. Ford.  It took us back to our honeymoon which we celebrated on the big Island of Hawaii while Anita Hill testified against Clarence Thomas.  We had TV to watch re: the hearing and Bill Maher hosted Steve Bannon.  Didn't want to miss that so I jumped in the kitchen and made pesto (from scratch, "Where is my olive oil?") and a tossed green salad for dinner so we didn't need to go out to dinner.  Good move.  It was very interesting TV. 
Today, we saddled up and hit the road for Brookings, Oregon, our last night in the beautiful state.  As soon as we pulled in and set up the RV, it rained.  "Where's my coat?",  'Where's my hat?"   "Where are the keys?"  "Where is the restaurant.  And so it went.
The funniest thing was uttered by Rayman today.  We were passing through Gold Beach, Oregon.  Their high school sits right on the highway.  The school sported a big sign painted on the side of the building…Home of the Panthers.  "Well, that is silly.  I would think they could think of a better name.", I exclaimed.  Without missing a beat, Rayman said, "Yeah, It should be Home of the Goldfish".    We both roared uproariously. 
I can't remember what happened next so I'll close now.  On the banks of the Chetco River.