My pulpo.  aka octopus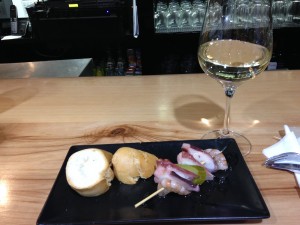 This morning we explored Segovia.  Beautiful city.  Had a cathedral.  They charged to see it so we didn't see it.  The outside of it was imposing.  The big draw was the Roman aqueduct that was built around 2000 years all.  And much of it is underground and of course, we didn't see that part.  The above ground structure was amazing.
We needed drugs as we lost all our drugs in the robbery.  For less than 12 euro, we got drugs without prescriptions that cost us about $200 at home (with Medicare and a supplemental policy).  We are so being screwed by big pharma.  It is depressing.  Thinking of loading up before we return.  But really, folks, why do we take this treatment from the big pharma?  It's unethical.
We also parked in a parking lot that was very cool.  Spaces without cars had a green light.  Spaces with cars had red lights hanging above.  How practical can you be?
Today we ventured out into the countryside.  Roads are perfect.  Well maintained.  We managed to get from Segovia to Valladolid.  Through farmland, mostly.  Beautiful day.  Saw lots of solar farms.  Mostly crops.  No livestock.
When we arrived in Valladolid, we drove around looking for our hotel.  Silly us.  This city is big.  We then decided when we saw a sign for Office of Tourism we would stop in… only we only saw the signs.  Never saw the office.  Finally, we remembered that we had a garmin GPS with us.  So we turned it on and went right to our hotel.  Let's see.  It took 1 1/2 hours to get from one city to another and 1 hour plus to find our hotel.  Uhmmmmm.  Oh, well.  At least we found the hotel.  And that is when things got interesting.
The young lady behind the desk assigned us a room and told us where to go (kindly).  We went there.  The room wasn't there.  But we kept searching.  To no avail.  So, we went back to the desk and they assigned us another room (think they felt bad) and we actually had to go down a half flight of stairs to get the elevator to go up one floor.  Our room has a great view of the Duero River out our window.   It is an odd hotel off the beaten path and we love it.   It is odd but beautiful.  Has a bidet and a phone in the loo.  Quite upscale really.  And reasonably priced as we used air miles to book.
Once settled, we decided to just wing it for dinner.  Jumped in the Mini and drove down to the Plaza Major and parked the car.  Then we walked and walked and walked looking for a restaurant.  Segovia had a restaurant every other building.  This city had no restaurants…at least where we were.  So we gave up (poohed it!!) and ran into a small tapas bar that featured a good looking Spaniard who spoke english.  Nirvana.  Still practiced our spanish on him though.  And this is where I ordered octopus.  Rayman went safe with bread smeared with caramelized onions and balsamic vinegar and melted goat cheese.  Bravo.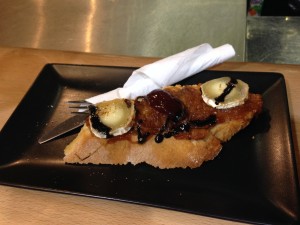 And did I mention the bull fight?  This place had TVs all over the place and there was a bull fight being fought.  The bull lost.  It was gut wrenching and I couldn't watch the kill.  Poor bull.  At one point the bull charged the horse.  Yes, there was a horse in the ring and it was outfitted with a suit of something that protected it from the raging bulls horns.  And the poor horse was blindfolded.  At one point the bull charged the horse.  Actually lifted that horse up.  If the horse hadn't had his "clothes" on, he would have been one dead horse.  There was so much wrong with that picture, I didn't know what to do.  Look away.  That was it.  Look away.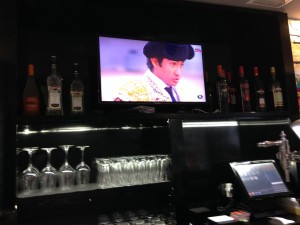 Oddly, this did not stop me from eating or drinking.  What kind of person am I?  Good grief.  But I had a long walk and was famished.  In my defense.  Didn't bother the Rayman either.  Except he watched.  Said it was ore humane than the way we butcher our cows.  He read that the meat is donated to the poor.  Harumph.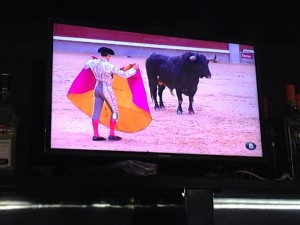 We did walk all around the city center along with about 100,000 other people.  People in wheelchairs being pushed by their family members or caretakers.  Babies buggyed.  Dogs walked.  Really old people with canes.  Everyone was going somewhere.  So unlike the way we live.  And this was at 8:00 at night.  Old couples arm and arm.  Few people smoking.  One runner.  Mostly just walkers.  It was amazing.  Rayman and I have decided that when we return home, we are going to walk to the wharf for dinner or drinks or a movie and walk home.  It is so healthy.  Didn't see but one or two obese people.  People here are in great shape.  Oh, what a night.
One other observation.  The city planners know what they are doing here.  There are expansive parks.  Muy arborles (I just broke into spanish).  Trees everywhere.  Rose gardens.  Wonderful public transit.  Even special lanes for bike riders that are cordoned off from the autos.  And I just love driving around the roundabouts.  Once, twice, three times a lady.  Just keep going around until you decide which way to go.
While composing this work, I jumped on the internet to see what was happening and also to email our fellow travelers that we will see here.  I wrote, "see you Friday".  One of our friends wrote back, "Didn't you mean Saturday?"  Gulp.  No.  Actually.  I meant Friday.  But if we show up on Friday, we'll be alone.  Saturday is the day.  OMG.  Talk about planning.  We're a day ahead of ourselves.  Well.  The good news is we can discover and visit another somewhere.  And it will be fun to figure that out.  I read about a mountain we can visit that has a tram.  And you can walk back down.  Do we dare?  What could go wrong?