I've been a fan for years.  Through the pages of your magazine, I have found inspiration in the form of interesting recipes and and thoughtful articles.  This has been the reason that I have subscribed for years.  To set the record straight, I will continue to subscribe, but I feel it my duty to pass along to you my experience of last night.
Actually last night was the not the whole story.  But before I launch into all this, I want you to know that I have always admired Ming Tsai.  As an up and coming Chinese fusion kind of guy, I spent hours watching his rise on the Food Network albeit years ago.  He was  a sort of self-effacing and shy-like cook that seemed at home in front of the TV cameras and yet, a tablespoon of awkwardness invaded his delivery.  A bit of an enigma but a sweet enigma.  
Enter my friend, Neta.  She and I have a love of Chinese food and a desire to attempt to create good dinners and so it was that I espied the article that Ming authored in your recent magazine that grew out of the Chinese New Year tradition of cooking a big meal for the big celebration of New Year.  And I love that the Chinese name their years i.e. year of the rooster, the monkey etc.  Charming, to be sure.  And fun.
But I digress.
So without missing a beat, I sent the article to Neta and she bit.  It was decided that we would replicate the feast at my house.  Recipes were divvied up.   A date was set.   We checked our pantry for food stuffs that were required.  And we went forth.  
First observation, no where in the article does it say that you are advised to invite 16 of your favorite friends.  This menu could have fed that many.  We ended up with food coming out of our ears.  The potsticker recipe yielded so many potstickers that we ran out of won ton wrappers.  Just saying.  Neta made the filling the day before so all we needed to do was assemble them…there were so many, it took an hour.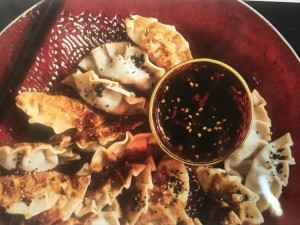 Meanwhile, I had issues of my own.  Before she came over, Rayman and I chopped, chopped, chopped the carrots, the garlic, the cauliflower, the broccoli, the red pepper.  Ginger was grated.  Vinegars were reduced from 3 cups down to 1/4 cup.  And here is where perhaps I made an error.  In looking into my pantry I saw that I had black Chinese vinegar.  When I went to use it, the beer bottle-like cap hidden under the plastic cap had rusted.  It was that old.  We each took a sip and figured if we were still alive before dinner, the meal could go on.  OMG.  I'm thinking that that vinegar had been living in the shadows of my pantry for at least 30 years.  Seriously people.  How many times do you have a recipe that calls for black Chinese vinegar?  
The recipes went on and on.  We kept losing them in the kitchen.  One was found under a cookie sheet.  Or one time, I started on one recipe and tried to incorporate another recipe to the first one because the pages got mixed up.  I hold Mr. Ming harmless on that count.  
As we progressed, the champagne was introduced to the scene.  We needed it.  It was obvious that we were in for a long afternoon.  At the end of the meal, Jay (Neta's man) started a question as thus:  "I don't mean this as any sort of criticism, but what took so long?"  Luckily the chopsticks had rounded tips.  He was really striking a chord.
Neta had arrived with the duck.  She was under the impression it was baked.  It wasn't.  It was simmered.  In a bottle of wine, aromatics, etc.   So, timing was an issue and the duck was first thing to go to pot, so to speak.  Why did Ming have so many dishes that used the top of the stove?  Good grief.  Does he think everyone has an 8-burner stove at their disposal?  To his credit he did mention a timeline which we apparently missed, so focused as we were on the recipes themselves.  Much more could have been ahead.  Like the duck.  But, part of the fun was to be the cooking together.  In that case, Mr. Ming might have figured that old ladies might be using the recipes, that said old ladies might not have a gaggle of cooks in the back room chopping, washing, spinning veggies and other sorted activities.  That the recipes were scaled for a party of 60!!!
So, it was left to us to create a meal on the stove top with 5 burners, one which is almost useless on account of the stove being just 30 inches wide.

 

What an ordeal.
Incidentally, our pot stickers were good, but perhaps not as photogenic as above.

 

The longevity noodles were a complete disaster.

 

This is the one dish I figured would be a fabulous dish.

 

A different type of mushroom was used that was delicious and organic.

 

All things I bought were organic.

 

What doomed this dish was the noodles.

 

The woman at the Oriental Market (their name, not mine) recommended the fresh noodles she had.

 

When added to the dish, the noodles clumped like a a jawbreaker sized piece of bubble gum might clump.

 

A big glutenous mess interspersed by lovingly chopped veggies and garlic and ginger.

 

In a wok.

 

It was at once ugly and undelicious.

 

Was this Ming's fault?

 

Yes.

 

How many people have access to fresh Chinese noodles?
He should have offered a substitute.

 

That might have made a difference.

 

As it stands, this recipe is never, ever going to be repeated.

 

Does the fact that the longevity noodles glommed together mean that our longevity of life will be impacted?

 

I would say yes but the black Chinese vinegar was used in another recipe, not this one!!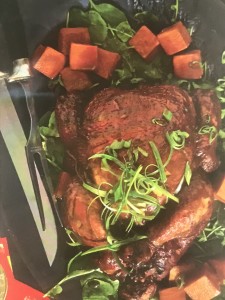 On to the duck.

 

This recipe is a keeper with the caveat that the duck or chicken be stewed the day before.

 

That way, the broth can be cooled, the fat skimmed before cooking the sweet potatoes.

 

And it would also free up a burner for the rest of the dishes.

 

That was an ongoing problem.

 

Really, people, it was miracle that we were able to complete anything at the right time that looked and tasted like 20 hours of work.

 

Another point.

 

Our duck and potatoes looked like this for the most part and it was delicious.

 

Neta took the broth home for another use…after all, it did contain a bottle of red.

 

And it was a good thing that after cooking an hour, the duck needed to rest in the cooking liquid for at least another hour because that allowed me time to start the stove top fire.

 

  

As the duck was luxuriating in it's bath, we were more and more intent on polishing off that bottle of champagne so we could 1. Calm our nerves

 

2.

 

Nourish our built-in excuse as to why things may have taken a sharp turn for the worse

 

3.

 

Recaptured any sense of humor that might still be remaining.
So, to recap, the pot stickers were fried, steamed, re-fried and thrown into the warming oven.

 

The dip was made ahead by Neta and poured into a fancy bowl as a nod to ambiance.

 

The duck was brewing, and I was making mayonnaise for the aioli was the called for as an accompany to the fish/veggie dish yet to be cooked.

 

The aioli is the segway to

 

next part of this storytelling exercise.

 

How many yolks does it take to make a cup of aioli?

 

Ming apparently does not know.

 

His recipe called for 6 yolks.

 

I knew this was too much but I figured, oh, well, what the heck.

 

Let's just follow the recipe.

 

Bad choice.

 

I now have about 3 cups of mayo in my frig.

 

With garlic in it.

 

And some lemon juice which may or may not be enough lemon juice.

 

I don't know because I fouled up the recipe by forgetting the juice so anxious was I to add the concentrated vinegars so I could grab a taste.

 

Ugh.

 

It was icky partly because the lemon was not in it.

 

But I think the old vinegar was just too old.

 

Is that a possibility?

 

I don't have a clue but I just know it's true.

 

Adding the vinegar gave it a lift but not enough.

 

So between Ming and me, this did not work to the advantage of the eater.

 
This next recipe called for starting a smoking fire on the stove top in my Chinese double-double boiler which is about the size of a small house.

 

Lined with tin foil, I added the tea leaves (which I could not find…loose leaves seemed destined only for repackaging into tea bags which I had to painstakingly cut open and dump out 20 0f them for a cup of loose tea, ((done ahead of time)).  Whoa.  Added to the tea leaves was the sugar and rice.  The tea provided the aromatics while the sugar caught on fire and slowly burned the rice.  Never done that before. 

But before all that happened, the pot had to be lined with tinfoil.

 

In doing all that, I inadvertently placed the pot on top of the steamer and placed it on the stove.

 

Bad move.

 

About ruined the steamer.

 

Had to remove it (hot), and reverse it so the gas flame hit the pot and then the smoking began.

 

Gulp of champagne may have occurred here.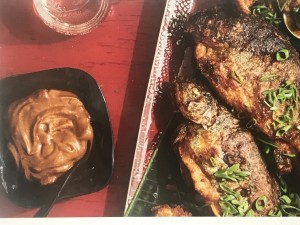 Then I had to line the nearly ruined steamer with a banana leaf (previously frozen from Thailand)

.  Upon that, went the broccoli and cauliflower.  After they were steamed in the smoke, they came off and on went the salmon. (salmon was substituted for the trout)   Ming obviously didn't want to look like a pussy cook and so it added yet another step.  This required the tempura method of cooking whereby I was required to make a batter with beer, corn starch etc. which I did while also forgetting to add the flour so the batter was thin as 1% milk.  This necessitated removing the veggies from the limp batter, adding the flour and then resubmerging the veggies.  From there the veggies went into the wok of simmering 350 degree oil and as you can imagine, half the oil flew out in little bursts of bubble oil mixed with beer batter to decorate my stove top in a new and excitingly horrible way.  There were so many veggies, this action had to be repeated 3 times.  Ming should have advised a turkey fryer placed out in the garage  so as to avoid the mess.   

Rayman who had to clean the stove plans a letter to Ming on the subject.

 
Once the veggies came out, they were piled up on a cooling rack, lined with paper towels so they could drip and be salted.

 

They were delicious…the tea smokey taste and deep

 

fry was great…but wait, there is more.

 

The salmon had to also be deep fried after the steam bath…and with the skin on.

 

Pop, pop, pop.

 

More explosions.

 

More mess.

 

Finally, it was time to plate.

 

There was so much food, you could hardly fit it on the table.

 
More champagne was opened.

 

Gulping may have ensued.

 

In summary, Ming did not write this article with a party of four in mind.

 

This article should have labelled, "attempt at your own risk".

 

Further, Ming should have provided alternatives for not easily found ingredients.

 

He should have demanded that the reader invite at least 14 of their favorite friends so that I would now have more room in my refrigerator for things other than 1/2 of the leftovers we had.

 

He also should have advised cooks to do this menu before garbage day because of all the things that you must throw away that could draw attention to the neighborhood cats and dogs.

 

Cooking oil, longevity noodles, aioli with two vinegars dip, bits of deep fried batter.

 
I do not hold myself harmless.

 

It as my idea to it in the first place.

 

And I had time to buy new vinegar.

 

And I made a few mistakes.

 

Would I do it again?

 

Most certainly not.

 

Am I glad we did it?

  

You betcha.

 

What happened to the dessert?

  We passed on Ming's recipe and 

Neta made a fabulous sorbet and I made ginger ice cream.

 

We ate some of both.

 

Done ahead.

 

Frozen.