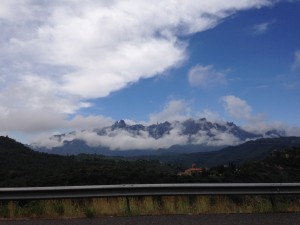 After bidding fond adieus to our lovely friends, we jumped in the car, stepped on the peddle and zoomed off down the road toward the Pyrenees mountains.  Our destination was a parador located on a very long dead end road (about 10-12 miles).  While the parador was lovely and our dinner delicious, the drive was spectacular.
There were several ways to get to the parador.  We opted out for the route that took us to the south of France.  And so it was that we were driving along and mentioned that I needed to relieve myself.  We saw a sign that indicated services.  So we took that exit.  And we encountered an unmanned toll gate.  It wanted money.  Euros.  We didn't have enough euros.  But there was a place to put your credit card.  So, Rayman inserted the credit card.  The machine did not like the card no matter how many and what direction we inserted it.  Oddly, there were no people queuing up behind us.  So, out of desperation, we pressed the big red bulbous button and someone came on in french.  The Rayman was impressive with his french.  He mentioned that he spoke very little french.  The lady switched to english.  After giving her all our credit card info, she said it was not accepted and she just buzzed us though.  Yahoo.  That is when we discovered that we were nowhere.  We turned left, went under the freeway and there was no on ramp.  We turned around and headed back and discovered there was no on ramp there either.  So we headed toward to river.  There was a beautiful river which the road followed but we didn't see any services.  So, we headed up the hill back toward the direction we had come from sort of and came across a french village with a boulangerie.  OMG.  The croissants.  Best thing we had eaten since we arrived.  In France!!
We got lost in the village of about 300 people, and headed back down the hill to the river.  And with trial and error, we finally found an on-ramp miles and miles down the road.  We clamored onto the toll road and continued on our way…until Rayman asked me to look at the GPS on the phone which I did and that is when we discovered we had missed our turn toward Spain.  So, off the toll road we went and paid $14 euro for the privilege of getting lost and this is when we discovered there was no way to get back on at the same off ramp.  Again.  History repeats itself.   "Luckily" the bill was so high, we could insert paper money and get change.  Unlike the previous encounter with an unmanned machine.
Interesting comments were uttered like, "Where the hell are we?"
"Look, the river is pretty.  If we have to be lost, this is a pretty place to be lost."
"God, damn it, we're losing time here."
"We never would have seen this if we hadn't messed up."
"Take this road, I think this will lead to the freeway."
" Oh, great, we're passing over the freeway and we can't get on."
"I'm sick of being lost.  What's wrong with us?"
"Get a grip."
And on and on.
We finally made our way back to the Espagne" sign and turned toward the mountains.  And then the trip took on a whole new feel.  The mountains were spectacular.  We made very bad time because I was at the wheel and I kept stopping for photos which didn't even come close to capturing the magnitude of the vistas.  Oh, and we were in search of a money machine so that we could get more euros.   And I had packed two absolutely horrible sandwiches for lunch that we tried to eat.  Too darn dry.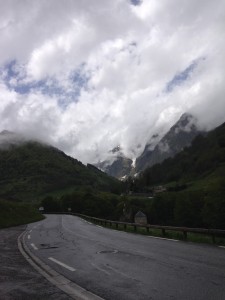 The french side of the mountains are sheer with switchbacks.  7% grades were common.  And then there was a tunnel at the summit which was miles long.  And it dropped us about 1200 feet in elevation so that when we emerged on the spanish side, it was more sloping and completely green.  Almost looked like a rain forest.  And not far from there is where we turned right and headed up a canyon to spend the night at the lonely parador.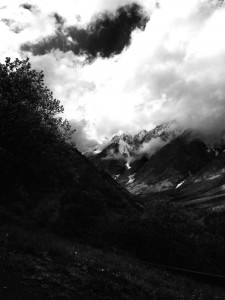 We ordered "a leg of lamb" to split for dinner.  The leg of lamb was from a baby lamb.  I have never seen such a small leg.  It was superb.  But small.  And we shared a mint flan than was about 2 inches square with raspberries and chocolate shavings.  Wonderful.  Oh, and we shared a duck salad.  We were hungry and it hit the spot.
Then we walked the stairs to our room and settled in for the night.