We have spent a day now in Istanbul having arrived yesterday mid-day and retrieved from the Ataturk airport by Cenk (pronounced Jenks). They drive on the same side of the road as we do so the ride to the apartment felt normal.
The flight on Turkish Airlines was uneventful except that the Rayman spilled red wine on his white pants…never a good combination and as I write this, he is traipsing around looking for detergent, heavy duty detergent for his wine-stained pants. We flew on a 777 in comfort class which is just above coach class. More leg room and very comfortable. The food was very good and somewhat Turkish…think pistachios, canapés with hummus etc. Wine wasn't bad either. A very good flight. No turbulence and not too long. Out of JFK it took us 9 hours.
When we arrived we visited and took naps. It is hot here and humid. And we were tired even though we slept on the flight. Then we went to dinner and took a walk along a street that stretches a mile or so and is closed to cars. Music blared. Everyone in Istanbul was there as it was very crowded. All the shops were open on both sides of the boulevard…shops like Verizon, Quicksilver, Starbucks. There were lots of local stores but I was surprised at how the multinationals have penetrated the marketplace…at least on this street.
We rode an elevator to a restaurant and we had a communal dinner, all 11 of us. My cousin, Susie, and her husband, Larry. Their two daughters, Ali and Kristen and Kristen's husband, Cenk, their 2 month old baby Layla, Cenk's brother and girlfriend (names escape me). Larry's brother, Phil, from San Francisco. Oh, and us. Excellent food. Then back down the elevator (which comfortably holds 2 but we crammed 5 in on the way up) and Rayman got that claustrophobic feeling so we limited it to 4 going down. The elevators here are incredibly slow with no visible sign of a phone or a camera. Perhaps a person could be trapped for days before being discovered…well, probably not because everyone uses the elevators…it's too hot to walk up.
After dinner we went back to our apartment which is located on an alley of a street and it has a police station (think steel and glass box that just big enough to hold about 2 people). A rabbi lives up this street a few doors and requires constant protection. Yikes. The apartment is very small but adequate and air conditioned. We're on the 6th floor but it is numbered 5 because the ground floor is number zero. Quite inventive if you think about it. The basement would be -1 if it had a basement. No guessing what button to push once you figure out their scheme. An elegant solution to an age-old problem. On the top floor is the "suite" where Cenk, Kristen and Layla stay. it has a big balcony and that is where we gathered after dinner and stroll to drink wine and eat double pistachio candies. Yummy. And cool because the sun was down. And that was our first day.
This a.m. I got up and visited with Susie. Rayman was still sawing logs. Larry was showering. This is when I found out that my cousin has a few pet peeves in life and one of them is mildew in the shower/tub. "There are sprays for that and they should use it.", she exclaimed. Second pet peeve…knee high socks that don't stay up. Third pet peeve. I forget. I'll have to ask her again. That made me wonder what my pet peeves are. But then I complimented her. Having gone through many years on this earth, her pet peeves are very simple and not very serious in the grand scheme of things. When that thought popped into my head, I stopped wondering what my pet peeves were. I'm sure they will be enumerated as blogging goes on!!
After breakfast on the patio where I ate the most incredible honey dew melon of my life, we took to the road. Ali, Larry, Ray and I headed out for some sightseeing. Ali and Larry have been here before. Ali is a history teacher in a high school in Portland and traveled the world. So…we got a first rate tour led by Ali. It was fabulous. Hot but fabulous. It involved a lot of walking at a clip that is comfortable for a 30 something. It also involved a fair amount of tripping (think cobblestone streets). Here are some pictures.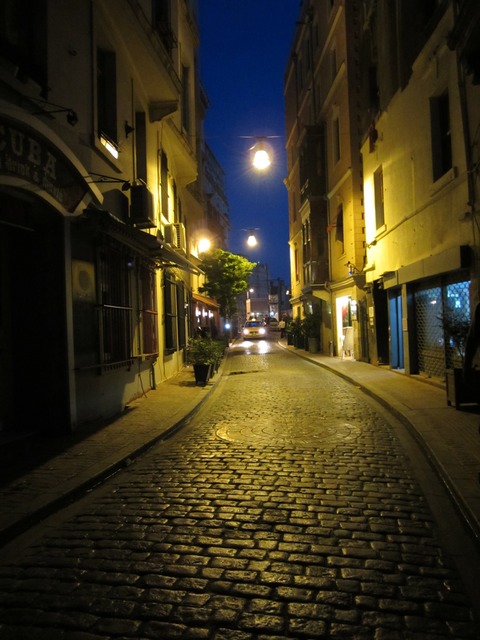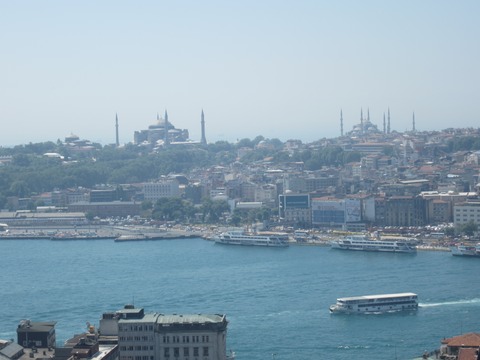 Me, myself and I was very interested in seeing the Blue Mosque but before we reached that mosque, Ali lead us through the spice bazaar into a tunnel and up to a mosque tucked above the bazaar. Here's a picture of fabulous dome. The "strings" hanging down support low low-hangling candelabras of sorts. We were provided long skirts and scarves for the visit and we were required to take our shoes off. There were few people here.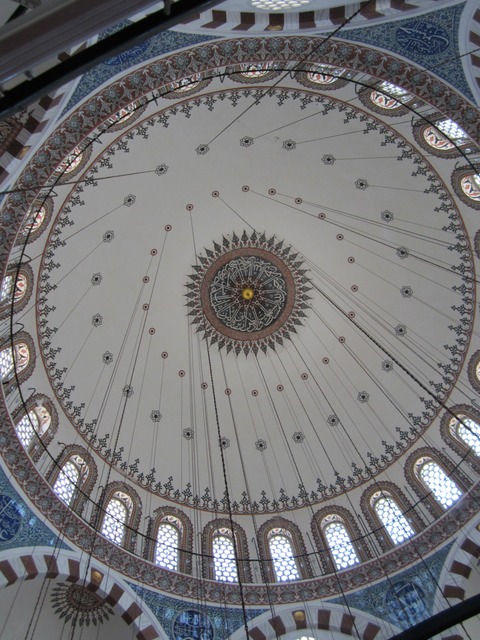 And then we went to visit the Ayasopya. It took 6 years to construct and for the life of me, I don't see how they could have done it in 360 a.d. It was built as a church out of wood and burnt down a time or two or three and the final product which stands today was commissioned in 520-something. It is now a museum. What is amazing is it's size. Built as a church originally, the muslims conquered the area and they converted it to a mosque and covered up much of the interior with, I forget, but I think cement. It also has a minaret and other pious buildings on the grounds. My camera battery was running low so I only took a picture or two. We may go back…it's that spectacular. Pictures, please.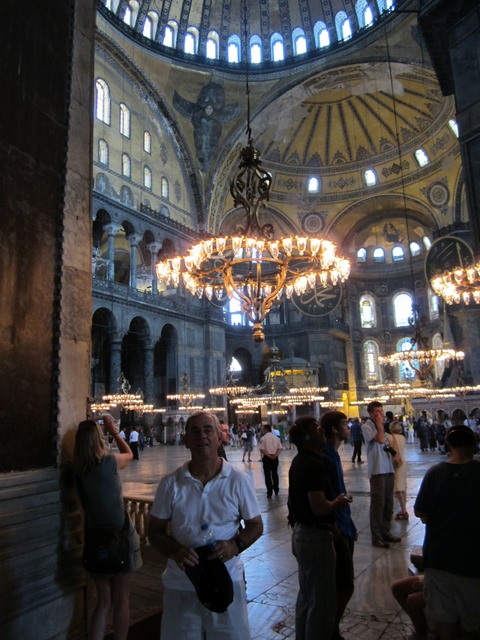 My camera could only get the bottom part. There is a huge dome not pictured here…but the Rayman is in the picture.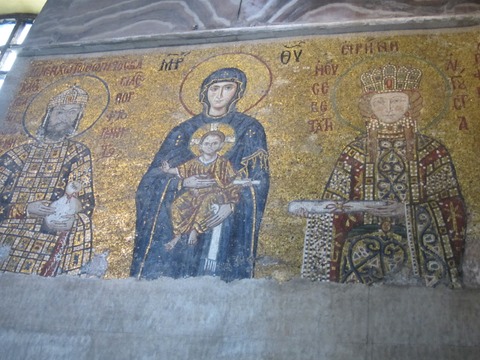 A fabulous mosaic of the Byzantine period. Much of it was destroyed by the cent. The tlles were tiny and were they gold? I don't know. May take the audio tour when we return. Fabulous.
As an aside, around 5 a.m. I was awaken with the call to prayer. It is fascinating. One mosque starts and then one by the one the others join in and it lasts 15 minutes. It fits the place. And they just had another one. It's about 11 p.m.
So, today was very hot and humid and it was tough to be out and about sightseeing. However, I don't dare complain because we saw so many muslim women in scarves, burqas, full length coats with scarves. And that's what I mean about a city of contrasts. Here's a picture I snapped. Don't know if you can it…but her naked back is showing. Go figure.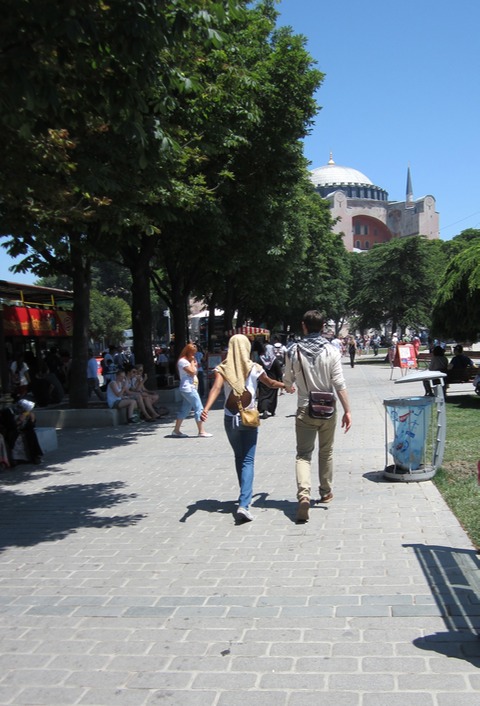 And this. I snuck a picture of this woman on the tram. She has sunglasses on. The only skin showing was her hands. There is a woman behind her without the garb. Look closely. Why didn't she have gloves on? Complete the ensemble. When I first saw her (there was a whole flock of them together) I thought I was looking at her back and she had sunglasses on backward. Further glance and I was amazed.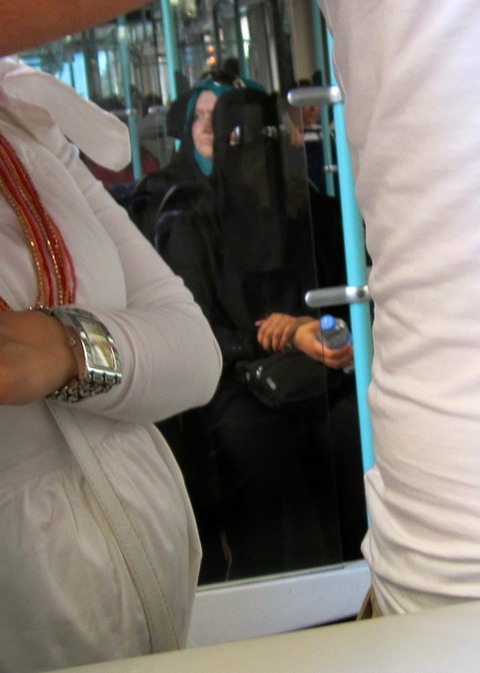 I'm convinced this is a form of torture. These women are tortured. Dressing like this in the noon day sun with the humidity. OMG.
On a lighter subject.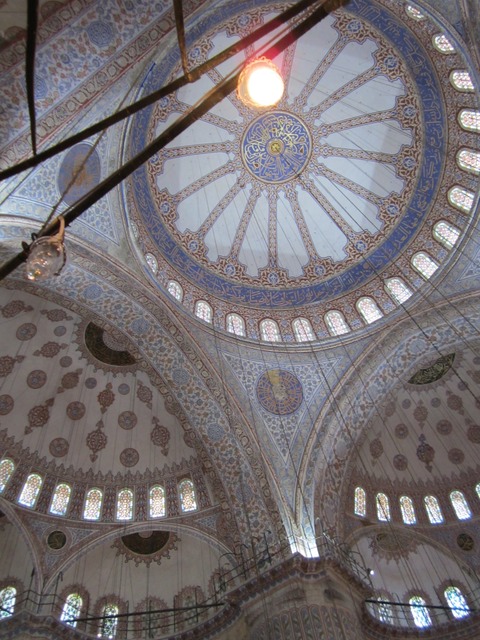 This is the Blue Mosque. It smelled like sweaty feet. The mosques are carpeted and people are required to remove their shows. Hence the order. After seeing Anaopya, the Blue Mosque was a let down. Still, it was quite beautiful. And it is used today, closed for visits during prayer time.
The spice bazaar was fabulous. Here's a pic of Ali, Larry and Ray at the spice bazaar…complete with Turkish flag hanging behind them.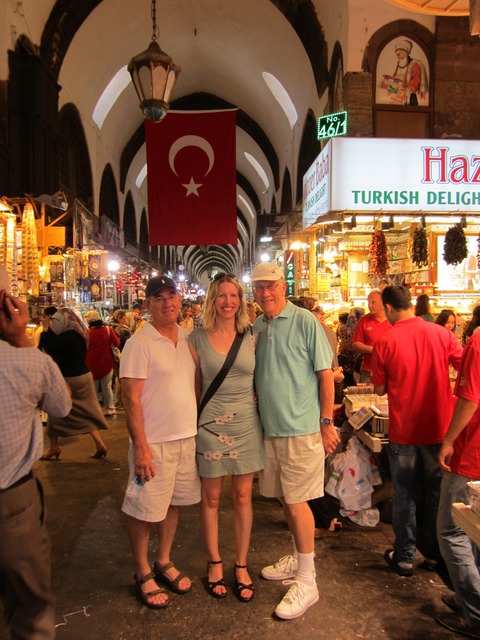 What I loved about the bazaar was that there were no Bed, Bath and Beyond, no Albertson's, no Ace hardware. All the shops were small business. You can buy everything from belly dancing outfits, to wine, to fresh fish, to Iranian saffron, to a hammer, to an ice cream cone. The variety was fabulous and it went on and on. Could have spent hours just looking but didn't.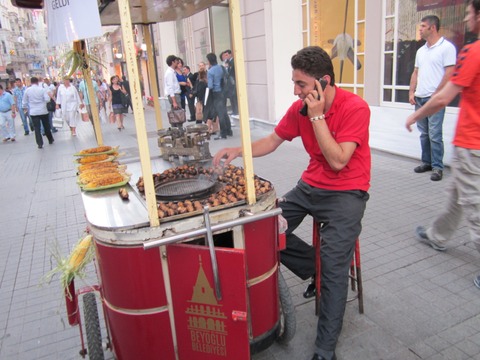 And finally, just an interesting contrast. The roasted chestnuts and corn on the cob offered up by a cell talking vendor.
Oh, and being a muslim country, there are bars and liquor stores everywhere. Sort of reminds me of Salt Lake City except the people have dark hair (not blond) and they don't have goofy rules about drinking in bars, and no state owned liquor stores. So, you see the women in their layers of clothing on one hand and bars with women drinking while wearing very modern clothes on the other hand.
Tonight we had wine on the patio again and helicopters kept flying over. The Queen of the Neatherlands was here a few doors away visiting her embassy. They were commemorating 400 years of friendship or relations. Remarkable.