September 28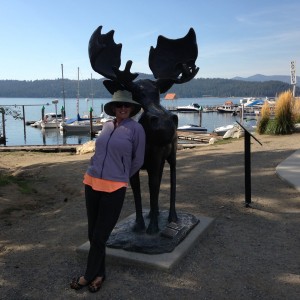 We slipped into Coeur d'Alene today.  What a beautiful place.  Before we started out this a.m on our long trip from Spokane to Coeur d'Alene (17 miles), we stopped into Freedom RV in Liberty Lakes to have them take a look at our RV DirecTV/Winegard satellite problems (couldn't get it to work).  While we were waiting, we lolligagged around the showroom which had comfy couches and chairs to luxuriate in.  Along came Lord Flautaroy (spelling is not right) in his dungaree suspendered pants.  He had a Fab 4 hairdo from 1963, bangs and all.  And an accent that sounded straight out of the Ozarks even though he and his wife live up the road here.  They go south every winter to a place in AZ I've never heard of.  He says it is in a flood plain, where he keeps his other RV there in AZ.  Oh, dear.  What a character.
The RV place fixed our problem and off we went to Idaho.  We are now in an RV park right on the lake.  It is quite lovely.  We like it so much, we have decided to stay here until we have to head back to Portland for the wedding.  Besides this beautiful place, we plan to visit Sandpoint where I will be looking for Nazi sympathizers.  I'll know them when I see them.  And we want to go further north to Naples, ID.  A friend lives there that we want to visit.  And then there are the 3 muni golf courses in Spokane that we want to play.  So there is plenty to see and do here.   This place has a flouting boardwalk.  Can't wait to walk on it.  And there are plenty of places to hike.  We plan to take it all in.
So, here I am blogging in bed.  The sheets are clean as I did the laundry today and I discovered a new rule.  If a park has 4 washers, they are always occupied.  If a park has 10 washers, none of them are in use.  And this is a universal truth.
RVing is such a great way to travel.  You meet new people.  Today, we met a couple from New Hampshire.  They are doing the U.S.  Yesterday we met a couple from Texas.  They live in their RV full time.  He was a pilot for the Army and was stationed awhile in Barstow, where my dad used to live.  And this Texan flew out of Ft. Irwin, where my dad worked and I visited more times than I wish to think about.  What a hoot.  They were in a huge diesel pusher (read expensive) and were on the move all the time.  Love the lifestyle and plan to continue their gypsy ways.  I suppose that is really one of the draws.  Meeting people.  Everyone has a story.  Everyone has an opinion.  And because you are all in RVs it's assumed you have something in common.  Most people have dogs or cats onboard.  Many people have bicycles on the back of their home away from home.
Tomorrow we golf at the famous golf course here.  It has a floating island green which I plan to hit on the first attempt.  It will be memorable.
So wish us luck and come on up to visit.  We'll be here for a few more days.  I'm sure there are flights.  The weather is great.  Company is better!!
September 29th
Well, we cancelled our golf.  They required us to have a caddie and neither one of us wanted one.  So we booked golf tomorrow at a place near here.  And we drove out to the expensive, world famous golf resort and had lunch overlooking the famous floating green.  Spoiler alert.  No one got on that green the entire time we watched.  Too wicked.
After lunch, we went into the pro shop which had beautiful clothes.  As I was looking, I grew faint and so I ushered myself onto the floor (Ray was in the loo).  I immediately started feeling better but not before the staff came running.  I gave them a fright.  Without a beat, I reported that I grew faint when I looked at the price tag.  That got um going.  So, here's the good news.  I did not faint.  I did not pass out.  I just got light headed and had the presence of mind to sit myself down on the floor.  Embarrassing, yes.  But, all is well.  My low blood pressure was the culprit, I'm sure.  And I can still type so my brain must be okay!!!
Incidentally, we saved about $245/each plus the tip for the caddie.  And we didn't lose any balls.  We agreed that if our game was in better form, we might have done it.  But our games are in the toilet and our money is in our wallet.  Tomorrow's rounds will be $45/pp.  It's at an Indian Reservation.  We have had lovely rounds of golf at many Indian properties and I'm sure this will continue that trend.
Here's some info re: this beautiful spot.  https://en.wikipedia.org/wiki/Coeur_d%27Alene,_Idaho
We walked around town and we bought Beau a new collar and his sister, Jaycee, a gift.  Everything is on sale and there aren't a lot of people here as it is the end of the season.  Perfect to my way of thinking.
Missing you all.