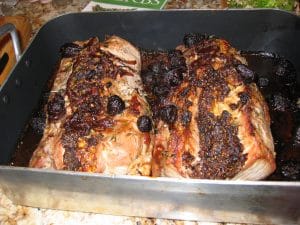 Well, here we are.  One day before the election of our lives.   So, what am I doing?
Thinking about pork.  We love pork although, we feel guilt when we eat it.  We feel sorry for the pig.  We feel guilty for eating the fat.  Pork makes us feel guilty until we bite into it.  And thus, I must blog.
Sunday morning, I slow fried 4 pieces of bacon.  Bourbon pepper bacon, from Whole Foods who is known for treating animals right and so forth.  It smelled divine.  And after the bacon was fried very slowly as to not splatter bacon fat all over the stove, it was removed to paper towels and the eggs from Farmer's Market were opened over the cast iron skillet, salted, peppered, as they were also slowly cooked in the bacon fat.  Then as is customary in our house once in a while, I tilted the pan so the bacon fat could run across the yolks like the tide rushing in on the beach to cover the sand dollars.  And then recede.  
Oh, the taste of bacon and eggs prepared this way is a joy for the taste buds.  Ode to joy!  Accompanied with local baked bread usually but not this day.  Had English muffins with butter and orange marmalade and a shake or two of Tabasco on the eggs.  It hit all the marks for a great meal.  
I hate ordering eggs and bacon in a restaurant.  The bacon cooked ages earlier and then left to sit in a pan of bacon until needed.  The eggs cracked over a cooking surface that is linear and boring and unable to produce eggs basted in anything…let alone bacon fat.  No, the eggs in a restaurant are pitiful unless you order in a really high end restaurant that charges arms and legs for a very simple dish.  
And then we barbecued some baby back ribs over a fire with nothing more than salt and pepper to gild the lily.  Just enough color, just enough seasoning to let the ribs shine.  No sugary barbecue sauce for this family.  We like our pork nude.
Then we ate a ham and cheese sandwich…with uptown cheese and wonderful ham, slathered in mayo and doused in dijon mustard.  Plain.  Simple.  Yummy.
And there you have it.  Three different forms of pork on two different contiguous days.  
Happy, happy.