Aloha and Wahulameakema,
As I recline in my bed at the Turtle Bay Resort, being the last night of our vacation to the islands of Hawaii, I must write a few things down.
The Hawaiian language has about 13 letters of the alphabet.  The Hawaiians are a very resourceful lot.  What they lack in letters, they make up in the length of their words.  It reminds me of the old joke, " Have you read the book, Open Kimono, by Kamonawannalaya?".  Most words are long with about 28 letters.  And as a novice, I have no idea where the pauses lie.  So, I muddle through.  The words lack hyphens.  I think hyphens would help.  Just saying.
The Hawakalamakalayama Highway.  A parody, I admit.  But really.  How in the world did an artist survive in this culture with a name of Don Ho?  It just goes against the grain.  Firstly, there is no D in the language.  I think it consists of about 13 letters.  K,W,H,U,O,A,I,N,M and a few others.  I'm guessing here because I'm too tired to Wikipedia it.  But I'm quite certain that I am close.  This renders the language very melodic.  And unlike French, they pronounce every letter as near as I can tell.
Our vacation had it moments.  Rayman got sick for his 70th.  Could it have been too stressful?  Turning the big 70 with a face that looks slightly younger?  Who knows?  Who cares?  He got sick and this rendered him pretty much useless after his birthday.  Poor guy was in the doldrums.  He lost his voice.  He coughed and coughed.  He went just about nowhere and did just about nothing but rest.  However, rest was a good thing.  With the waves crashing, and me at his side, what could go wrong?  ha ha.
Ryan and his gal, Tamara had a great time.  They took a trip where they were in a cage under the water and sharks were swarming.  They took a night paddle board extravaganza where they laid on the boards and looked to the heavens (it was night and a full moon).  They toured the pineapple place, took paddle board lessons, drove around the island.  They snorkeled.  Actually, I snorkeled with them and the strangest thing happened.  When I dragged myself out of the water onto the beach by the hotel, water ran out of my nose…everytime I leaned over.  What was that?  Never happened before.  I think my head is empty.  The water came into my ears and out my nose.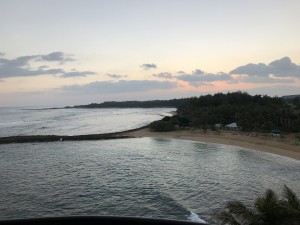 But I digress.
They had a great time.  And they had colds too.  But they are a lot younger.  Rayman wasn't having any of that.  And by extension, neither was I except for the snorkeling which was done "on campus" at the resort.  No golf.  No.  We bought new golf club carriers for the trip.  We paid extra baggage fees.  And we never used our clubs.  A big bummer.
Our day consisted of meeting the kids for breakfast and dinner.  Does the term living vicariously have any meaning to you?
And did I mention the rain?  Two full days of rain.  The most recent was today.  Today was the last day of vacation for Ry and Tam.  They flew out today.  We fly out tomorrow.  So, I went with them to the airport.  Ray was still feeling horrible.  It rained so hard that when we got there, I spent about an hour at the Alamo car rental lot talking to Apple Support in order to figure out why my Apps feature wasn't working.  I couldn't drive anywhere.  It was a blinding rain.  So, I got creative and called Apple.  It helped me pass the time.  When the rain let us a bit, I decided to go to the mall and shop.  Only as I approached the mall, I decided that I did not want to shop.  Every mall has every store that every other mall has.  And I was in Hawaii.  Why did I want to shop?  It did not compute.  So, I asked Siri to give me directions back to Turtle Bay Resort.  She was somewhat uncooperative.  We argued.  She finally relented.  But the voice (audio) didn't work.  She is such a bitch sometimes.  Actually, I avoid her mostly.  She's not what she's cracked up to be in my opinion.  We just don't see eye to eye.  And because of that I had to constantly look at the phone to make sure I wasn't getting lost.
So, I headed north and much to my chagrin, I needed gas.  Don't ask.  So, I finally got off the freeway to look for gas.  In Hawaii, they do not have helpful signs indicating food, hotels, gas so my guess was as good as any.  And I did find gas though I had to go way out of my way.  And then, I couldn't figure out how to open the gas tank compartment.  Couldn't find a lever.  Didn't open by a spring loaded mechanism.  What the hell?  Looked for the instruction booklet for the car.  It was not in the glove box.  So, I googled it.  Still couldn't figure it out because I did not know the year of my Pathfinder.  So, I hopped out of the car into the rain and clicked the buttons on the remote.  And guess what?  I got it open but for the life of me, I don't know how.
I filled up the tank and needed to relieve myself.  The gas station had a sign posted, No Restrooms.  Great.  So, I bought a sleeve of dry roasted peanuts, ripped them open with my teeth and inhaled them.  It was after 2 p.m. and I was hungry.
So, here I am now.  Lying in bed blogging.  Rayman feels better.  We leave in the morning.  Had pupus and wine for dinner and Cherry Garcia from the shop down by the pool for dessert.  Oh, and some dark chocolate by Dove.  And did I mention the red wine that washed that down?  Best part of the day, really.
So, that's the story of our vacation in Hawaii.  But, hey, it could have been worse.  No one got typhoid.  I wore just about everything I brought, except my golf outfits.  Rayman is getting better.  The sun is going to shine tomorrow.  And we are returning to an equally fabulous place.  Home.