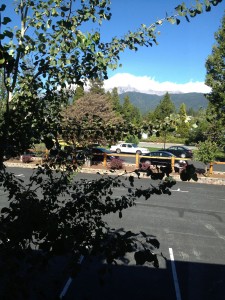 In blogs past I have used my humor, such as it is, to share my travels with the Rayman.  Today, I stop and hit the restart button to switch gears a bit.
California is a fabulous place, really.  And while it is no surprise to most of you, one of the reasons that I love this state is that it is a blue one.  But enough about the ocean.
We spent last night in Vacaville.  For heaven's sakes, who names a town "Cow Town"?  No chamber of commerce involved in that one.   But I digress.
The night was murderous for sleeping.  We checked into a Hampton Inn that sat right next to an on ramp to the 80 freeway.  OMG.  All night long I attempted to sleep with my fingers in my ears.  It was so loud because all the drivers were ACCELERATING to merge.  Ugh.  Oh, well.  This morning we found a dog park at a park in Vacaville and it was lovely.  A crisp morning but not really cold.  There was a lake, hawks, swans, geese, runners, walkers, horse trailers, and the dog park.  Beau was the only visitor so we had the run of the place.  Great start to a morning.  We then jumped in the car, returned to the hotel, cleaned up, checked out.  And zoomed on to that on-ramp just outside our hotel window.
Driving up highway 5 is a very pretty ride.  It is fun to watch the vista change as well as the flora as you move north.  From a wide, flat valley to a windy, hilly terrain.  And the trees from almost none to forests.  Much like leaving Sacramento for Tahoe.  It's much more pleasant though because the traffic is light in comparison.  I spotted a sign for the Sacramento Wildlife Refuge so we decided to go and see some birds.  Only the place was closed because of the gov't shutdown.  Really.  It was a National Preserve.  The House Republicans are wacko birds.  And that's the truth.  Glad we didn't decide to swing by Crater Lake on this trip.
So, we turned back to the highway and continued north.  While Ray drove, I googled Yelp and found a restaurant in Redding that sounded good.  And boy was it.  Moonstone Bistro.  Duck confit tacos with a mango salsa.  Yummy.  Rayman had a flatiron steak.  We ate our main meal at lunch.  And we followed it up with an apple pie ala mode.  Yummy times two.
Lake Shasta is really low.  Down substantially because of drought.  It looks a bit sad.  Our water woes continue in our fine state.  And did I mention the new grapes being planted.  And the trees?  Miles of them along the highway.  But what about that water?
At the north end of the lake, there is major construction going on and we didn't see why they were doing it.  Palms greased, perhaps.  The metro areas need it more than up here.  Still scratching our heads on that one.  Actually, the Salinas valley needs it more than up here.  You take your life in your hands when you drive 101 to Salinas as the ag trucks jut out from side roads onto 101.  No on ramps at all.  They need to put the freeway over or under that stretch.  It is way dangerous.
But I digress.
We drove by a heavy machinery auction site today.  I suggested we bid on a flatbed truck.  But failing to come up with a good reason, that idea melted away.  Then we saw an RPOD.  It was like a….let me just give you a website to view.  http://www.allseasonsrv.com/cf/shopmast/productdetailp.cfm?productid=1063
Maybe we could get one of these?  Well, the Rayman does suffer from claustrophobia so that might not work.  But we discussed it.
We passed one small RV driven by a lone older woman.  Pretty cool.  You go girl.  A free spirit afraid of not much, I'd say.  Actually I admire people that are unafraid.  Not unafraid like bungie jumping.  But unafraid like going somewhere alone…unafraid.  Many of my friends are afraid of many things.  It stops them from doing things.  Heck, it stops me too.  I'm not immune.  However, I am finding that I am less afraid that many of them.  I think it allows me more freedom.  May be wrong about this.  Just saying.
Redding is a lovely town (100k people, I think).  What I love about Redding is that the Sacramento River flows through it.  The Sacramento River is so impressive, existing as it does in our parched state.  I could live in Redding if I had a house on the river.  Watching water flow by would be relaxing, soothing.   And the Sundial Bridge is a must-see and a must-walk on attraction.
After Redding, you start climbing.  Before you know it, you are at 2,000 feet.  Rayman has a ski app that gives altitude.  Very cool.  Here in Mt. Shasta, the elevation is 3,700.  Getting up there.  A bit of huffing and puffing when climbing the stairs to our hotel room.  But the climb is worth it.  Our room looks directly at Mt. Shasta.  OMG.  What a fabulous mountain Mt. Shasta is.  And it is with snow now.  Beautiful, wild sight.  So, well, volcanic looking.   We arrived here about 3 ish.  One of the first to check in.  After getting settled, we set out on a hunt for earrings.  Now, people, I have big lobes.  Both in my brain (I saw the yesterday), and my ears.  So, I prefer non-dangling earrings.  But I am here to report that there were no non-dangling earrings in the town of Mt. Shasta…that I could bare to wear.  About 5 sets and none of them were suitable for the Traveling Princess.  I needed new earrings because I forgot my earrings.  They are sitting at home.  Ugh.  So, the search will continue as we move north.
Rayman was in charge of Beau while we walked the two blocks of what constitutes "downtown" Mt. Shasta.  It is an interesting town.  Fully 50-67% of the stores are of the "hippy" variety.  You know.  Incense, buddha heads, long flowing tye-dyed robes, mid-Eastern and Asian cheap artifacts.  The busiest store was the mid-Easter and Asian store.  I've never seen so much junk in my life but it smelled pretty good.  And all these people still stuck in the 60s and many of them hadn't even been born yet.  A sight to behold.  Everyone should visit this store.  It is a scream.  There were 4 stores that were quite nice.  That was it.  So, Rayman stood outside as I rummaged through all these places looking for non-dangling earrings.  He met a couple that had been in their motor home for 2 years.  They lived in the bay area, sold their home, and went on the road.  They have been across the country and have seen everything they wanted to see.  They are contemplating buying a house and settling down.  Only they think maybe they will park their rig in the bay area and when the weather turns cold, perhaps they will go to San Diego.  Great story.  They said they have thoroughly enjoyed their sojourn.   Chase the weather and change the scenery.  It does have appeal as an idea.
Alas, not everything is perfect.  Uncle Ralph was on his way to the dentist in Paso this a.m. and he became disoriented.  The Dr. was called.  He was whisked away to the hospital.  Spent most of the day there.  Came home with a monitor on his heart that feeds data directly to San Francisco where it is being monitored.  If it acts up, he's off to the hospital again.  As we drove, texts were issued and received.  Phone calls made.  Very unrelaxing.  The good news tonight is that he is home and his mind is more at ease.  We contemplated returning.  May still need to but right now all is well.
And then, the Rayman struck.  He said, "There is a wrinkle in our plans."
"What?  I inquired.
"Ryan has to work on Thursday."
"WHAT?"
"Well, he texted us a few days ago and mentioned that he had to know what day to ask for as his day off.  I didn't ….get back to him."
"WHAT?"
At this point let me skip ahead and say that this is the second time in as many times that we traveled north to see Ryan and things have gotten "screwed" up.  I was not a happy camper.  What is it about that two highly intelligent men can't get travel arrangement right?
All this resulted in us extending our stay one more night in Corvallis so we could see Ryan for more than 4 hours.  OMG.
So, now it is time to watch the Daily Show except that I turned on the TV and he was ending his show.  OMG.
I'm tired and I think I'll sign off now.  And that's the way it was, Tuesday from northern California.
I think humor may return tomorrow.  Our plan is to go to Klamath Falls, drop Beau off for doggie daycare and then play golf at Runny Y resort where we are staying.  After golf, we spring the doggie from doggie prison (his interpretation, I'm sure) and go back to Runny Y to spend the night.  There was a frost delay today until almost 10 a.m as reported to me by the pro shop.  So…we have an 11 a.m. starting time.  Luckily I packed my silk underwear.  Just saying.
`