Good day, dear readers. It's been a few days since I have had a chance to pontificate….ehr…author a blog.
Dining out and drinking wine have taken place. We're up in Whistler, B.C. It's like a playground for those with money. Saw a lot of Tony Burch shoes. Prada. Mixed in with a lot of expensive dirt bikes. Gondola rides are $50 smackers. Main courses on the menus start at $35. Salads will run you about $17. And all the beautiful people seem to be here. And they all parade around the main village square coming and going and going and coming. There are poses struck. The dirt bikers have interesting headdresses on. They remind me of gas masks. Perhaps to keep the dust to a minimum.
We, of the older set, mosey along, mostly dodging foot traffic to get to the various eating establishments. We feast on the eye candy. Oh, to have tight skin again…like high school. No wrinkles or hitches in our get-alongs. We spend time getting lost because we excel at that. We also excel at repeating ourselves. But, what can you do? Have fun with it.
The other thing we do is play golf now that the smoke has cleared. You can now see the mountains.
My heaven's, they are beautiful. All roads wind along the rivers here. Everything is located at the bottom of canyons. More eye candy. The mountains. They surge up from the rivers and lakes like a phoenix rising from the ashes. Many are snow capped. A sight for sore eyes. The mountains are littered with forest and aspen and other species I don't know. Must be beautiful in the fall with gold and red leaves on the trees that are not conifers. It's entirely green now.
But I digress.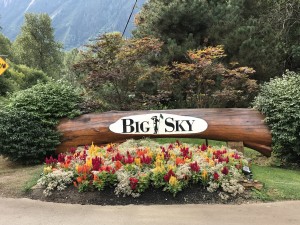 We traveled north out of Whistler to the town of Pemberton. A farming community with several new buildings like the city library, the school. And then there is the Big Sky Golf course. It was hard to keep my head down when I took a rip at the ball. Those mountains were so beautiful, I longed to look up. One of the prettiest mountain courses I have ever played. We were having a grand time until the Rayman drove his cart where he shouldn't and then hightailed it over to the loo. The golf cart trail did not lead by the loo which is unusual. About that time, the women playing behind us arrived and took note of his transgression. The one woman, let's call her Blondie, reprimanded our friend Tom. Her tone was antagonistic. Tom told Blondie he did not park the cart there. Then she spoke to Ruth in the same tone. Ruth informed her that Tom would not do that. Then Blondie said, "And speed it up while you're at it." And where was Rayman? oh, that's right. In the loo. When he returned, he knew nothing of these exchanges. It was only when we had teed off (perhaps in more ways than one), that he was brought up to the speed.
Rayman was madder than a guy who found his wife having a drink with another man. He wanted to go back and have words. He was disabused of that notion by the rest of us. Then at the turn, we went by the starter's shack and Rayman jumped out and talked with the starter. The starter said that the women were members of Big Sky and sometimes get overly protective of the course. That's when Rayman informed her that we had paid a lot of money and come from a great distance and we didn't appreciate Blondie's attitude.
For the rest of the round, people came by to make certain that we were happy, that everything was okay. The staff really bent over backward to make us happy. We had a happy ending!!
Then, we played Whistler Chateau golf course. On the third hole as we were getting ready to hit our second or in some cases fourth shot, a bear came lumbering out of the trees onto the fairway at a distance of about 100 yards with a creek between us. What a thrill. That bad boy was big. He looked healthy and strong enough to kill and eat someone. No one had their camera so we missed the photo op. Biggest disappointment of the day. This course had stunning scenery on every hole. One thing we did not do was go in the trees to take a leak (man joke), or go in the trees to look for our balls (also a man joke). Bears might be lurking.
Today, Rayman and I drove to Pemberton to go to a laundromat so that we could get all our laundry done in a short period of time. Three loads. While there, a man and his dog came in. The man, let's call him Willie, told us dogs were allowed. He also told us about the local park. Once the clothes were in the washer, we drove down to a lovely little park so Beau could have a good run. That's where we ran into the Indian woman. She was just returning from picking blackberries, did we want to buy some? Sure, we said. Then she told us the story.  I have nicknamed her Listening to Crows.
Listening to Crows was out in the fields where the blackberries grow. She picked about 5 quarts and she had sold all be one, would we like to buy it she inquired. "Sure",  I said. So, while we were buying all these freshly picked berries, I told her I really liked her town. She was quite pleased. She said she would have picked more berries but the crows started, well, crowing. Loud and often. That's when Listening to Crows informed us that she had to leave. In a hurry. The crows were a warning sign that a bear was in the area. Good local knowledge that could save a life. She was convinced and I'm  convinced that Listening to Crows knew her stuff. So, the next time you are out in bear country, say, Morro Rock, keep your ears open for the sound of crows. And listen to them. And head away from the Rock.

Then it was back to the laundromat. The laundromat was now teeming with people and the same dog. Thursday must be laundry day in Pemberton. Anyway, Willie told us some interesting facts. Whistler he said, was a place the stars used to come to for R and R. Sort of like Vegas, perhaps. Oh, yes, he assured us. This explained why the laundromat had framed pictures of Hollywood stars all over the walls. He then said that Pemberton was a no-where town. A potato growing town. But they don't eat the potatoes. The potatoes get sold to people far away. Rayman in sympathy, said, "That's too bad. So where do you get your potatoes that you eat?" Willie said, "We grow them." Okay, then.
There were also two men there in the laundromat discussing the finer details of clothes washing. One man, let's call him Arthur, wanted an explanation of why he did not see suds in the washer. The other man, let's call him Henry, explained the several different reasons that might occur in a very deliberate manner with ideas on how his theories of low suds could be proven or not proven. It was like Henry was the PhD of Laundry Science. This conversation was still going on when we folded all our clothes and walked out the door. It's 10:18 p.m.now and this was at 1:30 p.m. It would not surprise me of they were still talking.
YAHOO OH, MY GOD…and other blood curdling screams. What do they have all on common? Give up? It's bungie jumping. The four of us rode south of Whistler and found the dirt road that led to the sight of bungie jumping. Spectators were welcome. The Honda Fit, not so much. There were potholes the side of an old O'Keefe and Merritt oven. The Honda can hardly make it through a mud puddle.
But I digress.

We arrived at the scene of the insanity. I mean, really. People strapped into a halter sort of thing, clipped to a "line" that looked like scrunched up purple (or was it green?) plastic. Presumably the rope is inside. Then the jumper's arms are held out so the jumper resembled a human cross. The bridge straddled the gorge with a ranging river below. The gate was opened. And the leap began. Followed by heart-rendering scream of full-on terror. Here are some pictures.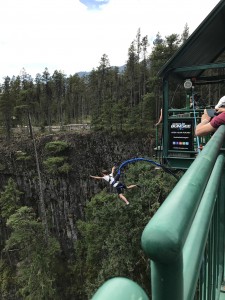 Heck, the walk out on the bridge sent my heart a flutter. It had a grate bottom so you could see down to the river below. Several times, I caught myself inspecting the safety of the infrastructure (bridge) on which we were perched. While up there I met a young man who was the Whistler Bungie Jumper photographer. Yes. They take pictures of the people before and during the leap (could that be for body identification?)  . He asked me if I came to do the jump. "Nope. Not his kid", I said. He urged me to try it. That's when I had to officially inform him that my ophthalmologist told me not to do jolting activities. Now, being a person that can be very literal when required, I took that to mean I should not ride a rollercoaster (actually the Doc told me that was a no-no). But I also took it to mean no heavy vacuuming, no window washing, and certainly, no bungie jumping. The kid indicated that he got my meaning.
Then as we continued our chat, I found out that he was working the bungie jumping official photographer gig near Queenstown, New Zealand when we were there. Frankly, he didn't look that old. And then to continue  this riveting conversation, I discovered that the kid had done 29 bungie jumps himself. Now, what would ever possess a person to put their life on the line 29 times by jumping off a bridge into a deep canyon with water gushing? He didn't seem daft. So, I continued exploring much like Margaret Mead may have when she ran across that matriarch tribe somewhere exotic. "Did you just get used to it? These people doing this look fairly calm. If I was about to do it, I'd be wired for sound!" He replied, "Oh, no. You never get use to it. And believe me, they are really, really scared." So, I guess there you have it. Makes no sense at all. But if you are a contrarian and decide that it can't be that bad and you'll have a go to find out for yourself… Well then. Good luck to you.
Oh, one last thing. It only costs $140. per person/per jump. And in the spirit full disclosure, we didn't see any crash and burn. However, we did pass one of the jumpers with his family. He had a cold pack on his shoulder. He was about 23 years old, maybe. His mom did not look at all happy or well. She looked a bit pale…with pursed lips like she was biting the side of her mouth repeatedly.
So, as I said earlier. That's what happened when we went bungie jumping watching.
But alas, tragedy struck. We lost our credit card. It has been so painful because I am the culprit meaning I had it last and when a credit card goes missing, it's a big deal. Hours of 1. looking for the darn thing like going thru every pocket, every drawer, under every seat. In the glove box. In the cabinets. 2. talking with the credit card people on the phone with many layers of "proving you are who you are". "What's your father's maiden name? 3. realizing that many bills are paid automatically with said credit card and when you go on line look at your statement (paperless statement), you can no longer access the info and therefore, you have no earthly idea which bills are paid with the card. It's even more complicated but there is only so much in the way of pain that I can even talk about right now. It is too frustrating to lay it all out, like telling the story of when you got that flat tire and were stranded on the roadside for hours in the rain kind of frustrating.
On the bright side of things, we didn't get mauled by the bear and the neither did the Indian woman, Listening to Crows and we had some great berries for dessert tonight because it all came together just this way.