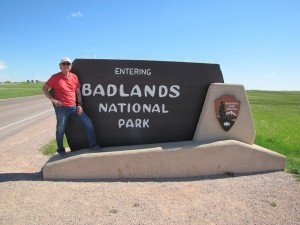 As I compose this travelogue, the wind is kicking up big time.  It is starting to rain.  The Dog House feels like it is swaying and we are in for the night.  If this storm causes us to perish, my life is complete.  I've been to Wall's Drug in Wall, South Dakota.
We left our Hot Springs KOA campground this morning after enjoying steak and eggs on the picnic table by our RV.  Turning on to the highway, we noticed an absence of traffic.  I mean, no traffic.  A four lane freeway and no cars or trucks on it.  What the heck is going on?  As it turns out, there was almost no traffic until we reached Rapid City, South Dakota where we merged onto the I-90 freeway.  It didn't have much traffic either.  That's what 2 Senators will get you, I guess.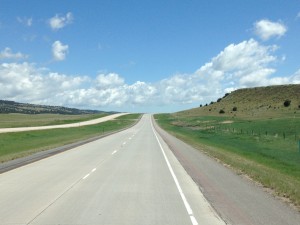 But I digress.
No.  I'm not going to digress.  I find it troubling that people in LA and SF have to endure hours in their car every week just to get to work.  These guys here wouldn't know a traffic jam if it hit them in the butt.  Doesn't seem right to me.
Okay.  Now I will digress.
It took us very little time to arrive in Wall.  Wall has the most famous drugstore in the entire country.  And they want you to know it.  All the way here today we saw Burma Shave type ads (except they Wall signs are very big) for Wall's.  About every 300 yards there was another sign for Wall's Drugs.  They advertised free ice water,  free donuts and coffee and newlyweds.  It has fresh baked pies and homemade ice cream according to the billboards.  Over and over.  They are impossible to ignore.  I quipped to the Rayman that if it isn't at Wall's, it doesn't exist.  Just saying.
So, after we checked in to the former KOA campground which had certainly seen it's better days, off to Wall's we went.  Obviously their marketing is effective.  I'd estimate that half the population of South Dakota works at Wall's.  It is huge.  And yet, we stumped them when we asked them if they had water treatment tablets.  Nope.  I wanted a pair of red cowboy boots that were short.  Didn't have those either.  As a shopping diva on the internet, I guess I'll have to look at Zappo's for them.  That's cheating though.  It was going to be my souvenir  Instead, I bought post card.  And the Rayman and I split a root beer float since it was 80 outside.  The weather was great today…almost too hot.  But not now.  The sky is black, the wind is still howling.  It is going to be like this until midnight.  Beau seems concerned.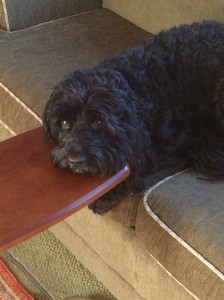 After Wall's, we drove into the Badlands.  Here are the pictures to prove it.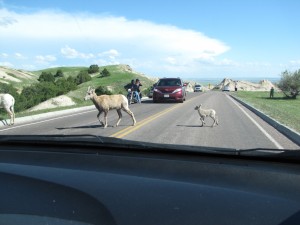 As we enter the Badlands, these rocky Mountain Big Horn sheep welcomed us to the park.  The babies were very sweet.
Obviously, mom was right on top of things.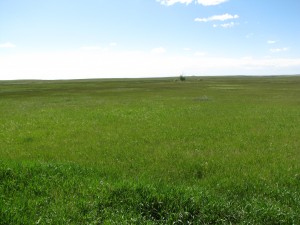 These are the grasslands.  Millions of acres and they are green this time of the year.  Oddly enough, this area only receives about 16 inches of rain a year.
It was late afternoon and we arrived at the Visitor's Center at 4:30.  Too late for the movie, we decided to drive out the other side of the park and return first thing in the morning.  Hopefully the unsettled weather will pass.  It will be cooler which is just fine for me.
Dinner tonight was meatloaf sandwiches and red wine.  Nothing fancy since we had steak and eggs this a.m. and 2 tiny Snickers and a half root beer float for lunch.  The sandwiches were great.  Made and froze the meatloaf at home before we left on this trip.
Incidentally, this is the furtherest east we will travel.  We've literally hit the Wall.