First thing this morning was snorkeling with the sea lions.  We passed.  This activity started at 7:45 a.m.  And we were advised that sea lions are playful creatures and like to nip.  No nipping is needed as I have the Rayman for that.  
After snorkeling, it was time to do the zodiac tour around huge rocks that jetting up from the ocean like monoliths albeit with lots of bird poop attached giving the reddish rock a mottled   look.   Basking on the rocks were loads of sea lions.  There were many in the water as well as they delighted us with their antics.  They swim upside down, right side up and sideways.  Their grace in the water is unparalleled in my estimation.  Cashing in on the fun were the grebes, the blue-footed boobies, the pelicans, the cormorants and probably many other birds I may have missed or not recognized.  The sea lions stole the show.  They are like whirling dervishes of the deep.  
There are no pictures of any of this.  Trying to take pics with my iPhone on a rocking boat is no longer high on my list of things to do.  We just held on and enjoyed the ride.
After spending about an hour and a half bobbing around the rocks, we headed back to lunch.  And then it was off to the beach of Isla San Francisco.  We rode the zodiacs to the beach and there we jumped onto kayaks and paddled around the water for about 40 minutes and then headed back to the ship to relieve ourselves, change our clothes, don our orange life jackets, jump back onto the zodiac and return to shore for an evening barbecue on the beach.  The weather was warm, not hot.  The sand was sandy.  There were blue "lawn" chairs organized into about 5 rows and formed into a big circle.  A fire was in the center of the circle.  We were greeted with mango margaritas, wine, beer.  And the party began.  Just before we ate I remarked to the Rayman that we would have to eat on our knees.  At which he exclaimed, "My knees?   How on earth do they expect us to do that?".  Have I mentioned before how literal the Rayman can be?  At times, he is astonishingly literal.  This was one of those times.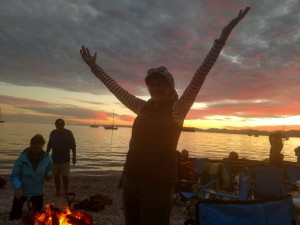 But I digress.
After dinner, we were treated to a fabulous sunset.  I am not sure how it could have been any better.   Oh, wait.  I do know.  As we were eating and imbibing, a lone pelican swam up to us and came on shore.  It was soon apparent that it had a broken wing.  Very sad.  Nothing could be done.  Some people offered food (chicken that had been cooked) but it couldn't get it down.  Used to slimmy fish, I'm guessing.  My heart went out to the pelican and it made us all sad.  
Because of the cloud cover moving in, we elected to be on the first zodiac back to the boat.  Many remained to stargaze but, that didn't seem likely.  So, here we are back in our cabin enjoying some downtime.  
A few diversions.  The people on the tour are all very interesting and different and from all the over the U.S. with a few from Canada and England.  The love of nature is the tide that binds us together and our interests cuts through to the core and allows us to interact easily.  The first few conversations were, "where are you from?", "what do or did you do?",  "is this your first NatGeo trip?", "do you have children/grandchildren".  Later as the trip progressed the conversations involved what we had done that day, what animals/birds/fish/mammals did we see".  It has been great to be around such bright and interesting people.  I may be repeating myself but it does bear repeating.
Not sure what is on the agenda tomorrow but it will be our last full day on the ship with organized activities.  We will end the cruise as we started, disembarking at La Paz, clamoring onto a bus, repeating the drive to the airport and flying back to LAX on Friday.  
Upon arriving back, I plan to add pictures to the posts and post my blogs in one fell swoop.
It's been a great adventure and it has wetted my appetite, and Rayman's too to do a few more nature trips.  The world we find ourselves in is full of wonderous animals, insects, mammals, geology, plants and list goes on and on.  Need to see more of it.  It's a trip!!
The crew made a video of the some of the highlights which included a slideshow of pictures the passengers took.  If you would like to see it, let us know!!  I only want to share vacation pictures with those that like that sort of thing.  Having said that, it is very entertaining.  Much better than my slideshows of previous trips.  Times 100.  Just sayin.