If you cut and paste the website below, it show you the Picasso painting we viewed.  Along with others, of course.
http://www.museoreinasofia.es/en/collection/artwork/guernica
When we arrived in Madrid, we took a taxi to our hotel.  Small.  Comfy and in the center of town.  Then we set out to explore Madrid.  Madrid was beautiful.  Lots of big, fancy buildings.  The one big fancy building we visited was the Museo Sophia as I nicknamed it (Centro de Arte Reina Sofia).  It held the famous picture by Picasso that painted for a world fair, Guernica.  The famous Guernica.  It was painted in response to the Spanish civil war which pitted the democratically elected Spanish government against fascist Franco.  Franco, of course, won and ruled Spain for many years with an iron fist and that is when Picasso named the NY Museum of Modern Art as its (the painting) depository.  It wasn't until after Franco died, that the picture was sent to Spain (it had never been in Spain before).  That was 1975.  Quite a fabulous picture to view.  It was huge and done in black and white and grays.
We then moseyed  around the building and it houses some articles that I wouldn't even hang in my house..  Head scratching stuff.  Didn't even seem like art.  Way too avant guard for my taste.    Example.  A big pile of papers that looked like giant paper from an adding machine (remember those), all bunched up and just sitting on the bare floor.  Hell, I could do that and I wouldn't.  It was Monday and on Mondays, seniors are free.  So that was a plus!!
In Spain if you don't know where you are going, you are screwed.  At least that much is true if on foot.  Like France, names of streets are sometimes written on sides of buildings.  There are no "signs" like, say, street signs.  And not all streets possess these high-up unpretentious markings.  Because of this, I am pretty sure we walked about 3 extra miles to find our hotel after visiting the art museum and taking an on-off bus tour of the city.  Finally, we gave up and asked a policia.  He waved his arms, pointing and gesturing.  We got the drift and finally made our way back.  A good reason to take a tour.  At least you will get where you are going.
Another thing we did was eat dinner.  At 10 p.m.  The restaurant next to the hotel we were staying at was dead quiet.  One other couple in the place.  A few people outside.  Then as if the dam broke, a huge group of people appeared seemingly all the once.  Tapas also materialized from the kitchen.  Wine was opened.  A party commenced.  The waiter was hard to understand but we think this was a typical Monday after the theatre let out?  Who knows?  These Spaniards are an interesting lot.  We paid the bill and went to our hotel and there were scant people left to wade through.  Speed partying, I will call it.
This morning we took a taxi to the car rental place.  We got our car, a Mini Cooper, and blazed.  Driving was much easier than walking.  I drove.  Rayman read the map.  Good strategy.  The roads of Spain are great.  Bridges are interesting, roadways are without potholes, ruts etc.  Toll roads are present.  We even got on one without knowing it.  Had to fork over $5 euro to get off.  Took a very, very long tunnel through a mountain.  It just went on and on.  As tunnels goes, this was the creme de la creme.  No litter.  Well lit.
We drove directly to the parador, an old beautiful building that had been completely refurbished.  Think it was a religious retreat kind of place in it's previous life.  And it was a miracle that we did not make one wrong turn to get there.  Like we knew what we were doing.
http://http://www.paradores-spain.com/spain/ppics/segovia/gallery.html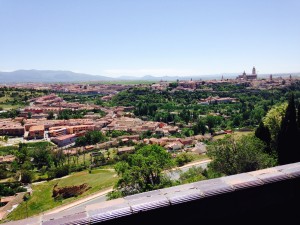 It is now 8:30 p.m. and I just woke up from a long winter's nap.  Laid down about 5 p.m. and just woke up.  Does hit the wall mean anything to you?  Really, people, it must have been that drive from Madrid to Segovia in our mini cooper that did it.  Yes, we got a mini by pure serendipiity.  Zoom, zoom.
One post script, as it were.  It seems the people of Barcelona want to succeed from the country.  They are the catalayians.  Spelling is suspect.  They have their own flag, even.  And as it turns out, it is all about taxes.   The people that want to break off are tired of paying taxes to support the rest of the country.  Uhmmmmm.  Perhaps California has something in common with these folks.  I don't like that we have to send our money to Washington so it can be sent to Alabama, Mississippi, etc.  We might consider breaking away too.  I mean, if they pull this off, it will be interesting.  And even if they don't, it will be interesting.  Of course, this has something to do, I suspect, with people just being tired of the state of the world.  The game is rigged.  The rich have all the money and they are not supporting their governments anymore.  Tired of paying high taxes in CA?  Move to TX.  So, look for more of this to happen.  The masses may yet rise up.
But I digress.  I mean, I really, really digress.
On  cheerier note, the weather is mild here in Segovia.  We are up at about 2500 feet now.  There are snow capped mountains to our north.  It's 9 p.m. and the sun is still shining.  Guess I'll get dressed and go down to dinner now.  Funny how we've adapted to eating later.  It doesn't seem so far fetched here at all.  At home, I'd be settling in for the night.  A show or two on TV and on to bed.  There's not much on TV here.  It's all in Spanish except for the Business channel (see what I mean, people) and food beckons.
It is 11:30 and we're back.  Quite a formal dinner tonight.  Like the tapas lifestyle much more.  But dinner was good.  I ate it all.  Rayman left a bite of pork on his plate.  Mucho gusto.  My salad.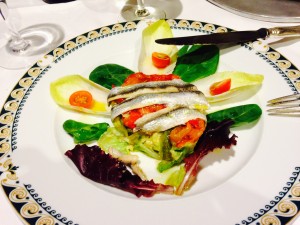 It turns out Segovia is a city with a Roman aqueduct and a bunch of pieces of Saint James (he had been dismembered) buried here as well.  Gruesome story but a lot of European history is gruesome.  As is our own.  But I refuse to go there.  it is too late.  I might have bad dreams.  More tomorrow.  Below is a picture I snapped of the aqueduct.