On a big, bright, sunny, north-of-the-equator-a-bit kind of morning, a pause must be taken to drink in all the delights of Mexico. I know many of my friends would not and will not come here for all sorts of reasons. For them and for my memory, I comment on this area of Mexico.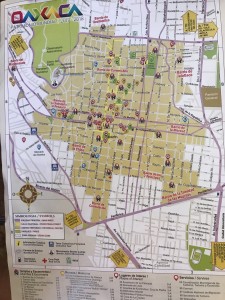 Oaxaca City is a city nestled in the mountains of southern Mexico in the state of Oaxaca, about a six hour drive down to the Pacific Ocean…yes, that Pacific Ocean. Not far from the center of town is the ancient place known as Mount Alban. We plan to visit it. A ancient site inhabited by an estimated 40,000 people from about 1 A.D. until 400 A.D. I give you this info from memory. It might be all wrong!! What is known as that the city was abandoned. What is not known is why.
Modern day Oaxaca is a poor city by our standards but it's culture is rich. Much of it as you drive in from the airport looks impoverished with tagging on walls, many buildings appear boarded up. When you get to the center where we are staying, things improve. It's lovely in the center. The weather is lovely, a warm 83 high today so we will visit churches and museums of which there are many of the latter. I'm not sure what the Catholics do here. It seems the religion is infused with the local customs and it makes it a hybrid which has an interesting feel. And Dia de los Muertos, day of the dead, is a perfect example of what I mean. The pictures do the talking so I'll not wax on about it.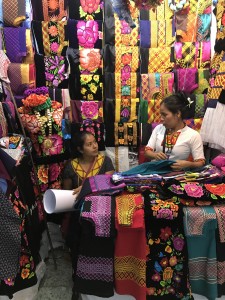 In the morning, the music starts. Did de los Muertos permeates everything. Beautiful songs in Spanish start up about 7:00 a.m. along with the jets coming in and taking off…the old and the new, the ying and the yang. As I gaze out our window down to the street, people walk by briskly now and then. Everyone seems to be working very hard in preparation for tonights activities which include visits to cemeteries to hold all night vigils. We are anxiously awaiting the evening…it should be spectacular.
The locals set off some type of fireworks that go BOOM. Really loud BOOMS. Part of the celebration one suspects. Not as pleasant as the singing and instrumentals that grace the day.
The city is choked with traffic. Cars and buses everywhere idling as they wait fo the lights to change. The drivers here are very courteous. Actually, the people here are lovely and gracious. The Mexicans are as wonderful here as they are at home. Perhaps more so because most don't speak English and my Spanish is at the level of a two year old…but try we might to exchange ideas. It is really fun to try.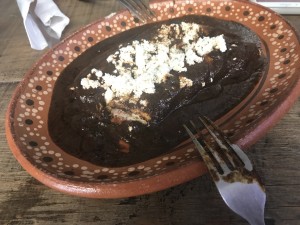 Food here is extraordinary and the region is famous for it's moles. Many of us don't even know a mole from a gravy so I provide an article for your enjoyment since I cannot transmit the actual mole over the internets. Redolent in spices with a hint of chocolate in many moles, they tickle the tongue and delight the taste buds. In our two nights of eating here, I'm not sure what we are going to receive when I order. Last night I thought I ordered a ensalada (salad) Cesar, but no. A broccoli based ensalada arrived instead and we were thrilled. It was fabulous and really, I cannot describe it. We also ordered something that had corn fungus in it and it was a soup that was out of this world delicious. Then there was the trio of tacos, small fish tacos with melted cheese of some kind topping them off. My, oh, my. We were in food heaven. I washed it down with a local dark beer. Rayman went for a Mexican white wine. We started off with a smokey mexcal which came with the thinnest of chips and a great salsa.
As we were finishing up, a woman plopped down next to us and we engaged. Molly is from Kansas City, MO. Well, that was a segue to the fact that my grandmother (on my mom's side) was born there. She asked for her maiden name. I had to explain that she did not know who here father was and that I had a friend, Dorothy Buck, that had researched the genealogy without much luck because the name rumored to be Noble or Nobles came up a bit blank so (My explanation to Molly was more concise than this rendition) that was that. Molly had a few fascinating stories of her own family history. We loved her. And we had a rousing conversation while also meet her friend, Jerry, a designer of museos (museums) and a winemaker in Kansas City. He has 42 varietals at his winey…perhaps a world record. What an interesting conversation was had with him. All this ended in my gathering Molly's name and email and phone. She invited us to K.C. to visit her, she has a golden doodle, a civil rights attorney husband (who stayed in Mexico City while she came to Oaxaca…love it…the freedom they share), and a group of friends that were enjoying the heck out of Mexico too. This is when traveling becomes so rewarding and enriching. A excellent meal followed up by meeting interesting people.
But I digress.
Oaxaca really stands out in the color department. The art is beyond colorful. A feast for the eyes as it were. If there is anything a kin to reincarnation, I must have been a Mexican. I love the colors, the art, the architecture (though, I must admit, it was heavily influenced by the Spanish after the conquest), the food. EVERYTHING IS COLORFUL!!
Need to close for now…must go visit the old church that was once taken over by the government, the alter destroyed and just recently replaced with a new one as part of a restoration project. Need to learn more about that…reminds me to the museum in Turkey that began as a Christian cathedral, was taken over by the Muslims and is now a museum. Different parts of the world, but the same theme.
We are back. Did not make inside the church because we were so enthralled with the museum. By the time we finished up with the Museo, it was time for some food. So we meandered up to the apartment. On the way I saw an internet shop. We went in and met some Aussies and he helped me get a copy of the LA Times Sunday crossword puzzle. He and his wife had been in Mexico for a month wandering around Mexico. They are currently on a travel visa to Canada where they are living in Vancouver. Lots to talk about.
Today is a holiday and we could not get into a popular restaurant so we ducked into the restaurant next to our apartment. For $6.85 we got two chicken enchiladas mole, and a beer and we tipped generously. It's almost free here.
The bands are playing now in preparation for the festivities. Our hosts have created an alter downstairs that includes pictures of their loved ones, chocolate kisses, two bottles of booze, flowers, and mementos. A bittersweet tradition as one of the pictures was of her friend that just died about 3 months ago. She was an artist and some of her pottery was on the alter.
Bought a painting for $15 and a small mask of a tiger for $20. More shopping to do. The crafts, textiles, pictures are wonderful.
So, it's about time to head to the cemetery for tonight's Dia de los Muertos celebration.
We are back and did not find the cemetery but we saw many festivities. Tomorrow night affords us another chance and we are going to try to get a tour so we don't miss it. We have never been to Mardi Gras but it must be similar. Lots of music, parades, costumes, fireworks, food stalls and fun.