Full disclosure, I'm no expert.  We're not experts.  However, there are noticeable differences between Morro Bay and PDX  (PDX is the shorthand for Portland airport which they use all over the city in lieu of Portland).  Think Xmas for Christmas.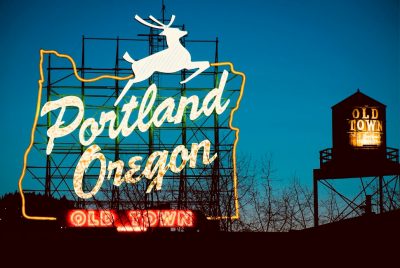 Drivers are courteous here.  They stop for bicyclists, pedestrians, other cars, buses, you name it.  PDX is an old city with narrow streets.  The narrow streets are so narrow that some only allow parking on one side of said street.  On many streets if two cars are parked across from each other, there is only room for one car at a time to advance.  Therefore, when you see a car coming on a street like that, one of you must move to an empty space on the street to let the other car pass.  And that is why I think most drivers are so thoughtful.  
There is also the fact that many neighborhoods have 20 is Plenty signs in the yards.  Kids can dart from behind a car.  Going slow is a requirement that the people have promoted.  So drivers  really respect the speed limits in and around these neighborhoods.  Nice, uh?  
Trees are everywhere.  Bushes fill in the gaps.  This means that there are blind corners everywhere.  Peering between the hydrangeas is not uncommon.  Straining your neck to see around a big, fat spruce that has a garden of pedaled flowers is another hazard that requires extra vigilance.  And cars park right up to the edge of the end of the street.  That's one thing if it's a Smart car.  It is altogether another thing is if is an F-150.  And yes, some of the people in these parts buy those big gas guzzling vehicles which I find ridiculously annoying in almost every situation.  (Sorry bro).
So…for all of the above reasons I find drivers here exceedingly polite and thoughtful.  
Portlandia blooms continually from April until now and I fully expect it will continue until the rains come.  Don't get me wrong.  It has rained here this summer but it's a nice, cleansing rain, often times at night with cloudy skies during the day hinting to us that rain is gonna fall.  There are blooming seasons and the wise gardener knows this and plans their garden appropriately so that there is color constantly.  Roses, of which PDX is quite famous for as it is know as the City of Roses, have their time in the spotlight.  Rhodedendrons have their time as do the dogwood trees, the cherry trees, various fruit trees blossom forth.  This all creates a cacophony of colors and scents.  Oh, my.  It is so beautiful.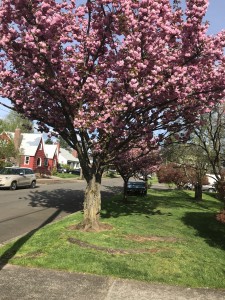 Sneeze, sneeze.
Parallel parking is an art form here.  Because of all the cars and all the narrow streets, there are very few diagonal parking spots anywhere.  So, you either learn to parallel park or perish.  Or take the bus or TriMet trains.  And that is a big difference from the Central Coast of CA.  We don't have a garage so we must parallel park every day…somewhere.  Our street fills up with cars on a daily basis.  Carpools are part of the problem…people come here, park their car, get in another car and drive away.    However, to date, we have yet to have to move to park on another street.  So that's good.  Our parking skills have increased but I suspect when we come back in the spring, it will require remedial training again on the parking.  Just saying.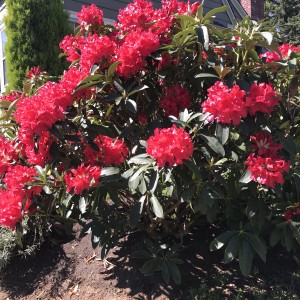 People in PDX are patient.   Standing in line to eat is a thing here.  Many restaurants have limited space for diners so people form a queue and just wait.  It is okay when not raining.  Its a bit of a pain if cold or raining so understand my feelings on the subject are mixed.  Pips Donuts is in our neighborhood.  It draws a line every weekend and sometime during the week too.  We love Pips…or at least I do.  Ray is not a big fan as his system reacts.
But I digress.
There are lines for places for breakfast, lunch and dinner.  Many of the places put out urns of coffee so you can drink while you wait.  Nice.  The weather just drives interesting behaviors that are quite sweet, really.  I like that a lot.   Many places have awnings over their doors.  Good to stand under if it's raining.  And many restaurants have big patios in lieu of permanent buildings because people just love to eat outside.  Our local pub has tables outside.  The local cheese and wine bar has tables outside.  It is just what they do and this makes the whole food truck scene especially interesting and very successful.  
There aren't a lot of bugs here which is surprising.   Lots of spiders but not too many mosquitos, flies etc.  Lots and lots of squirrels.  Beau likes that.  They keep him on his paws as he keeps an eye out for them and any outdoor cats that happen to be around.  
It is much greener here because of all the trees.   We just had a neighbor's tree removed…it was planted too close to the fir behind it and it was growing 3 feet a year.  The only place to add that growth was toward our house from over the neighbor's fence.  So, we bit the bullet and paid to have it removed.  Now that it is gone, the big fir looms and it is as though the goner tree was never there.  That's how many trees are here.  I'm looking forward to the color of the leaves changing as that is just another way that Mother Nature keeps this place beautiful and interesting.  We will be headed south by going northeast by the time the leaves start to fall…won't miss the raking!!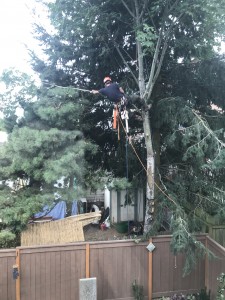 Haven't smelled a skunk.  I've seen a coyote at the golf course.  The bird life is great.  Eagles, hawks, bluejays, Tweetie birds (not familiar with many).  Osprey.  Lots of Osprey.  I'm sure there are owls but haven't seen any yet.  So, we have great birdsong especially during the mating season.  Oh, and the crows.  OMG.  Every evening they fly over on their way from someplace going to someplace else.   Impressive.  
As the summer starts winding down, we are plotting our trip home to CA.  Thinking of a road trip to Glacier National Park with many stops along the way to explore and play golf.  It seems only right to take advantage of our northern exposure by exposing ourselves to northern delights.  When we leave, the blogging with increase because it is our plan to go without reservations and land where we land when we land.  Haven't had any serendipity for a while and my heart yearns for some excitement and new adventures in the form of a road trip in our Ford C-Max.  No RV.  Motels will be our shelter of choice.  And yes, we know it can snow up there so in the event that it does, we will rent an appropriate vehicle if necessary to see a glacier.  We are particularly interested in one road up there that is suppose to be like one of the best in America.  Hope we can find it!!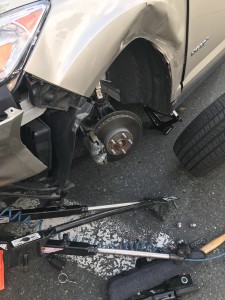 P.s.  we sold The Dog House.  Fun but a hassle in oh, so many ways which ended with our hitch breaking and causing about $17,000 worth of repairs.  So we have transitioned to a new type of vacation that involves hotels, motels, and the like.  Rayman is happy!!  
P.s.s.  We had good insurance…it was a no-fault thing.  Still.  Poof went the RV.