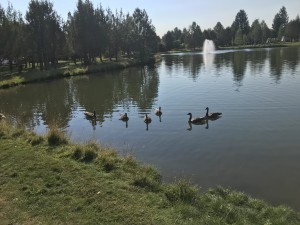 4
Smoke.  Up in smoke.  That's what we have been up to ever since we departed Morro Bay.  Why did we leave?  Don't ask.  Just kidding.  We had planned this trip in April.  Who knew the biggest wildfire in CA history was going to happen?  Having said this, we perhaps should have considered the fire season.  It's the new normal, according to Gov Brown and me.  Last summer we choked for the most of the days we vacationed in Canada.  Horrendous fires up there too and yet, the fires didn't even enter our minds while we planned.  Planning by the way involved countless hours staring at maps, apps and other tools of the RVers.  During the summer it is vital to have reservations as everyone else with an RV is on the road too.  And I personally refuse to camp at a Wal-Mart.  Just sayin. 
So, we consulted this and that and that and this and a plan was the output of all the research.  Then calls are made.  Sometimes you can make a reser on the internets but many times a call must be made.  Once you talk with the RV park, credit card info is given to assure your spot.  That is all my job…the reservations, that is. 
So, it is no small matter to change plans midstream but that is exactly what we had to do because of the poor air quality in the Sierras.  We met our friends up at Graeagle as planned and we played in Truckee the day after our arrival in smoke that was so thick, it was hazardous to our health.  After that we wondered what we were thinking…and then we played Plumas Pines in the smoke.  No more enjoyable but slightly less smokey.  Then our friends flew the coop.  She was not feeling well and we totally supported that decision. 
So we decided to fly the coop too.  And you know what that entailed…cancelling all those reservations.  We reasoned that things were not going to improve, our friends were gone, and anyway, we had a house to buy and it was exceedingly difficult to do it from afar. 
This is.a sad story.  We haven't gotten lost much on this trip.  Except in Los Banos which I have already written about.   We are a bit disappointed because when we get lost, it is usually an adventure.  However, other things have popped up to fill the void.
The TV:
Yes.  Our TV stopped working.   We ignored it for a few days but then decided we wanted to watch TV so we tried to figure out what was wrong.  This involved going to Jupiter Satellite store in Redmond, OR with our Wally device (think DishTV).  A nice man there tested the receiver and pronounced it fit as a fiddle.  After calling some RV place that works on Tiffin RVs, we were told they could not help us for a few weeks.  So, Rayman called our friend, Jake, that has a Tiffin too.  He counseled Rayman on ways to trouble shoot a few things.  And so he did and he discovered a plug had come loose.  Voila.  TV again.  That took the most part of a day. 
The Car:
Yes,  our car air conditioning stopped working.  This was serious as it was over 100 degrees and we had to drive back to the RV which was about 20 miles away with the windows down while breathing air so ladened with smoke, you could cut it with a knife.  That was not fun.  So, Rayman went to work with his volt meter and duct tape.  After three times of the air conditioner starting to work and then stopping again, he finally got it to work so that it now stays on…and the funny thing is, as soon as he was successful, the weather changed and got cooler.  We knew the world revolved around everything we did.  Just proof…again.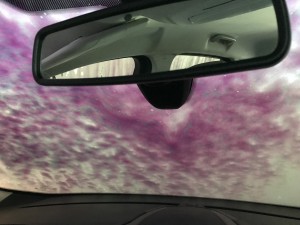 This picture was taken inside the carwash in Sisters, OR.  Needed to get the dust off.
The Water Heater:
This happened in the Sierras.  Our water heater in the RV went on the fritz.  That repair necessitated a man coming from Reno to Clio, CA to replace the hot water heater controller.  Subsequent to that experience, I authored a letter to Tiffin with a copy of the receipt asking if they would help defray the $525 bill.  More on that later when the reply is received.
So life on the road is never without trauma and drama but also unexpected events too.  Why just tonight at the Sisters RV park just east of Sisters, OR they had a catered barbecue for the park.  $15 a plate.  We decided to do it.  They even had a band and Rayman and I got up and cut the rug with one other couple…La Bamba.  Arriba, arriba. 
But I digress.
Anyway, while we were dining in a grassy field we looked up and saw a plane that looked like it was landing at the fairgrounds next door.  The plane was helping with a fire that had broken out just east of this park about 2 hours earlier.  It was a sight.  So was the helicopter with a bucket on a long "rope" flying here and there.  We think the fire is out.  No sign of smoke.  When the fire broke out, the sirens were constant.  They jumped all over it.  Hooray to the fire fighters.  We love them and thank them for all they do.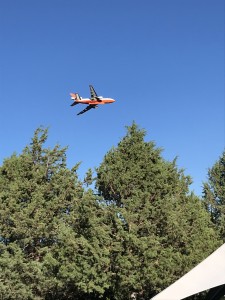 So, we cancelled our trip on the loneliness road in America and here we are until Wednesday.  On Wednesday we head to Portland and will be there closing escrow then leaving for Anacordes, WA for a few days and a visit to the San Juan Islands.  Then back down to Silver Cover RV Resort near Mt. St. Helens and then back to Portland on the 8th of Sept.  Then we will stay there outfiitting our new skinny house.  It needs everything.  Window coverings, dishes, pots, pans, beds, towels, garbage cans…etc, etc, etc.   The Anacordes, Silver Cove part of this was previously planned…just the part the included Nevada, Idaho and Grand Coolie dam were cancelled to allow us to get to Portland earlier.  We also thought we would escape the smoke.  Not.  It has been very smokey in Bend/Redmond/Terrebonne area.  Until today.  It got cooler and windy…what a relief. 
So that's about it for now.  Hope all our friends and family and healthy and happy.  We are missing everyone.  And Beau is missing his sister, Jaycee.