Monday, Monday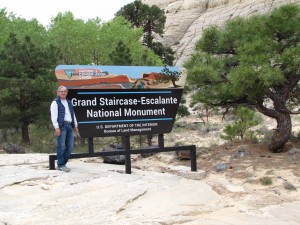 It's fortunate that we don't have to pick a favorite U.S. National Park because I am not sure I am capable.  Same for the Rayman.  They are each so mind bending.  So, if we burn ourselves up with climate change, these places will endure I think.  Perhaps new species will evolve.  Nature proves to us that we are not in charge in the long run.  I know this because I saw a petrified dinosaur head in the Escalante-Grand Staircase National Park Visitor's Center.  They did not survive as a species but the earth endured.  So there you have it.
We visited the Center because we decided to drive up to see the park in our car.  We left The Dog House in Cannonville KOA campground.  Sure glad we did.
What a spectacular place.  We seemed like the only car on the road as we drove up 10% grades, and went down 10% grades.  Essentially one goes from plateau to valley and back again in this place.  Every turn brings something new for the eye to feast upon.  Our friend, Gary Bartel, would truly enjoy all this since he once took a class in geology.  Geology is on steroids here.  Millions of years have formed this into an archeologists and geologists playground.  It makes me feel so uneducated in one way and like a knat on the other hand.  We are just temporarily passing through and we are very insignificant.  I'm speaking of the rank and file of homo sapiens.
But, I digress.
At one point the road ran along a ledge and huge canyons on both sides of the car could be observed.  Afraid of heights?  This may not be the road for you.  Everyone else will enjoy the ride.  The entire park is a series of canyons with great elevation changes.  We had planned to hike to a waterfall but by the time we came back to the spot, it was raining.  Lady luck was with us.  We drove the furtherest point we planned to see with occasional stops for photo ops.  The idea being that upon our return we would stop and hike and take additional pictures.  That plan was thwarted by the weather but it was very fortuitous because we saw some incredible sights.  Here's a sampling.
If you ever get to this park, you must do what we did.  We took highway 12 to a fork in the road at Boulder City and turned right and followed it about 17 miles.  OMG.
One of the things about these trips is not just the scenery and history but also the lack of TV.  Since we left home a week ago, we have watched TV once.  For an hour.  Yes, it is an option but an option we do not avail ourselves of.  It is so quite and peaceful at night.  And after viewing all the magnificent sights, it just doesn't seem appropriate.  The word trite comes to mind.  We find ourselves talking about the things we learned, observed, witnessed.  No gossip or idle chatter here.  Well, maybe occasionally!!!  We are human after all!!
So, tonight as I sit here blogging, it is cold outside.  A cold front followed the rain (just like at home).  There is a brisk breeze.  Great night for staying in our cozy Dog House.   Luckily I had defrosted a kale/bean affair which only required heating up to serve.  Last night we sat outside and barbecued.  Had the plan been reversed, we would have been screwed.  But, alas, we lucked out and for that we are grateful.  Even a blind turkey…
Tomorrow we are off to Capitol Reef which Rayman keeps calling Coral Reef.  And he calls Yellowstone Yosemite.  Great problem to have.  So many fabulous places to get confused.  I mean, they all start with the same letters!!   So it is an easy mistake to make.  And it doesn't mean anything in the scheme of things…nature taught us that lesson today.
And one other thing.  Please note that we did not get lost.  At least spacially.