Rayman has his birthday and he has a cold which rendered him inaudible for most of the dinner party last night.  A squeak here.  A squeak there.
Most of us have encountered a cold or flu while traveling.  It is a shame it came to this but shit happens.  The few days before we flew to Oahu, we spent 4 days with our good friends, Ruth and Tom.  Ruth had a cold but had been suffering for a month.   We hold her harmless.
When we flew from San Luis Obispo to San Francisco (SFO), we met up with the kids (read adult children), Ryan (number one son and his romantic interest, Tamara).  She had a cold she was getting over.  Ryan was beginning a cold.  Ray was getting chills.  No matter.  We walked around the airport killing time and looking at the display of gaming machines from the 1800s forward to the one arm bandit.  Really works of art in their own way.  And there were pictures of saloons from the West and I only saw one with a woman pictured and she was not a lady of the night.  Women did not frequent saloons as customers.  The women were used upstairs for sexual relief, as I've been told.  Funny that Matt Dillion did business with a woman saloon keeper, Kitty.  Too funny in this political era since I have a teeshirt that says, "Pussy Strikes Back".
Perhaps not much has changed, really.  Women were also kept out of politics and voting until Wyoming finally allowed women the vote in the early 20th century.  Wyoming of all places.  Now Wyoming is firmly in the red column and home to Darth Vader, Dubya;s VP.
But I digress.
Well, actually, I do want to make another political observation.  Elizabeth Warren is really under their skin, isn't she?  And I think it instructive that two women Republican Senators voted against DeVos for Education.  Do you think women have bigger balls than men?  Do you think they are more fair-minded?  more hardworking and sincere?  I don't know but perhaps so.  But for every Susan Collins, we have a Joni Earnst in the halls of power so there is that.  And who can leave out the air-head Sarah Palin.
Back to the North Shore of Oahu.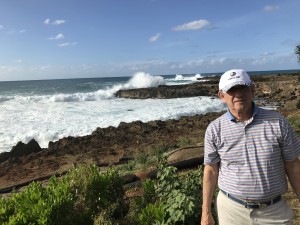 We upgraded our room because they put us in a room overlooking the grand ballroom which sat on the shoreline.  Bummer.  We moved up to room where the waves were more tame, the view unobstructed.  Quite lovely.  And it's probably a good thing because we have spent a great deal of time in it.  Rayman is in no mood to do much.  He sounds like a frog.  Energy has left his body.  So instead of swimming with sharks, floating with turtles, snorkeling with schools of fish, we spend time in our room or on the beach, or by the pool (for small snippets of time).  The rest of the time, we're up in our Ivory Tower.
  It is becoming clear to us at this point that golf is probably not going to happen.  We've already missed 2 golf dates.  We have one more scheduled for tomorrow and I think it is history.  So, we bought new golf travel bags, we paid $140 (round trip) to fly them over here.  And we will not use them.  Drats.
Having said that, as I sit here blogging, I feel like Earnest Hemingway.  Remember the pictures of him, his old typewriter sitting near a window on a tropical island, with the gauzy linen curtain waifing in the breeze.  That's me!!  Except, I'm not Earnest.  I have wood shutters, and I'm on a computer.  But, hey, nobody's perfect.
Which brings me back to the Rayman.  He ain't perfect.  Catching a cold for his birthday is not a good plan.  So, to make everyone else but himself feel better, we drove to Honolulu and visited the USS Arizona Memorial yesterday.  Sobering.  Sad.  Much brought on because Japan needed to trade with us.  But Japan sided with Germany and we were not going to trade with them.  Boiled down to oil, rubber, tin, iron.  Natural resources.  Makes what is going on now with our "child wannabe Dictator" all the more frightening.  Embargos lead to wars.  Man child at the tiller.  What will become of us al  And the most terrifying of all is that Ivanka's shoes have been pulled from Nordy's.  Now our boy dictator is using government accounts to rail against Nordys.  That is so wrong, I don't know what to say.  Oh, yes, I do.  Does the term conflict of interest mean anything to you?  Impropriety?  Emoluments Clause?  As previously announced, I going shoe shopping at Nordys.  A perfect political strategy….send a message and buy a pair of shoes!!
In the meantime, we are up in our Ivory Tower carrying on as though all is normal except the cold that the Rayman has.
After visiting the USS Arizona, we toured a submarine from WWII.  Tight quarters.
Can't imagine living in one of those tin cans, 300 feet down.  And when they go silent, all power is cut and sit there roasting and taking a war sauna.  I was glad to reemerge at the aft of the sub after the tour.  Fresh air.  Sub parked and deck above water.  All good.
Returning back yesterday, the ocean was really putting on a show at the Bonsai beach.  We stopped to film and snap pictures.  That lead to buying an ice cold coconut, having it split open so we could drink fresh coconut juice.  I hate coconut.  However, it was good.  Guess my issue is with the dried, processed stuff that is sold.  So, my mind opened up a bit yesterday and that is always good.
At dinner, we ate at Roy's.  Started with MaiTais.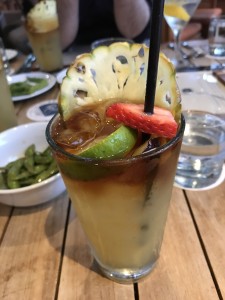 Ended with upside down pineapple cake with caramel syrup.  Appetizers and mahimahi in-between.  Wine flowed.  Cards came out.  Gift bottle of wine was opened with no corkage fee.  A Pinot all the way from Porlland, OR.  The kids are great!!
Everyone in the restaurant made Rayman feel really special for his birthday.  Lovely service.  When we left, we were feeling no pain.  That came later in the middle of the night when the rich food took its revenge.  I think Rayman might have been more sick when the bill came but I intereceded.  $340 without the tip.  Lord help us all.  However, in defense of the price, we were sitting at the edge of the Pacific Ocean in Hawaii.  We were with family.  We were extremely happy albeit with a snotty nose or two.  Life was good.