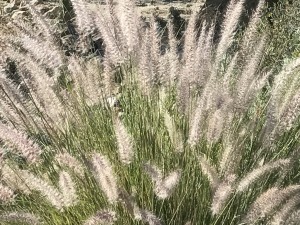 It's out last day in the desert and a certain amount of introspection is required if for no other reason than it gives this woman something to do.
The wind is wreaking havoc sending the sheaths of the palm trees raining down from on high.  Those palm trees are amazing.  Tall, skinny.  Evolution proven without the assist from a certain bird or turtle.  Just look at plants.  After all, palm trees are, well, trees.  An oak is a tree.  Big difference with environment to thank for the discrepancies.  This area of the desert, Borrego Springs, is home to palm trees and orange and grapefruit trees.  The palm is infinitely more suited to the hostility of heat, wind, and lack of rain. The orange and grapefruit only exist with the help of man whom has figured out to move water to and fro.  Man, who has figured out how to pump water from beneath the surface of the desert.  So much so that the aquifer is drying up.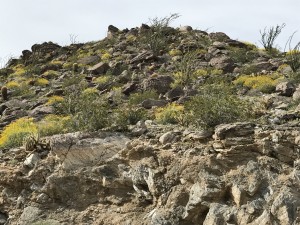 As a golfer, this brings me to full-throated anguish and deep feelings of guilt because here in the desert, man has figured out how to build golf courses and irrigate them.  It really shouldn't be.  Water should be conserved here and over the mountain from here in Palm Desert.  But if they did not have golf courses, the houses might not sell.  Most golf courses that are not built by the taxpayer, known as muni courses, have been built to attract people with money that will spend that money on a house.  And don't forget that gate.  Most courses in the desert sit behind gates in what is referred to as a gated community.  Keep the riff faff out is the message it sends.  And many people love the concept.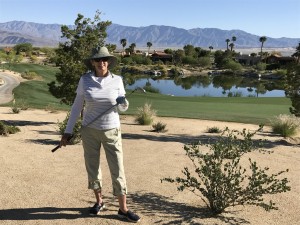 We drove back to Palm Desert the other day to buy me an iPad and buy some groceries.  Mile after mile of green grass lines the walkways that sit directly in front of the walls of the gated communities.   Fountains near the gated entrances squirt water in the air.  Meantime the earth sinks as water is pumped up.  What is wrong with this picture?  Oh, well.  With our new science denying President, we are in a world of hurt.  And all my wringing of hands won't change a thing.
Actually not much that I do, changes a thing.  Except I think writing post cards and letters to our Representatives has had a positive effect.  Here's to the fact that ACA survived the Republican onslaught.   I feel good about taking action.  Marching.  Writing.  It paid off.
But I digress.
I imagine palm trees as survivors of the ancient oceans that covered this part of the world.  They seem like kelp that spreads out at the surface of the water.  It is hard to imagine water having been here.  But when I do imagine it, kelp comes to mind.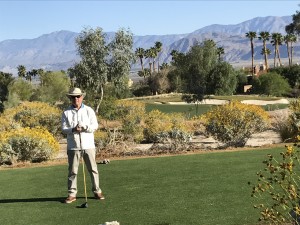 We played golf yesterday.  Ram's Hill a few miles up the hill from Borrego Springs.  A darling of a course in a gated community.  You see.  This is what drives me crazy.  The course had grass in too many places.  And it was lush and well watered.  And I am a contradiction looking for a place to happen.  Had a great round of golf and enjoyed it very much.  Bad me.  Two birdies.  One was almost a hole in one.  Made that putt!!
Just finished a book, Hillbilly Elergy.  I'm still thinking about it.  About white working class and white lower class people in Kentucky and Ohio.  And it really also could apply to all the southern states.  Health care is an example.  See this article.  http://kff.org/uninsured/issue-brief/the-coverage-gap-uninsured-poor-adults-in-states-that-do-not-expand-medicaid/   These states are red for the most part.  What don't they understand?  Is there a correlation between this and education?  I'm not going to study it but I do wonder.  Why aren't the people of those states clamoring for Medicaid?  I don't know.
Here I go again, digressing.
If you have never availed yourself of the opportunity to see a super-bloom, you should put it on your bucket list.  As dead luck would have it, we arrived in the desert just in time for the peak of the bloom.  This trip had been scheduled for a year and so it really was blind luck.  Wow.  The brown desert was alive with color.  Brown turned to green.  No flowers turned to thick patches of yellow, white, red, purple and all shades in between.  I guess these flowering plants are another indication of evolution.  They are very smart, those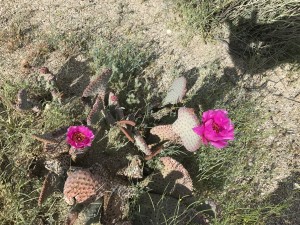 plants.  Only blooming when there is enough water.  Showing their plumage only after record rains arrive.  And along with all the flowers follow the people.  Like night following day.  They came in swarms like locust.  Clogging the streets with their motoring choice be it motorcycles, cars, trucks, SUVs, bicycles.  Did not see a segue. Did not see roller blades.   There were so many cars on the weekend that Montezuma's Grade had to be closed down.  That's the main artery, the only artery from Temecula and the inland empire.  And once the hoards arrived, it was clear they had no idea where to go.  Having been coming here for several years, we knew where to go.  But we didn't go on the week end, but during the week instead.   I will admit that it was great fun to see all the people enjoying the scene and the scenery.  Beauty is still sought by many who are city dwellers.  It is encouraging to the human spirit.   Bitterwater Road and Carrizo Plains are two areas where we go near home.  And this year, Borrego really drove home the point that a super bloom should be experienced at least once.  Never have we seen anything like it in our area and we're hoping that the super bloom occurred in those places as well.  It's worth the drive to find out.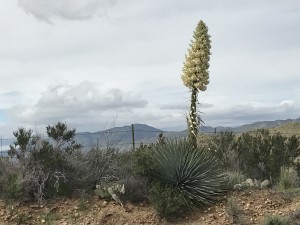 This trip has me feeling guilty.  I did not hike this year.  For the first week and a half it was just too darnned hot.  And then the winds came and a day of unsettled weather with raindrops occurred.  Fear of flash flooding clouded our thinking and we stayed near the RV.  We did walk from Holidays Homes RV park to places but never a hike.  Guess I will have to hike the Zoo when we arrive in San Diego.  Leaving tomorrow and so that is imminent.
I do have a bone to pick with the Rayman.  He isn't giving me much material lately.  We've settled into RV life and don't make the bonehead mistakes we used to make which provided much material for my blog.  This is distressing as a budding author.  What to do when your source of material stops messing up?  All suggestions will be appreciated.  I will not, however, stop blogging.  It is a hoot and serves as my diary of life.  Fun to re-read years later and I do mean years.  I started this in about 2008.  Or was it 2005?  I don't know.  But it's been awhile.  And the beat goes on.
We just returned from a whirl around the valley and I'm sad to say the flowers have peaked and are in a rapid decline.  The wind is gusting here today and the clouds are beautiful.  There are still a lot of travelers in town peaking at pedals and having fun doing it.  Life is good.