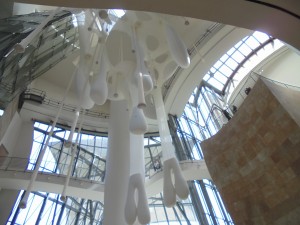 The Guggenheim Museo in Bilbou, Spain has nothing but curves.  A very curvaceous structure that is hard to comprehend in it's magnificence.  The camera does not capture it.  It as so worth the visit.  What a day.
Curves actually figured prominently in our excursion today.  Each couple ventured out from our villa to "do their own thing."  Our thing was the Guggenheim.  Then we figured  we would continue on to San Sebastian.  Well.  Nothing ever goes according to plan which begs the question of why we bother to plan?  But we do.
Well, Glenda the GPS was not part of the planning.  She had other ideas.  So, she directed us to exit 117.  Only exit 117 was closed.  As in non-existent any more.  So, when we passed 117 she started "recalculating".   So annoying that we turned her off.  Then we figured out that the museo was on the river and the river was downhill from the freeway so we got of the freeway and plowed downhill curving all the way.  When it appeared we were lost, we decided to "pooh it".  This concept comes the book The Tao of Pooh.  Great book.  Read it if you haven't.  It's about applying the concept of Tao to Winnie the Pooh.  Winnie and her friends couldn't find the lake, so they decided to stop looking for it.  As soon as they did that, they found the lake.  And so it was for us.  We found the Guggenheim.
Really, people, if you haven't been to the Guggenheim in Spain, plan a trip.  You will be blown away.  What genius on display.  Inside and out.  Up and down.  Backwards and forwards.  Everything is curved.  Nothing is straight.  Things echo.  Things emit light.  Things change all the time.  There's even an echo chamber…and it's not the kind we have at home with our Faux News friends.  Curved steel walls that looked like wood.  Inside, if you made noises, which of course, I did, they would echo.  Rayman even joined in!!
But I digress.
After visiting the Guggenheim, we walked along the river to the old part of Bilbou.  Had a delightful time there.  Didn't get robbed.  Noticed a few really interesting things.  They have a train service that runs along the river.  Light rail.  And they planted clover or some kind of green plant all long and between the tracks.  Rayman thought it was a defunct operation.  No siree.  Very smart of them because it softened the look and made it cooler, temperature wise.  We also saw a couple dancing in the street, so to speak.  Very fun and spontaneous.  I'll try to download the video.
We met a woman and her husband from the States.  Not sure where they were from.  How we met was, we saw a purse sitting on a bench in the Guggenheim.  Rayman went off to find Museo personnel to collect the purse while I guarded it.  The owner of said purse, arrived with hand on heart.  And that's how we met.  We told her our sad tale of being robbed.  He suggested a gun might have come in handy.  That's when I knew we would not becoming fast friends.  Anyway.  Good samaritans here.  They were very appreciative.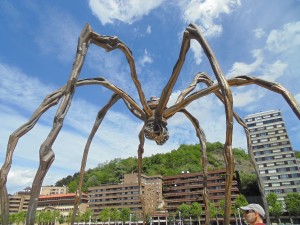 We then proceeded to leave Bilbou by again poohing it.  And we found our way out.  We then headed toward San Sebastian and decided to drive toward the coast away from the freeway we were on.  Fabulous coastline.  Reminded us of Highway 1 but with overbuilding.  The CA Coastal Commission has really done us all a big favor.
But, again, I digress.
Short version is, we arrived back at the villa and Janis and Terry beat us back and she had paella on the way.  Table was set.  She is way cool.  Allan and Dorothy texted to say that we should eat without them.  So we did!!  Muy bueno.  But there was enough so that when the Bucks returned, we welcomed with dinner and drinks and a good time was had by all.  Another fabulous day with curves, roundabouts and stories of how all of us got lost.  Multiple times.  Ah, misery loves company!!
p.s.  Terry came up with a great idea.  Program GPS devices so that when things don't go right, they say, "Oh, oh."  We embellished the idea.  "Why didn't you listen to me?"  "You are a dumbshit."  "Go back, stupid."  "Ha, ha.  Fooled you."  You get the idea.  Too funny.