With so many screw ups on this trip, it is my duty to self report and let the chips fall where they may.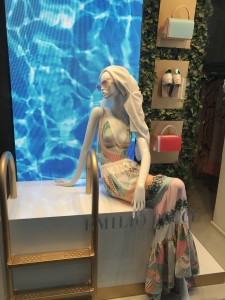 Florence is amazing.  Streets are used for walking.  Cars are an annoyance as streets are narrow and comprised of cobblestone.   So unlike anything in America. Statues here would not be allowed in Arroyo Grande (CA) reflecting back on the brouhaha surrounding the sculpture of a woman post-breast surgery caused.  The statue was too too and it was relocated to the more enlightened town of San Luis Obispo where it resides today.  Here in Florence,  churches  are everywhere, of course.  Museos are abundant. The Arno River runs through it.  And the window displays are at once beguiling and hilarious.
Here are some examples of what we saw to illustrate my points.  
This is all in an effort to stall my coming confessions of travel mistakes, I suppose.  
It starts with the fact that I managed before leaving home to book and pay for two tours within a half hour of each other on the same day.  Talent knows no bounds.  So we will miss David on this leg of the trip and may miss it again when we return to Florence to return the car.  Most tours are sold out.  What a ditz.  
Over dinner last night I almost broke into tears over an even larger mess of my making.  Let me begin by saying that AirBnB has always worked before.  As the website will attest, we have enjoyed several accommodations with generous reviews for the owners. And we received positive reviews as well.   That winning streak has been broken here in Florence.  
What thoughts come to mind when the ad says there are steep stairs?  The ad mentioned that.  What the ad didn't mention was the fact that were 48 of them.  They snaked all over the building.  It was bad enough that neither of us could drag our 28 pound suitcases up.  The clean-up lady, who was younger by at least a generation plus, had to do the deed.  And upon ascent to the apartment which sat atop the building, we found a space that left everything to be desired. Mold in the shower, such as it was.  This pearl of a place had a sloping ceiling in the bath that prevented Rayman from standing up straight to address the loo.  I had to be careful not to knock myself silly when dethroning.  "What were you thinking?, cried the Rayman as he gulped for air upon our Mt Everest-like ascent.  The rest of that conversation was quite animated and this resulted in a search for another place to stay.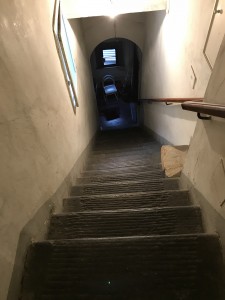 In the meantime, we roamed the city and witnessed lines so long they curled around buildings forming the longest conga lines in history sans the dancing.  No one was dancing.  It was more like a collective shuffling of feet.  A flamingo experience, as people shifted their weight from left foot to right and back again to stave off sleeping appendages as they patiently awaited their time.  Well, I had not booked advance tickets for the Duomo cathedral /basilica.  Another mistake.  Another lost opportunity.   
So we did what anyone might do.  We searched for a place to enjoy our fav new drink, the spritz.  And people watch. Walking in circles ensued.  Once we agreed on a place, we decided to cancel our Rumplestilskin tower room for more conducive quarters and appeal to the owner for a credit ( fat chance).  In that order.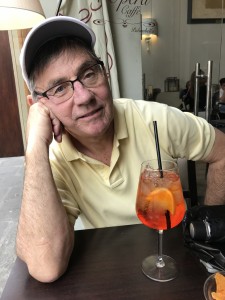 That spritz helped and when our gumption had returned, we trudged back to the room from hell.  Time was then spent rummaging around the internets attempting to find a new room.  We had taken great pains to book a car away from the airport so we thought we might stay near the Hertz office.  Turns out Hertz is not at the airport but it is in the vicinity.  More poor planning.  All the hotels ( at this point AirBnB was like a rose…too many thorns and Rayman insisted we book a hotel) near the airport were booked.  Plan B was then explored.  We would stay in town and take public transportation on Saturday to pick up our car. Okay then…we did just that.
By the time all this was executed, we were famished.  Rayman worked at finding a place to eat since a concierge was not available.   And off we went.  
Our eating experience at the ristorante he selected was without parallel.  Here are the pictures.  The service was the best.  The atmospherics beautiful.  We were in a ristorante above our pay grade while dressed in blue jeans and essentially golf shirts.  What was he thinking?  When I posed this question, he said something that went into one ear and out the other.  After dinner I confessed that I felt like a country bumpkin.  Everyone in our area of the ristorante was dressed to the nines.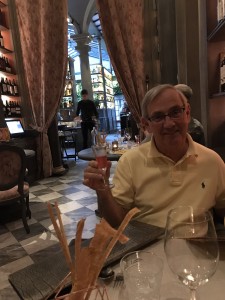 But I digress.
We then opened up the menu.  Purée of rooster comb?  The waiter assured us that it was delicious.   A prix fixe dinner was $150 euros.  Each.  There was no house wine but the waiter involved the sommelier who brought bottles for us to sample.  Asking how much seemed entirely out of the question but we figured it was plenty because bottles started at 40 euro and accelerated from there.  Rather than close the menu and walk out, we decided to go with the flow.  Rayman ordered sublime pork dish that was the best pork either of had ever had. I selected the white fish with artichoke and other stuff (a cooks technical term).
He won the ordering contest but just by a hair.  Letting price get the better of us, we just ordered the main dish passing on all the sides. That proved to be a wise decision because the kept bringing tidbits to our table. A small aperitif.  Breadsticks with a small dipping delight.  A plate with pea purée forming the base upon which an array of tiny bites of carrot and onion were displayed.  Fried cheese.  After the main course the waiter regaled us with a tiny cosmo(about three sips).
Did we want any dessert or coffee?  No, grazie.  While waiting to see the damage of our bill, out from the kitchen came the most inventive presentation of tiny dessert bites ever experienced.   The pictures tell the story. They came out in a cloche.   You, dear reader, would agree. No?  Then another tiny drink arrived.  Then the bill.   We managed to leave the ristorante about 150 euro lighter.  It was worth every euro…really the evening was priceless.  We were only charged for two secondi dishes and two glasses of wine.  All the other items were built in, included.   And no tip either.  Tips are included.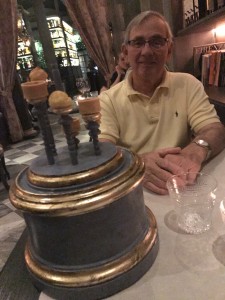 So the miserable room was offset by the luxurious dinner that included some of the best food on the planet.  
Parte Deux
Climbing back up those stairs at 10:30 was at once terrifying and difficult but like Sir Edmond Hillary, we prevailed against long odds and without additional help of oxygen.   Bed was immediate. But I could not fall asleep.  No fire extinguisher.  No smoke alarm.  No way out except by window or stairs.  The bed was lumpy.  WHAT THE *&@#.  At 1:15 a.m. the room went dark. I turned off the light.  It was a hard day's night.  
This morning I emailed my dear friend, Barrie, a Airbnb owner for her advice on how I might try to get some money back.  Donning our clothes, we left to visit the Uffizi Museo under our umbrella.  Our tickets were early and we slipped right in without any problem. Rembrandt was there.  De Vinci was there.  There were paintings, sculptures, sarcophagi,  busts.  Almost all of the sculptures were nude men without circumcision or fig leafs and they had spectacular bodies and were based on Greek mythology.   The women were few and far between as were the women artists of the time.  There was one room dedicated to one woman artist that I have never heard of until today.  And the art in the Museo featured work from before Christ to about the 18th century.  The Medici family owned or commissioned most of it.   It was as overwhelming as it was beautiful.  
But such a good time can't last all day.  Retrieval of suitcases was next on our agenda and we dreaded it like one dreads the dental appointment to save the tooth.  We devised a way of lowering the suitcases using the colorful straps we brought to tie around our ubiquitous black bags for ease of identification.  Rayman went down backward to guide the bags from falling while I held the straps from above thereby relieving him of some of the weight.  It took us 15 minutes to make it to the bottom.  And when we shut the door behind us, relief washed orr us like a supplication ((branching out here to use a religious metaphor)…unsure if the sentence makes sense.  
Dodging potholes, cars, trucks, scooters, segways, bicycles, dogs, and people on foot, we made it to Hotel Pierre and it felt like heaven.  
So now I bid the reader a fond adieu so that I can double check the Milan Airbnb for stairs.  Just sayin.