On a bright and sunny morning (yesterday), we took a cruise on The Love Boat.  It lasted 8 hours because we spent the day circling two islands.  The first island is named Comino and other than two resorts on it along with a variety of concession stands, it is uninhabited.  During the winter, two couples reside on the island because tourists and locals have no desire to visit other than on a day trip.  The main draw is the blue lagoon so named for the color of the water.  I think it is the bluest, clearest water I have ever seen.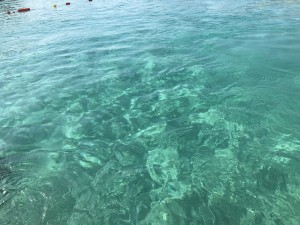 This was the first stop of our day trip.  We were given the option of disembarking or staying on-board and anchoring off shore to either just sit and gaze or swim and snorkel.  We opted to go on shore.  The dipping of toes ensued.  The temp of the water was in the low 70s, I guess.  People from northern European countries were everywhere and the water temp didn't bother them one darn bit. 
We had been on shore about a nano second and Greg came up holding a pineapple filled with pina colada.  Here's a pic.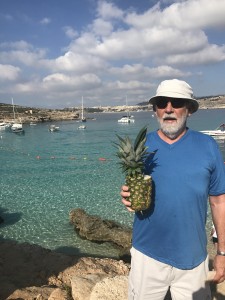 The guy knows how to party!!  The only other thing that was purchased were three bracelets, one for each of us women to commemorate the occasion.   No picture included.  There were a variety of ways to spend your hard earned money.  Jet ski rides, kayaking (I wish I could have done that but we were only on shore an hour), the crazy sofa ride…The only thing they didn't offer was walking-on-water lessons which is odd since it is such a Catholic country!!   Here's a picture of Gozo from Comino.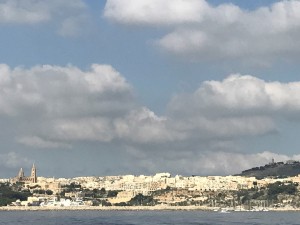 Once our hour expired, back on the Love Boat we went.  We then circled the near-desert island stopping for an hour in a cove for snorkeling, swimming and lunch.  Nancy and I stayed in the boat (we didn't bring our suits to Malta) and people watched.  There were bikinis everywhere (a younger group of folks) and hairy-legged men with short suits too.  Eye candy, anyone?  Sorry, no pictures except of my friends (out of politeness on my part).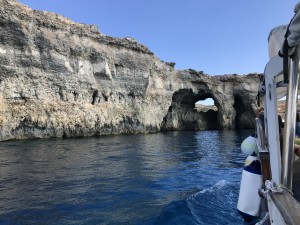 Perhaps all this skin prompted a few couples on board to start embracing, kissing, hugging, groping each other as we sailed around the islands.  More than once or twice we mentioned to each other that "they need to get a room!!".  I think that is when I dubbed the name of the boat, Love Boat.
OMG.  And then there was a fellow that appeared to be about 60 plus years judging from the thinning gray hair on head and chest, his sagging pecks, and other aged related issues.  I've dubbed him Romeo.  His companion looked like his daughter.  She looked like Jezebel.  Not a wrinkle anywhere.  Long dark hair.  A bikini was worn which revealed almost everything.  We had a hard time keeping our eyes off the couple.  Romeo's age, I think, was an issue for him because he kept trying to behave like a young man.  Here's a picture of Romeo's legs as he perches himself on the boat railing while holding onto a styrofoam noodle that we presume he was using to poke Jezebel who was on the upper deck of the boat while the boat was moving.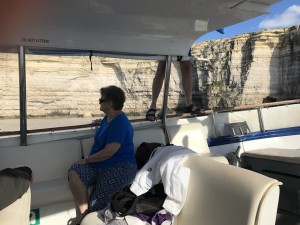 Shades of teenage pranks…He was using his hands in interesting ways.  She, at one point, sat on his lap.  Then a shriek was heard…from Romeo.  At that every moment we were in a cave and the pilot threw the gears into reverse, providing enough cover (noisy maneuver)  for us to laugh in dismay. 
Fast forward to the rest of the trip.  After circling Comino, we went back to where we started.  That's were most of the cruisers disembarked and new cruisers got on.  The company offered a tour to Comino, followed by a cruise around Gozo.  We had booked the whole enchilada.  Both islands. 
Leaving out of the harbor, we went south first.  This afforded us views of towering cliffs and a few harbors as seen below.  We again anchored three times and swimming and snorkeling occurred.  With calypso music playing along with U2 and a few other groups.  Lunch was again served (we brought a picnic).  Much to my delight, the sea was calm.  Even so I wore some cloth bracelets that Teri loaned me for the expressed purpose of keeping me from sea sickness.   They really work.  Or do they?  Perhaps they are a placebo for people like me.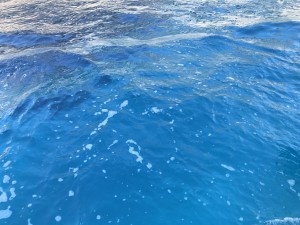 Again, the water of the Med from a different spot.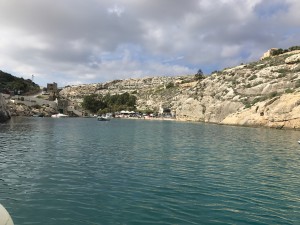 One of the villages of Gozo in a cove.
But I digress.
The day became long.  Eight hours on an open boat is, well, a long time.  Yawning began.  A longing for a walk was evident.  However, it was a great opportunity to see the entire region and that's exactly why we were there.  So, we soldiered on and kept ourselves entertained with the lovers in our midst. 
By the time we returned to the dock, the sun was almost down.  See the picture taken as we motored from Comino to Gozo for the last time.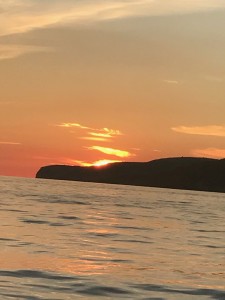 Nancy snapped it and captured it perfectly. 
As we anxiously disembarked, Romeo decided to leap from the upper deck of the boat onto the dock.  The cement dock.  It did not go well.  He hit, bounced, and fell in a fetal position.  And as quickly as he hit, he scrambled to get back up as though nothing had happened with some aid from Jezebel.  As we walked away, we had a hard time keeping from laughing.  After all, karma is a bitch.