We have been ensconced in our RV at Little Bear RV Park for a week now and it has been amazing.  When I convey to my friends and acquaintances and family where I am going or where I am, they always say, "Where?".  It goes without fail.  This place is a very well-kept secret for most so I must implore you not to share the location with anyone!!  We're at Blarisden, CA in Mohawk Valley, CA.  The RV park is located down the road from what looks to be a regional fire headquarters.  About a mile away is the bakery (key learning).  I can report that their blackberry pies this season are wonderful and being enjoyed.
The park is a stone's throw away from the Upper Feather River tributary and I can report that unlike past years, there is a great deal of water in the river this year.  Rushing and gushing, swishing, and splashing.  A sight to behold and appreciate.  The park is also a stone's throw from Highway 70, a two-lane artery that connects 395 to Quincy, CA, the county seat for Plumas.  If my memory serves me correctly, Plumas translates to "feather".  Hence the Feather River.  Which came first?  I have not a clue.  Probably the Indians or Mexicans that proceeded the Europeans, gave the river it's name.  Although, the Europeans may have named if after all when you consider other California river names in the vicinity are name Rogue, Russian (is there a back channel involved?), Sacramento.
But I digress.
Also a stone's throw away from Little Bear are the railroad tracks.  Active railroad tracks.  I don't know if one can set their watches by the trains (I highly suspect that to not be the case), but you can always count on a train or two coming through in the dead of night.  The other night, I awoke and could not go back to sleep.  After an hour or more I heard the plaintive cry of the train whistle.   So, I decided to try to compose a poem about that sound.  Well, that proved to be harder than it sounds, and sleep came.  From a distance, the sound is haunting for lack of a better term.  As the train moves toward us, the intensity increases and it does not sound as haunting anymore.  It's more of a huge, long blast of a sound.  Hard to sleep through.  Hard to ignore.  Not hard to hear.  But I suppose that's the point…warn anyone silly enough to be approaching the tracks in the dead of night that it (the train) is a coming.   And then the mind moves to the conductor.  Is he standing in the window of that train, pulling on a rope to engage the noise?  Is that what they do?  If so, I'm glad not to be a conductor.  They must all be deaf.  At least my lack of hearing can be attributed to listening to Janis Joplin and County Joe and the Fish.
http://www.FishTalesGuideService.net
So…speaking of fish.  Rayman and I want to go fishing.  However, we are older than dirt and require and adult supervision for fishing.  I just explained that in an email that I sent to a guide called Mac.  Got his card from the Ace Hardware in Truckee (what in the world were we doing in Truckee?).  I also explained to him that we lacked fishing poles, licenses, bait, or switches (ha, just kidding about the switches).  All the rest is true.  Along with this important information for Mac, I imparted the fact that we were total novices and we ran across a guy at Little Bear (he was from Truckee/Montana) and he told us about Weber Lake or maybe it's Webber Lake.  It's has been privately held for 50 and is opening up this season to the public.  The fish in it must weight about 100 pounds, I'm guessing.  In the best way I could, I asked Mac if he could help us on a sunny, warm day.  Then I hit send.  P.S.  Mac's email got returned as undeliverable but we found Ed.  I warned him.
We had gone to Truckee to look at the Truckee River.  Here it is.  Boy, oh, boy.  It speaks for itself.
Yikes.  It wouldn't load onto the website.  Bummer.  So I put it on YouTube (think hours) and it took forever and the video is choppy because I didn't know what I was doing.  I will try to improve tomorrow when it is to be a high of 49 here and too cold to do much other than walk the dog and work on my blogs.
We also had to get some Starbucks coffee pods.  And also we had to spend $80 stocking up on provisions at Safeway.  Signed up for a Safeway card and saved $20.  Not bad.  Could pay for the gas.  Oh, the gas.  There's another story to tell about gas.  As we were leaving Truckee, it was discovered that we were on empty.  I passed a station and they wanted $3.59.  "Ghastly", I muttered and kept on going.  Only, here's the thing.  Truckee may have a river, but it does not have a plethora of gas stations.  And surprise, surprise.  The price is the same at each station.  Harruph.   Drats.  Plus I was breaking my rule to never buy gas on weekends.  I think the prices get jacked up, don't you?  Oh, well.  Nothing to do but pull in and gas up.  They got us.
While we've been here, we have played golf twice.  When we play, we usually compete by playing match play against each other.  Quite fun because it gives one the perfect excuse to try to rattle the other.  Jelly beans are everywhere in match play between the two of us.  Just saying.  So, we approach the 17th hole at Graeagle and we are tied.  Rayman hits the shot of the day.  I drive it into the sand on the right.  His second shot lands left of the green pin high.  My second shot out of the sand was amazingly good.  But I was still out about 40 yards.  My chip onto the green was not a good one.  The green broke right and my ball chased the contours of the green.  I found myself about 30 feet away in three.  Rayman was in high rough.  His ball flew out of the rough, and hit the flagstick.  It dropped to about 2 feet from the hole.  He parred the hole.  It was my turn.  I putted the ball with all the concentration I could muster, and made that putt!!!  That's was the highlight of our golf so far.  Very fun.
Today, we drove up to Sardine Lake.  On the north side of the mountain going up, snow was still on the ground and the lakes at the higher elevations were still frozen.  We dropped down to Sardine and it was fabulous.  Take a look.
And we hiked with Beau to the Upper Sardine Lake.  Here's a couple of pictures from there.  For all the years we have been coming here, we have never seen snow on the peaks.  Here's a picture from last year so you can see what I mean.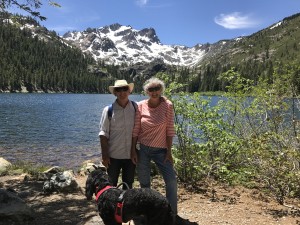 At the top of the trail, we sat on the stone wall that provides a dam for the water.  And we ate dates and jerky.  And we drank water.  And we stared at the scenery marveling at how insignificant we are.  And how blessed we are to be able to see the sight.  Then we picked up and hiked back down the hill to the car.   The hike improved our moods and our outlooks.  It was special.
Finally, our pizza paraphanella arrived today.    We are now armed and dangerous.  With pizza peel in hand thanks to UPS, or FedEx…our pizza making caper is scheduled for tomorrow.  What could go wrong?  I have no earthly idea.  However, I will take pictures and report back.  Something weird/funny is bound to happen.  It always does.