No, I'm not referencing that program on TV with Whippy Goldberg.  The ride from Healdsburg to Eureka is my reference here.  
As those of you following our shenanigans, you know we drove to Healdsburg and held my birthday party there at the Chalkboard.  What you do not yet know is that we were nearly, completely hacked in the comfort of our hotel room.
Buzz, buzz.  Buzz, buzz.  Buzz, buzz.  "Hello?"  Silence ensued as the other party was doing the talking.  
"Yes.  Okay.  Our phone number is xxx-xxx-xxxx.  Our emails is xxxxxx@xxx."  (The real deal was given to the caller.)  
"Dianna, what credit card did you use?"
"WHAT!", I inquired.  "Just hang up, this doesn't sound right."
Rayman, still rubbing sleepy dirt out of his eyes, replies to the called, "Tell you what.  I'll come down to the desk.  I don't share my credit card over the phone."  
Click.  
The story was that the hotel had lost power during the night and they wanted to offer us a 25% discount for our inconvenience but needed the data to "reconstitute" their records as they lost all their data.  
This struck fear in my heart because we came very close to being seriously hacked.  And as the IT in the family, I needed to change the password for my password software.  So, I perused our emails and already, the password program alerted me to the fact that someone one was trying to log into the program, was it me?  
Because we had to leave for Eureka, we decided I would work on the problem in the car while Rayman did the driving first.  That was not the best idea in hindsight.  Trying to change passwords was not easy for a variety of reasons which I won't bore you with.  On an iPad, the job was much more difficult.  I really don't like my iPad.  My MacBook is much easier to use but not on the road.  
Anyway, to make a long story shorter, I was beside myself with worry.  And I missed the view every time I had a strong signal.  The day was beautiful, perfect really.  The sky was blue, the wind was almost nonexistent.  No time for computer problems.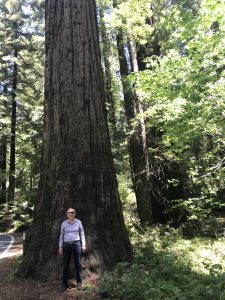 The ride through the redwoods was, as always, awe inspiring so we stopped to snap a picture.  It as so quiet in the grove.  Magical.
Oh, and the hotel informed us that "they thought the hacker problem was fixed".  And yet they didn't warn their travelers that this had been a problem.  I wrote corporate to share our outrage.