A few disparate thoughts.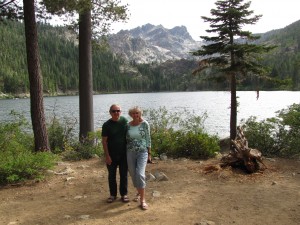 The picture I lead in with is Sardine Lake.
We took a drive up to Davis Lake which is 7 miles above Portola, CA.  It is like many CA lakes.  It is dammed.  A charming spot to cool off as the winds from the west blew across the cool waters of the lake.  We were in heaven.  It has been so hot on this trip.  Unseasonably, say the locals.
Anyway, when we arrived a Mexican man approached Rayman and asked for assistance with his tire.  Tire trouble.  Me, I have trouble being tired.  Not him.  He had tire trouble.  So, as Rayman assisted the fellow, Beau and I walked down to water's edge and splashed around in the water.  Beau, still doesn't know he can swim so his antics included racing into the water to about chest (his chest) high and then whipping around and running out at break neck speed.  A spectacle he made of himself.
Rayman eventually sauntered down to join us being careful not to get his feet wet.  Me, I was mid-calf and wanting to go further but then Beau wouldn't be allowed to frolic, this much I feared.  So, I stayed in the water and Rayman on dry land.
We decided it was time to leave.  The coolness of the breeze made us momentarily forget the hot asphalt that wove around the RV park.  Little Bear RV park to be precise.  And with that lapse of memory, we headed back to the car.  That was when I smelled some meat barbecuing.  OMG.  The Mexican was there under the shade of a tree with his family barbecuing dinner.  It was about 5:30 p.m.  Being the shy and retiring person that am I, I exclaimed, "Oh, my.  Does that smell good!!  They acknowledged my compliment with a wave.  Rayman and I decided to sit by the edge of the lake at a picnic table to soak in the beauty and cool air not too far from the Mexican family.
That is when the husband/father that Rayman had assisted came up and offered us some carne asada tacos.
Now, who do you know that would render such an act of kindness?  He is there with his family.  His car is old and a bit in disrepair.  They are not a family of means.  Probably they are having a hard time making a go of it from the looks of things.  But he was so generous and kind.  It almost brought a tear to the eye.  We, of course, declined and thanked him profusely.
That was one of the better days of our trip.  It really doesn't get much better than that.  People being kind to people.  And that's why I'm a crazy, wild ass liberal.
But I digress.
So, we drove down from the lake and returned to the camp for our dinner.  And as we drank, we toasted to the great Mexican family by the lake.
That was a few days ago.  Now, we find ourselves at a campground at Eagle Lake, a lake that is so low of water that the east ramp is closed.  The fishing pier is sitting on cracked, dry river bottom dirt.  The town at the lake is a mess.  It is ladened with "For Sale" signs and most of the homes look like they are Camp Poodeys.   This place is in a world of hurt.  Lucky for us we are camped for two nights across the lake on the West Shore.  It is part of Lassen National Forest.  A lovely campground that is poorly attended.  It seems the lake is so low from this drought that the boats that get launched from the west side must also be hauled out at the end of the day.  So, people aren't coming here this year.  Lucky for us.  Plenty of wide open space which is in sharp contrast to the Little Bear RV Resort where we were packed in like sardines.  And it is quiet.  Really, really quiet.  Great interlude before we meet up with our crazy bicycle friends in Ashland on the 20th.  For a week.  And yes, we are riding our bikes.  On paved streets.  Without freaking out.  A milestone.  Did a loop of about 5 miles many mornings.  The only problem I had was a steep part of the road, my chains came off the rails.  Another morning, I just couldn't make it.  Actually, I never made it.  Shifting is apparently not my forte.  But I haven't given up.  The picture below is taken looking out from our campsite.  Below that is a tree trunk.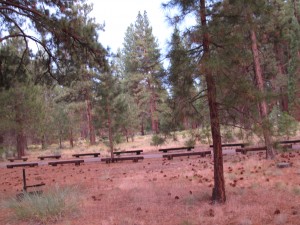 But I digress.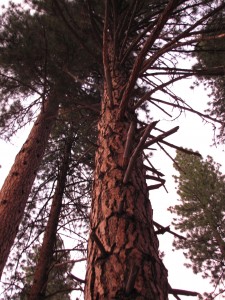 What to do here at Eagle Lake?  Nothing.  We sat outside having our gin and tonic and watched the 2 blue jays, the woodpecker, and the chipmunks fighting for a place at the water spigot.  There is a water spigot right by our site.  And they are desperate for water.  Don't they know a huge lake is just a few hundred feet from here?  Oh, well.  They seemed to get along.  And we thoroughly enjoyed taking the time to watch their shennanigans.  Beau liked it too.
Here I am in the resting mode.  My gin and tonic are out of the camera's glare.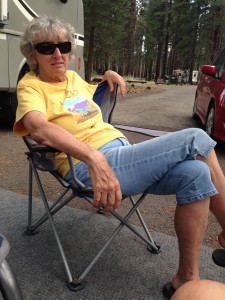 Tomorrow we leave Beaumeister in the air conditioned RV and head out early to Lassen Park to see sulphur pools and lava beds.  Yes.  We have electricity.  We are the only campers that do.  We booked the only full hook up the camp has.  It's designated as a handicap spot.  Actually, we could have been bumped but, like I said, there are hardly any people here so no one bumped us.
One of the most interesting things we saw today was the Shoe Tree.  I posted it on Facebook.  What a scream.  Here it is.
http://www.youtube.com/watch?v=4nsQ0mDlzM8
Oh, one other observation.  It is cloudy.  The thunder is rumbling.  No lightening.  But we sure had lightening, thunder, hale and rain yesterday in the Little Bear RV Resort.  That is because Rayman washed all the windows of the RV in preparation for our road trip today.  No good deed goes unpunished.  But he took it with grace and humility.  The bitch!!  (that's an oft used line from Braking Bad.  Jesse uses it all the time when and when not appropriate.  Here I am doing the same!!)