As we sit here watching the hurricane coverage, I have to say we had a great day today.
Let me recap by starting with yesterday.  The highlight of the day was our visit to Costco in Kennewick, WA.  We went there to buy wine and lamb.  But then I got this idea that we also needed some dates.  Dates are a great way to boost your energy and satisfy your sweet tooth at the same time.
We could not find the dates.  Could it be that Costco doesn't stock dates here?  We searched high and we searched low.  No dates.  So, I sauntered up to a young man, well, actually, two young men.  They may have been gay.  Both guys were very good looking.  Not that I noticed.  And so it went something like this:
"Do you have dates?"
"What's the difference between a date and a prune?"
"Well, a date is a date."  Pregnant pause.
"That's funny."  Dripping in almost sarcasm, but not quite.
"And a prune…"  Pregnant pause.  "Have you ever had a date?"
With a certain amount of blushing, "Well, yes, but no, I guess not."  Side glance to the other young man.
"Well, you should make sure to have a date.  They have pits.  You take the pit out and stuff it with goat cheese and an almond.  You would really like it."
At this point the other guy starts talking under his breath to my nice young man.  I ignored it and stood my ground.
"You would really like dates."  I said this just because I enjoyed the fact that he did not know what in the world to do with me.  Crazy old woman, he might have been thinking.
At this point, Rayman comes up and says one of the employees told him the dates were in the produce section and off he ran toward the produce.  That left me still there with my prey.
I just stood there and waited.  But the pause started feeling awkward so I started in again.  He kept flipping the paper on his clipboard.  "Really, you should eat a date.  You would really like it!!"
"Yeah."
The other young man went back to work, helping the cashier by loading up the merchandise the people purchased.
About that time Rayman came back with the dates.  He found the DATES!!
With that, I one more time encouraged the young man to try dates and told him again that I thought he would enjoy them.
When last seen the young man was flipping his papers.  Lord knows what he was thinking.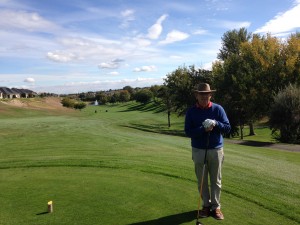 And so today, we went golfing on a course that was way over our pay grade.  OMG.  It was so hard.  However, we went, we played, we did not conquer.  Had a great time though.   See the water feature off in the distance?  They have lots of water here.
We went out to dinner and it was a hoot.  After looking at Yelp, we decided on Carmine's Italian restaurante.  We actually just looked for Italian restaurants.  Hungry for something that would go with our Tobin James Fat Boy red wine.
The place was a bit of a turnoff outside.  An old house.  Then we entered through the front door and Carmine greeted us.  He showed us to the table.  Plastic plates adorned the table with plastic glasses too.  We lifted our eyebrows but decided, what the heck.  The place was a blast.  Carmine haled from New Jersey.  He had been a boxer as a young man.  There were pictures all over the walls.  Him in high school, him in boxer shorts.  Pictures of his wife.  Pictures of the Rat Pack, Pavarotti.  Amazing and fun.  There was not a space on the walls that did not have a personal picture.  And Carmine was very friendly.  He visited us often.  His granddaughter served us our meal.  It was very unique.
While we were eating our lasagne which easily could have served, say, six adults, Carmine ran out the front door and yelled out, "Did you pay your bill?"  We have eaten in lots of restaurants all over the world and have never, ever, ever seen that before.  So Rayman asked him, "Do all of your customers leave without paying?".  Carmine reported that the customers were from New Jersey and so he always kept an eye on them!!!
He came back with the bill and insisted that we take a loaf of bread with us to eat our leftovers.  Kind and sincere and generous.   Great experience inspite of the oil cloth table cloths and drinking our wine from canning jars.
And those were two of the more interesting things that took place in this part of the world the past two days.