That's what cooking in an RV is like.  And that's what I've been doing this a.m. while Rayman is away in Tahoe Donner playing one of the prettiest golf courses known to man (in this neck of the woods).  Coyote Moon.  Don't you just love that name for a golf course?  Think of the logo possibilities, for heaven's sake.  A coyote howling at the moon, anyone?  Coyote jumping over the moon?  Maybe not.   Dancing around a moon?  That might work.
But I digress.
Today I'm making black bean chili and this requires a shout-out to Margaret Fox who owned the restaurant in Mendocino, Cafe Beaujolais   http://articles.latimes.com/2006/sep/27/food/fo-fox2/ for more info.  Anyway, I bought her cookbook years ago.  It has been reduced to frayed pages, juiced-spotted pages, a paperback without the back, essentially.  They just don't bind books the way they used to.  This cookbook has been falling apart for years.  I am guessing it is about 40 years old.  Maybe 30.  Who's counting?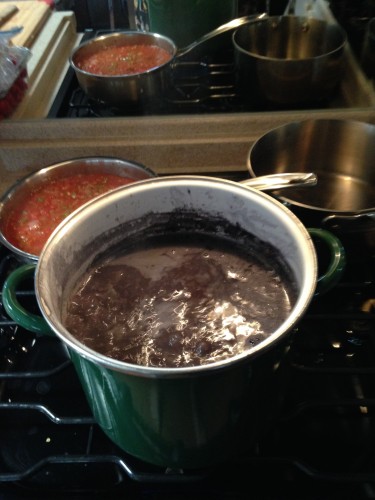 There I go again.  This recipe is fabulous.  There is no meat in it.  None.  Zip.  Yet, it tastes like it does in a way.  That's because of the black beans.  I bought organic black beans from a food co-op in a town up the road.  Portola is the town and it is inhabited by 2500 people and they have a co-op which I find amazing.  However, there must not be many Mexicans around because these beans have been cooking for quite a long time and they aren't completely soft…and, yes, I soaked them all night.  I would guess they have been in the bin quite a long time.  But be that as it may (BTAIM), the dish is worth waiting for.  Served with shredded cheese, fresh green onions, cilantro and sour cream…yummy.
You are probably wondering if I have that cookbook with me.  Well, no I don't.  But I do have the computer and googled the recipe and now it is time to give a shout-out to Russ Parsons of the L.A. Times food section for publishing the recipe in the newspaper.  So, there you have it.
Now about this pin stuff.  In order to chop, chop, chop the onions, the garlic, the bell pepper, the jalapeños, one must use a cutting board and in order to use a cutting board, one must make space in the kitchen to lay the thing down and this requires that I cover up half my sink to make room.  And I must neat and tidy or the place will end up looking like Camp Poody.   Ah, another skill set being developed here.  At home I just fling things around with free abandon.  And at home I have oodles of space.
The other thing is this.  There is limited storage space and so I have already run out of Hungarian paprika (the red can), cumin seeds, cayenne and olive oil (not EVOO).  Oh, and I'm dangerously low on peppercorns.  Good thing Rayman is in Truckee.  I've already sent him a list of necessities including rum for mojitos.  Found a "muddler" at a local little gift store and made it a gift to myself and I'm dying to try it.  Yikes.  I need to add mint to the list of groceries.  Also, the refrigerator is quite small and while at Costco, I espied a bag of limes and it was such a good buy (read going broke saving money) that I bought it and it takes up approximately half the refrigerator.  Perhaps a slight exaggeration.  But it does take up one whole drawer.  Mojitos anyone?  Come on by and I'll fix you up!!
Hi dearie,  Along with all the other groceries I need, add fresh mint to the list.  For the mojitos, a good cause if there ever was one.  Hope you are making some birdies.  (kiss up, kiss up).  That's how I'll compose my email to him without the kiss up part.
I just hope I don't run out of propane before these darn beans are cooked.  That's the other thing about RVs.  You have what I refer to as a "heightened awareness" of all things utilitarian.  Like propane, water, gray sewage etc.  Never give that stuff a second thought at home unless PG&E turns off the juice.  And if that happens it is a great excuse to go out to dinner.  Here, I am stuck.  No car.  And I certainly don't want to drive to restaurant in the RV.  That would require messing around the sewer hookup.  Nah.  Not doing that!!  And anyway, it might look a bit weird to pull up to a restaurant in a 33-foot behemoth for a plate of spaghetti.  Just saying.  I am, however, very glad I know how to drive the thing.  If I needed to go somewhere I could.
I'm giving the beans 5 more minutes.  They are finally getting soft.
Well, I waited for 5 minutes and they still are al dente.  Drats.
So, while I am composing this blog, I am hearing a bit of racket outside.  I looked out the door and this is what I saw.  This park needs more trash bins.  Last night when I went to dump my garbage (did I mention that our garage can is about 5 gallons?), I couldn't get it open.  Turns out they lock them up because of bears.  So, while I was struggling with trying to get one of them open, a man and woman sauntered by with an empty pizza box (I guess empty based on their sizes).  I enlisted their help.  They were forthcoming.  The bins were completely full.  Now, this morning they are bulging and hence, the owner of the park, is now jumping up and down on them.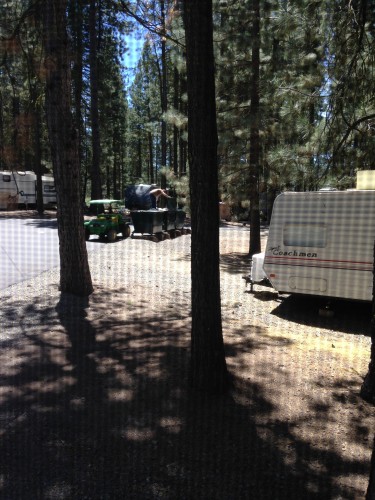 The beans needed more water.  Need I say more?
The thing is, this park is full of RVs and short on people.  Many sites have RVs hooked up and locked up.  No one is home.  The people to our right haven't been here since we arrived.  The people on our left, well, left.  That was after we introduced ourselves and discovered in about 1 minute of conversation that they had spent the afternoon "in that brewery up at the end of dirt road nearby".  And then she proceeded to praise Cliven Bundy, the crazy rancher near Mesquite, NV because "enough is enough".  And he pointed to his beer, a Negra Modela, and said he was drinking the Negra in honor of our President, wink wink.  I said, "Ouch."  Then as she went on about Cliven's point of view and how she thought he was right, I interjected, "Well.  Here's the thing.  I love Obama.  So let's just agree to disagree.  We don't need to talk politics."  And he said, "Or religion."  And while having a discussion sans politics, we discover that he is a retired truck driver and doesn't have to pay for health care because he gets it through his union (but his union is not like those rotten unions back east) and she hates Obamacare and she retired from a school district  ((lordy, I hope she wasn't a teacher)).  And that was that.  Except  did I mention that he sat there all afternoon outside the RV drinking beer and smoking cigars and playing his playlist on their outdoor speakers?  So, after dinner while the Rayman and I were engrossed in a challenging game of Scrabble while listening to Roy Orbison croon from the speaker next door (actually his playlist isn't bad), we kept hearing him tell her to "shut up and sit down" and "we'll discuss it in the morning" and "you are drinking too much, sit down", and "don't drink so much",  and "I'm not picking you up off the floor again".   OMG.  So, the next morning, the poor guy slinked out of here with his wife and we haven't seen them since.  He knows we have to move spots on Thursday and my money is on them not returning until the next people move in.  Just saying.
So, the beans are done, we still have  propane,  and I'm going to sign off for now.  It's time to read by book about Lewis and Clark(e)?  Want to get it done before we hit Oregon on July 20.
Good day.